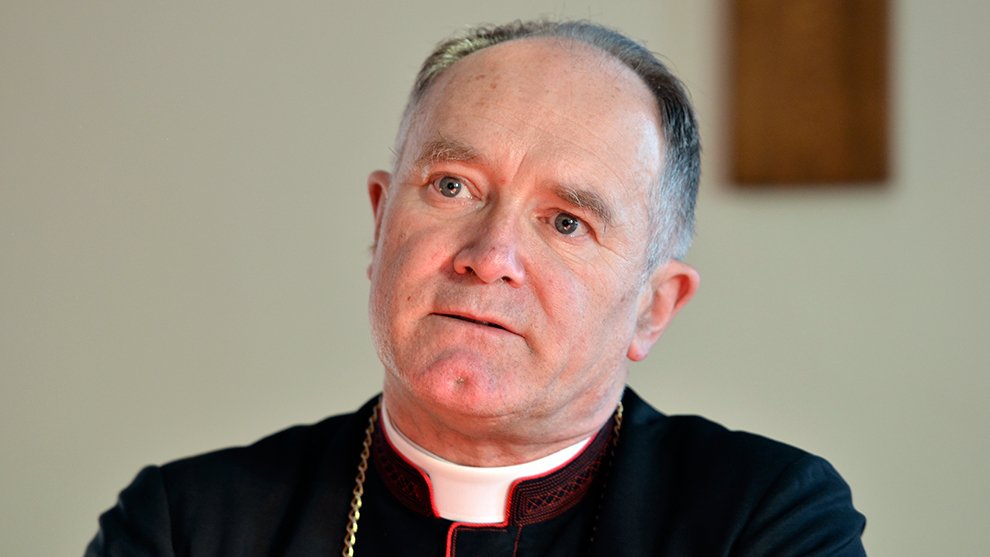 In his conference of 18 August 2016, Bishop Bernard Fellay, General Superior of the Society of St. Pius X, described the arrangement being offered to the SSPX by Rome as follows:
And in fact, Rome is offering us a new body. At the head, a bishop. This bishop, chosen by the pope, with three names, which are presented by the Society and taken in the Society. This bishop will have authority above the priests; above the religious who want to be members, and above the faithful.
[At the ~3:00 mark of the following video]
Some well-meaning persons in Catholic media have understood the phrase "and taken in the Society" to mean that the list of three prospective bishop-heads (officially called a terna) will be comprised of men who are, at present, outside of the Society; only to be "taken in" upon being chosen by the pope.
If this be the case, it would certainly be cause for alarm. (That is not to say that such cause may not be found elsewhere, but we'll get to that momentarily.)
Upon hearing Bishop Fellay, and bearing in mind that English is not his first language, I came away believing that he intended to say that the terna will be comprised of three candidates taken from among clerics who are currently within the Society.
Just to make certain, I reached out to the District House of SSPX here in the U.S. for clarification and was informed that my understanding is correct; i.e., the terna – should it come to this – will not include anyone from outside of the Society.
That said, the operative phrase here is should it come to this.
I was cautioned to keep in mind that the proposed prelature, from the standpoint of the Society, is entirely contingent upon Rome accepting certain non-negotiable conditions; e.g., no doctrinal compromises will be made by the SSPX, and the Society must be entirely free to continue preaching and practicing as it always has.
Bishop Fellay made it clear in his conference that these things have not yet been sufficiently proven on Rome's part; i.e., the matter is far from settled – His Excellency simply provided an update as to where things presently stand.
If one listens to the entire conference for context (which I highly recommend), it will be clear that nothing is imminent. In fact, it seems reasonable (not just to me, but also to my contacts within the Society) to believe that Bishop Fellay might seek the consensus of a general chapter prior to accepting any proposed prelature.
All of this having been said, there were some things stated during the conference that one may very well find troubling.
Having stressed that the proposed prelature would render the SSPX "autonomous from the local bishops," Bishop Fellay said:
You can imagine that that will create a lot of conflicts, with the local bishops. You can easily imagine that. So we have to remain prudent there. But in itself, you cannot imagine anything better, than what is offered there. And such a thing that you cannot think, that's a trap. It's not a trap.
So, is it a "trap"?
Some commentators have no doubt whatsoever that it is, but I think an important distinction must be made between a "trap" properly understood and a situation that may present some unspecified danger.
To my mind, a "trap" guarantees harm to whomever should enter it.
Consider a mouse trap: The mouse goes in thinking there's something good to be had; trips the spring loaded mechanism, and has no other choice but to come out dead. Simple.
In the present case, while certain details remain to be seen, the proposed prelature as described by Bishop Fellay thus far isn't a trap; not in the sense that it guarantees the Society's harm much less its demise.
That said, this doesn't mean that the modernists in Rome don't want to see the SSPX dead and gone. They most certainly do, and it is here where Bishop Fellay's words are most perplexing:
And if somebody is offering something like that, it can be only because he wants good to us. He wants the good of tradition, he wants tradition to say, spread in the Church. It is impossible to think that such a thing could be invented by enemies. The enemies have many other ways to crush us down. Not that.
If the "he" to which His Excellency refers is the blasphemous Argentinian heretic in white, I'm sorry, this is so far from reality that it doesn't even qualify as a fairytale.
Francis is no longer the new kid on the block. We know what makes him tick – his is the religion of man. Period. End of story. In fact, it is no exaggeration to say that he is an avowed enemy of tradition – doctrinal, moral and spiritual.
Does Bishop Fellay not know this?
Of course he does.
Earlier in his conference, His Excellency talked about the situation in Rome today calling it "a catastrophe for the Church." He mentioned the fact that any number of cardinals and bishops are now grappling with "how can someone oppose the pope."
While he didn't point to Amoris Laetitia by name, I suspect that this is the primary catalyst for causing these prelates to come to terms with the necessity of resisting Francis.
Bishop Fellay did, however, mention a plenaria of the Congregation for the Doctrine of the Faith – a full meeting of its member cardinals and bishops – wherein the status of the Society was discussed. He said that only one of the cardinals present insisted the SSPX must accept Vatican II in its entirety.
Other voices, he said, were raised in the Society's defense, stating that they only wish to do one thing, "to repeat what the Church has always taught," which also happens to be the only way one can resist a pope.
All of this leads me to believe that Bishop Fellay is not speaking of Francis specifically when he says "he wants the good of tradition," but rather has in mind those in Rome who are working to prepare for the Society's regularization knowing that the SSPX is not the problem but the solution.
One thing is certain, Bishop Fellay isn't naïve. He knows very well that the Franciscan agenda is catastrophic.
Remember, this is the same man who said not long ago, "The situation in the Church is a real disaster, and the present pope is making it 10,000 times worse."
He also understands that "the enemies have many other ways to crush us down;" i.e., while the prelature is not a trap in and of itself, he knows that the SSPX will remain in the crosshairs.
In the end, it seems to me that those who insist that regular jurisdiction is a "trap" are really just expressing their fear that unless the Society remain in its present irregular state it will abandon tradition, point by point, until nothing is left.
I suppose anything is possible, but the fact remains that regular jurisdiction is something the SSPX deserves as a matter of justice.
In other words, while a personal prelature for the Society may pose its own unique risks and challenges, in and of itself, it is not deadly; modernism is the poison that must be avoided.
This, the Society has always done, and there is every reason to believe it will continue to do so regardless of what happens moving forward.