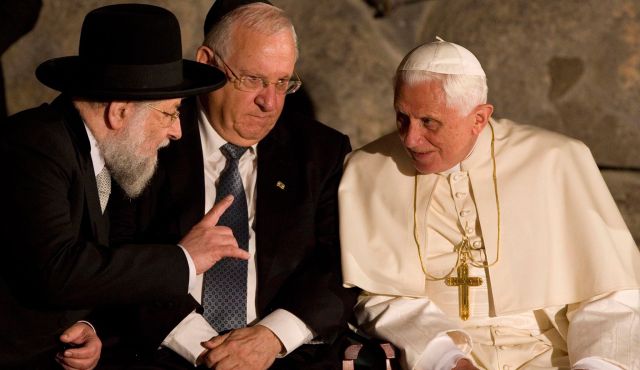 In an essay published in the July edition of the theological journal Communio, Benedict the Abdicator dipped a toe – just a toe, mind you – into traditional waters with regard to the Church's relationship with the Jews.
The result? All Hell broke loose, literally, as Satan's servants – both Jewish and otherwise – immediately played the "anti-Semitism" card.
Benedict's high crime was that he didn't reassure the Jews quite enough that their rejection of Jesus Christ in no way jeopardizes their prospects for eternal salvation.
As of this writing, Benedict's essay is available only in German, but thanks to the invaluable efforts of Maike Hickson, some key excerpts have been made available in English via an article published at LifeSite News. She writes:
The reason for this sharp criticism is the fact that Pope Benedict, in his 20-page-long essay, makes an attempt at redefining or modifying two "theses" in the Church's teachings of the last decades concerning the Jews and their role in the history of salvation. As Benedict says: "Both theses – namely that Israel has not been substituted by the Church and that the [Old] Covenant has never been rescinded – are in essence true, but are in many respects imprecise and have to be further critically examined."
Benedict went on to point out that it was John Paul the Great Mensch, who during a 1980 visit to Mainz, Germany, declared to representatives of the Jewish community that the Old Covenant has never been revoked, and that this highly irresponsible (and borderline heretical) statement eventually found its way into the 1992 Catechism of the Catholic Church (CCC 121).
As I've written in this space before, Santo Subito neo-cons (and that would include the Pope Contemplatus) view the CCC as holy writ. As such, it should come as no surprise that Benedict said that Wojtyla's claim about the Old Covenant "is, in a certain sense, part of the current teaching figure ['Lehrgestalt'] of the Catholic Church."
Current teaching… Don't you just love it when a modernist reveals himself so plainly?
Before we continue with our examination, I'd like to address two asides:
First, one may perhaps now understand why Benedict has been so unwilling to criticize Bergoglio's assorted blasphemies and heresies. You see (assuming, of course, that he sincerely believes that Francis is the pope in spite of the circumstances surrounding his resignation), Benedict apparently imagines that the current teaching of the Church is established by whatever happens to escape the lips of the reigning pope.
Secondly, the aforementioned speech given by John Paul II in Mainz, which is a veritable train wreck, merits a closer look of its own.
Rabbi Wojtyla began by addressing the gathering, which consisted of persons whose singular most noteworthy distinction concerns their utter rejection of Jesus Christ (and thus He who sent Him), calling on them as "dear brothers."
Removing any doubt as to whether he was simply giving an informal greeting or making a theological statement, he went on to say:
Christians must feel themselves brothers of all men and behave accordingly, this sacred obligation is even more valid when they are faced with members of the Jewish people!
Get that? Not only are Christians "brothers" with those who have no knowledge of Christ; we are all the more brothers with those who actively oppose Him! But wait, it gets worse.
He then spoke of "Christians affirming their belonging to the Jewish people."
Now, bear in mind, here he is speaking, not to the likes of Abraham, Isaac and Jacob, but rather to the likes of Caiaphas and the Sanhedrin. These are the same persons in the order of faith of whom St. Paul said:
They were broken off [from "the good olive tree" – the tree of life] because of their unbelief… if they do not persist in their unbelief, will be grafted in, for God has the power to graft them in again. (cf Romans 11:20-23)
And yet, Wojtyla says that we belong to them? In a sense, he was correct inasmuch as he was speaking for himself; i.e., as he spoke, he clearly did belong to those who stand in need of being grafted in again.
Can it get worse? Yes, in fact, it can.
He went on to say of his pronouncements of unbridled esteem for these enemies of Christ the King, "It is not just a correction of a false religious view of the Jewish people…" In other words, it is a correction of a false religious view.
And to what "religious view" is he referring? The one preached by St. Peter on the day of Pentecost, the one transmitted by St. Paul as cited above; i.e., the one held by the Holy Catholic Church for nearly two millennia!
This is what constitutes the current teaching of the Church according to Ratzinger, and it must be so, if for no other reason than the fact that it came from the lips of the Santo dei tutti Santi, John Paul the Great Implementer of the Almighty Council.
Having been informed of this madness, how anyone in their right mind can confuse this "church" with the Holy Roman Catholic Church is a mystery to me.
With this as the backdrop – the same that provided the Jews and the inter-religious dialoguers of today with the lens through which they are reading Benedict's essay – we will continue with our own examination.
As Mrs. Hickson writes:
Pope Benedict subsequently tries to show that God Himself never rescinds a covenant, but, rather, that God's people, mankind, often violate and break a covenant with God. In this sense, says the retired pope, there are several covenants – with Noah, Moses, David – that each have been broken by men. In this context, Benedict refers also to the Epistle of St. Paul to the Hebrews in which St. Paul mentions the previous covenants of the Old Testament "all of which he [St. Paul] sums up under the keyword 'first covenant' which now has been replaced by the final 'new' covenant."
Wow! Benedict actually stated that the Old Covenant, the ongoing validity of which the conciliar church has been tirelessly reassuring the Jews for decades on end, now has been replaced!
No wonder the backlash has been so severe. It is a remarkable statement indeed given the source, but let's not sing Benedict's praises just yet.
Remember, Ratzinger is first and foremost a modernist and a man-of-the-council. As such, come Hell or high water, he simply must find a way to reconcile "the current teaching" with tradition; i.e., he will manufacture "continuity" where none truly exists.
How?
The same way he attempted to establish continuity between the Novus Ordo and the Mass of Ages – with linguistic trickery.
The re-institution of the Covenant of Sinai into the New Covenant in the Blood of Jesus – that is to say, in His love which surpasses death – gives the Covenant a new and forever valid form … Thus there is indeed not really a 'substitution', but a journey which leads finally to one single reality, with the nevertheless necessary disappearance of the sacrifice of animals [of the Old Covenant] which is being replaced ("substitution") by the Eucharist.
So, there you have it: One Covenant in two forms!
The punchline to all of this garbage is that men-of-the-council – like Ratzinger, Wojtyla before him, and whomever may fill their shoes in the future – are pretty much making it up as they go along.
Sure, Vatican II, their New Pentecost, is the launching point, but given that it has no roots in authentic Catholic tradition, just like Protestantism, endless innovation is unavoidable.
As for the backlash that Benedict is facing in light of his pathetic essay?
He deserves every last bit of it; not because he spoke the truth, but because he didn't.