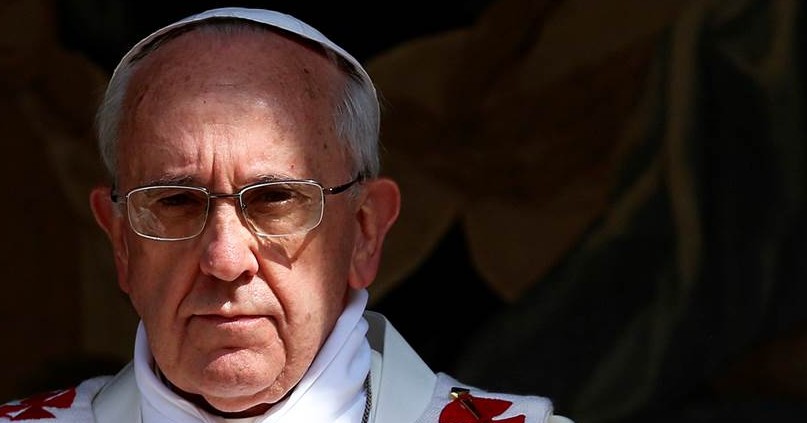 According to reports, a cardinal or cardinals has challenged Francis over the Hell dust-up; perhaps even going so far as to suggest that he may lose his "so-called pontificate" (as Fr. Gruner aptly called it).
I'm not sure what to make of this. As I wrote in yesterday's post, Amoris Laetitia contains blasphemy and heresy – signed, sealed, and delivered – with no room for debate.
And yet it wasn't until this latest Bergoglian-Scalfarian scandal erupted that such an action has taken place?
Something doesn't add up.
In any case, the alleged challenge (as reported by Antonio Socci) was presented to Francis on Holy Thursday.
How did he respond?
He pressed forward full speed ahead with his evil plan to destroy what little is left of a Church that no pre-conciliar Catholic would even remotely recognize.
During the Easter Vigil, he once again used the occasion of his homily to encourage acceptance of his agenda, saying:
We are invited to contemplate the empty tomb and to hear the words of the angel: "Do not be afraid… for he has been raised" (Mt 28:5-6). Those words should affect our deepest convictions and certainties, the ways we judge and deal with the events of our daily lives, especially the ways we relate to others.
HINT: Let us not address the matter of Holy Communion for those publicly known to be in mortal sin the way the Church has always done so.
This he made even clearer as he stated:
To celebrate Easter is to believe once more that God constantly breaks into our personal histories, challenging our "conventions", those fixed ways of thinking and acting that end up paralyzing us. To celebrate Easter is to allow Jesus to triumph over the craven fear that so often assails us and tries to bury every kind of hope.
Translation: Be not afraid! Amoris Laetitia is Thomist! It's Catholic! No, really!
He went on:
The stone before the tomb shared in this, the women of the Gospel shared in this, and now the invitation is addressed once more to you and to me. An invitation to break out of our routines and to renew our lives, our decisions and our existence. An invitation that must be directed to where we stand, what we are doing and what we are, with the "share of power" that is ours.
So, you see, the bi-millennial practice of the Church, which is itself an expression of the immutable faith and the very words of Our Lord, are but a worn out "routine."
How can we change such things?
Easy, we have a "share of power;" the same power that Christ exhibited in the Resurrection!
A time will come when the Church will be tempted to believe that man has become God.
It's here, folks.
Now, a word about "the stone."
In this very same homily, Francis demonstrated for all to see just how evil can strip a man of his ability to reason; even to the point where his intellect is dulled in the most remarkable of ways.
Francis declared:
The stone before the tomb cried out and proclaimed the opening of a new way for all. Creation itself was the first to echo the triumph of life over all that had attempted to silence and stifle the joy of the Gospel. The stone before the tomb was the first to leap up and in its own way intone a song of praise and wonder, of joy and hope, in which all of us are invited to join.
The stone cried out… The stone proclaimed… The stone was the first to leap up…
Yes, he actually said this. (NOTE: I double-checked the Italian text to make sure that the English translation provided by the Vatican is accurate.)
No, Jorge Bergoglio isn't insane. He knows very well that the Scriptures tell us that "an angel of the Lord descended from heaven and coming rolled back the stone and sat upon it," and this same angel was the first to proclaim "He is risen." (cf Mt 28:2,6)
He is simply so immersed in his own evil ways that he has been rendered as one who speaks as if he is insane.
On Easter Sunday, he once again insisted:
God's announcements are always surprises, because our God is the God of surprises … God can not make an announcement without surprising us.
(And guess what? He wants the Church to look exactly as Jorge would have it look. Surprise!)
At the Easter vigil, Francis posed the following rhetorical question, and it's a good one:
Do we prefer simply to continue standing speechless before events as they happen?
I, for one, refuse to stand speechless as this man wreaks havoc on the Church and leads countless souls to perdition; rather, I intend to call his heresies and blasphemies by their proper name, warning everyone who has ears to hear that this man simply is not a member of the Church; much less her head on earth, and he therefore must be avoided.
May it please God to inspire others, especially those in the sacred hierarchy, to follow suit.