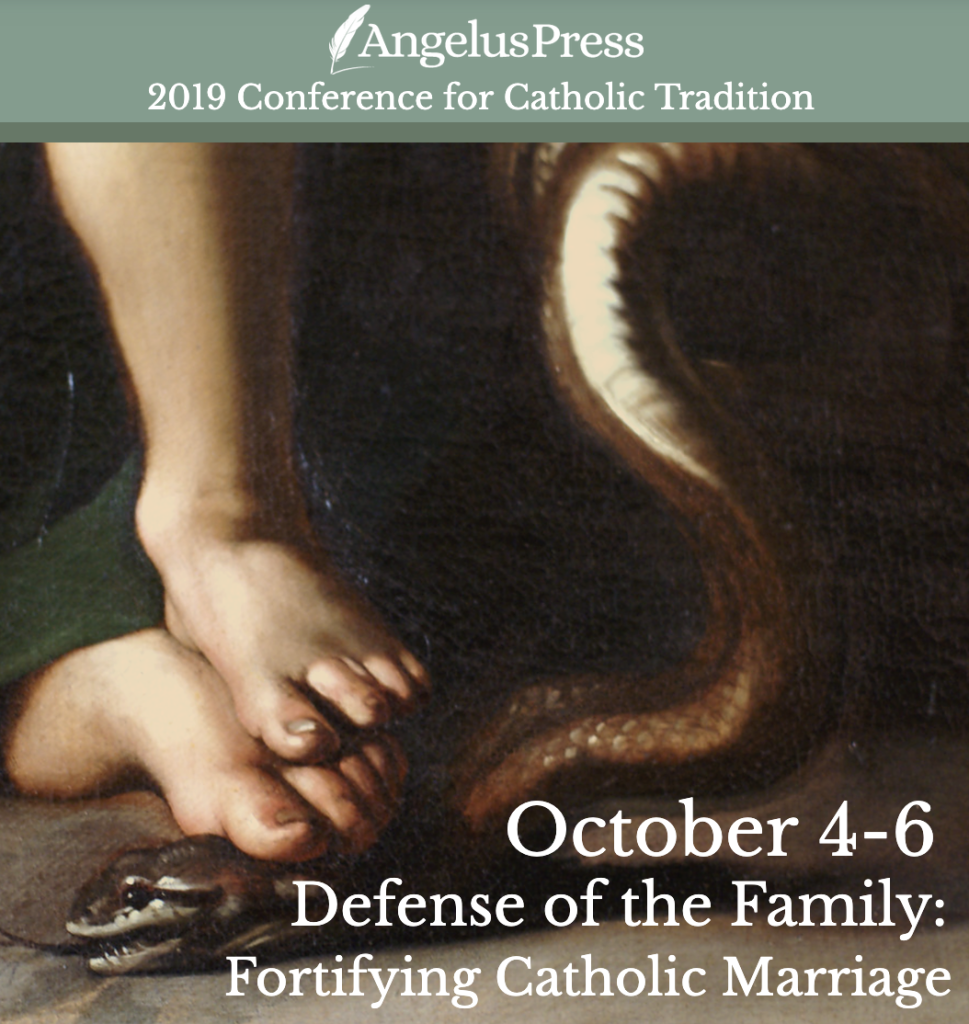 Over the past couple of months, unrest has been growing in traditional circles over news that the Society of St. Pius X has invited a Novus Ordo priest, Fr. Sean Kilcawley, to speak at its annual Angelus Press Conference, which will be held this weekend in Kansas City.
Fr. Kilcawley – "an internationally-recognized specialist on Catholic anthropology, focusing on the problem of pornography" (according to a bio provided by conference organizers) – will speak on the topic of internet pornography, its ubiquitous presence, and how to safeguard oneself and one's family against it.
Well, that unrest erupted into a firestorm over the last couple of days thanks to a video that has surfaced of Fr. Kilcawley offering the following advice to those addicted to pornography:
… simply invite Our Lord into our temptation and into our thoughts in the present moment. To say, "Jesus, I want to look at pornography right now." Or, "Jesus, I'm having an impure thought right now. You're welcome into my imagination. You're welcome to watch these thoughts with me."
Much has already been written by others about this situation. My purpose here is to provide readers with a response from the Society of St. Pius X.
This morning, I spoke with James Vogel, who serves as Editor-in-Chief at Angelus Press and Director of Communications for the SSPX United States District. He's also one of the key organizers of the annual conference.
Before we get to that conversation, let me say that I join those who find Fr. Kilcawley's presence at the Angelus Conference both disturbing and perplexing.
For one, while Fr. Kilcawley is being relied upon as an "expert" in the field of pornography, with relevant experience in the field of counseling, one has to wonder what he brings to the table that isn't readily available from priests of the Society. Surely the SSPX has their own professors of moral theology and priests who are well-versed in providing spiritual direction.
In my candid discussion about this, and other troubling aspects of this situation, with James Vogel today, it became apparent that he, and others involved in the planning of the conference, are genuinely convinced that Fr. Kilcawley is uniquely qualified to address the topic at hand for the benefit of those in attendance.
I'm hard pressed to see it that way, but one thing is certain, the Society's own priests have something that Fr. Kilcawley obviously does not have, and that is the most valuable thing of all; namely, knowledge of and love for Catholic tradition. (And isn't that precisely what the Angelus Conference exists to celebrate and inculcate among its attendees?) If he did have a love for tradition, he wouldn't be "a nationally recognized speaker on Theology of the Body" (see his bio on the Diocese of Lincoln website).
Mr. Vogel let me know that he is aware of these concerns and others that are being expressed by so many. He insists that he and the SSPX "take them seriously and have every intention of addressing them." More on that momentarily.
He did make it known, however, that there will be no changes made to the program in light of the current controversy; i.e., there is no chance that Fr. Kilcawley will be disinvited or otherwise replaced on the Conference schedule at this late date.
This year's conference will not be video streamed as in years past, but Mr. Vogel did say that Angelus Press plans on posting the audio of Fr. Kilcawley's talk online next week, and he wants to encourage all interested parties to listen to the presentation firsthand before making a firm judgment on its merits.
He went on to say that Angelus Press also hopes to produce a podcast next week that will address this matter further.
He also let me know that "the content of Fr. Kilcawley's talk has been thoroughly vetted;" i.e., a transcript has already been submitted to the SSPX for review. This, he stressed, is not something that they required of him alone, rather, it has been a longstanding procedure for all of the conference speakers to submit their transcripts ahead of time.
While he was able to express confidence that the talk contains nothing objectionable, I spoke with Mr. Vogel about the risk of giving what looks like the Society's endorsement of Fr. Kilcawley's broader work; e.g., his repugnant suggestion that one would do well to invite Jesus to watch pornography with them.
In response, he made it clear that while they are prepared to answer for the content of the conference itself, the SSPX "does not endorse any of our speakers' work in its totality, regardless of who they are." He went to explain that such would be impossible for practical reasons, but especially given the present crisis and the wide range of opinions on important topics that exist among persons of good will.
I get that, to a point; in fact, I made a similar disclaimer in the first issue of The Catholic Inquisitor. Even so, I discovered after we spoke that the bio provided by Angelus Press informs readers that Fr. Kilcawley is the theological advisor for an outfit called IntegrityRestored.com.
While this may not be an endorsement properly speaking, it does provide the group with a certain amount of exposure and prestige that they simply do not deserve. For instance, any innocent soul that visits their website will be treated to large doses of "Theology of the Body" by – you guessed it – "Saint" John Paul II. God forbid!
In conclusion, though we don't exactly see eye-to-eye on this and certain other matters, James Vogel takes his role in communications for the SSPX very seriously and he's always a gentleman. I was surprised that he was able to make time to speak today; with the conference about to commence, I know for certain that he's as busy right now as ever.
Even so, he made it a point to express his gratitude for having been reached and given the opportunity to address these matters such as he has at this juncture. He even went so far as to invite readers to contact him directly (his email address is jvogel@angeluspress.org) with any questions or specific issues they'd like to raise.
Although he pledged to reply accordingly, he did ask for some patience given that the Angelus Conference is about to kick-off, demanding his full time attention for the time being.
We'll keep an eye on this situation and follow-up next week as warranted.