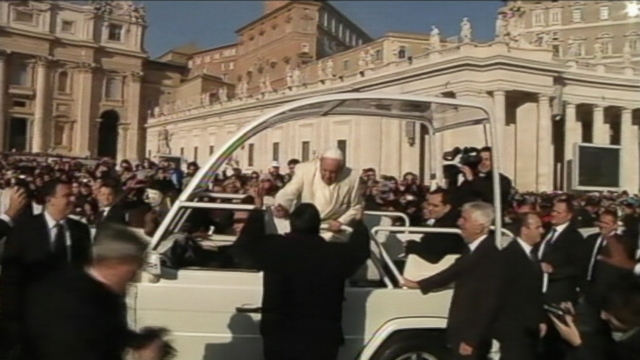 By now, most readers have read the cockle warming story about Pope Francis stopping the pope mobile this past Wednesday in St. Peter's Square in order to bid an Argentinian priest, Fr. Fabian Baez, to climb on board.
According to Catholic News Service:
Father Fabian Baez … told La Nacion that he shouted "Santo Padre" to get the pope's attention. The pope saw the priest, made his driver stop the popemobile and gestured to him to come see him. They waited until the priest could make it past the people in front of him, the large wooden barricade and security.  As you can see in the video, the two hugged warmly, the pope asked if he were by himself and when he said, "Yes," told him, "Come! Get on!" and take a seat next to the papal assistant.
Most commentators in the media, Catholic and otherwise, are positively giddy about this latest episode in the pontificate of he who apparently prefers to remain just a "regular Jorge." (One exception being Damian Goddard.)
I for one have mixed feelings about it.
While it remains deeply troubling to witness the Sovereign Pontiff fiddling with whims superficial even as Rome continues to burn, if the alternative is yet another papal locution that compels Jimmy Aiken to concoct a new installment of "Ten Things Pope Francis Really Meant to Say in Spite of What He Actually Said," then by all means, Holy Father, stay on that pope mobile and scoop up all the hitchhikers it can handle while us Neo-Pelagians count Rosaries for the intention of securing a Maccabean style miracle wherein the vehicle never runs out of gas.
That said, there is one aspect to this story that is of considerable significance:
As the priest clambers on, the pope rightly tells him:  "The picture will go around the world."
Well then… so much for the preposterous notion that the Bishop of Rome is humbly unaware that his every utterance and gesture, including that growing body of work otherwise known as "a new genre of papal speech that's deliberately informal and not concerned with precision," are almost instantly dispatched for global consumption.
What this indicates is that even the most casual of Pope Francis' remarks; i.e., those so often excused as "off the cuff," offered innocuously, and somehow undeserving of scrutiny, are nothing of the kind.
They are, to be sure, the operations of a media savvy pope who is far more sly than his deliberately made-to-appear-simple public persona may suggest; a man on a mission, fully cognizant that the mic never grows cold and more than adept at using it to methodically go about the work of preparing the people of the world to accept the vision of the Church that he intends to bring to fruition.