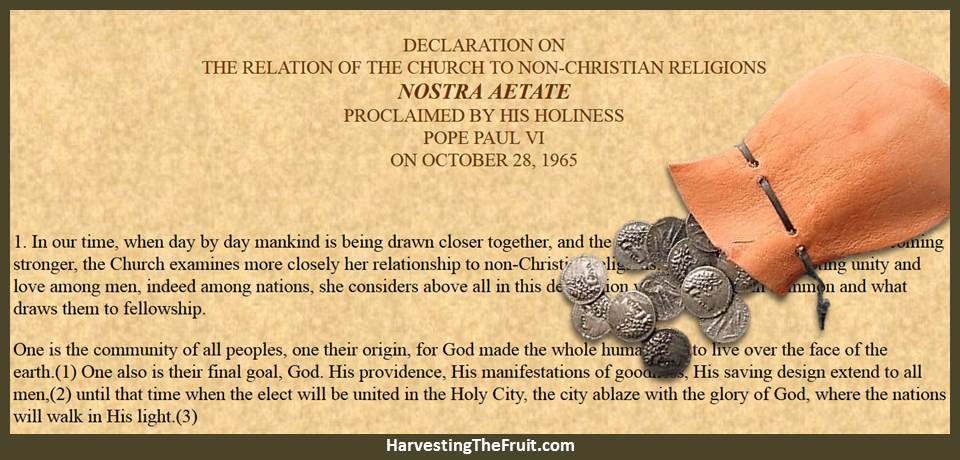 Israel's largest newspaper, Haaretz, covered yesterday's events in Rome as Pope Francis met with a delegation of some thirty members of the Conference of European Rabbis.
"It was a historical meeting taking place at a special moment," a spokesperson for France's Chief Rabbi Haim Korsia told Haaretz.

The "special moment," explained the spokesperson, is the "upcoming 50th anniversary of Nostra Aetate," the declaration in which the Catholic Church officially opened up to dialogue with other religions in general and Judaism in particular.
In his address to the rabbis, Pope Francis said:
It is so important to remember that our life [Jews and Christians] is a gift from God, and that we must depend on him, confide in him, and turn towards him always.
Yes, indeed, our lives are a gift from God; the same Who was rejected by the Jews by virtue of their rejection of Jesus Christ, but surely we mustn't let tedious little details like that get in the way of our dialogue!
According to Haaretz:
Rabbi Korsia held a private audience with Francis after the official delegation meeting. "In fact, these were two separate events," said his spokesperson. "Rabbi Korsia had asked Francis [for] a meeting in December, specifically because of the Nostra Aetate upcoming anniversary."
Two observations…
First, it appears that Rabbi Korsia's spokesperson (meaning, Rabbi Korsia himself) is determined to make sure everyone knows just how important Rabbi Korsia truly is. In other words, one must not allow the papal audience with the entire delegation to overshadow the fact, obvious enough to those in the know, of Rabbi Korsia's singular importance.
Got it.
Secondly, one can only imagine what the very important rabbi from France and the very humble Bishop from Rome might have cooked up in their little meeting as a fitting celebration of Nostra Aetate; the document that Cardinal Koch very rightly labeled a "fundamental reorientation of the Catholic Church."
For his part, Pope Francis believes there is much to celebrate:
Next 28 October we will celebrate the fiftieth anniversary of the conciliar Declaration Nostra Aetate, which is still the reference point for every effort we make in this regard. With gratitude to the Lord, may we recall these years, rejoicing in our progress and in the friendship which has grown between us.
Consider for a moment what passes for "progress" in eyes of a true progressive:
For more than half a century now, our churchmen have ceased to carry out the mission that Christ gave to His Church. As a result, countless human beings, including Jews, have died without ever having been invited, much less called, to receive the sanctifying grace necessary for salvation. But hey… at least they left behind lots of Catholic "friends" to mourn their passing.
If nothing else, Pope Francis perhaps deserves credit for his honesty; i.e., at least he didn't attempt to pretend that Christ is the "reference point" for modern day Rome's relations with the Jews (or anyone else, for that matter).
Whatever 50th Anniversary festivities may be planned, Rabbi Korsia (who, clearly, is a very important man) indicated that he's looking forward to it, adding that he hoped to "do something with Pope Francis" this October.
Nostra Aetate itself claims to be ordered toward remembering "the bond that spiritually ties the people of the New Covenant to Abraham's stock."
This being the case, maybe the Pontifical Commission for Religious Relations with the Jews might consider hosting a celebration in the Vatican Gardens wherein the pope, a collection of Cardinals, and a contingent of prominent rabbis can come together to chant in unison, "Crucify him! Crucify him!"
Afterwards, they might even consider planting a barren fig tree as a lasting symbol of their dialogue, and just for good measure, the pope could send each of the rabbis home with a parting gift of thirty pieces of silver.
In any case, with the Synod of Bishops and all of the festivities that are likely to take place in light of the conciliar detente between Caiaphas and Peter, no one is likely to have time for Oktoberfest (except, of course, the German bishops whose party will just be starting).