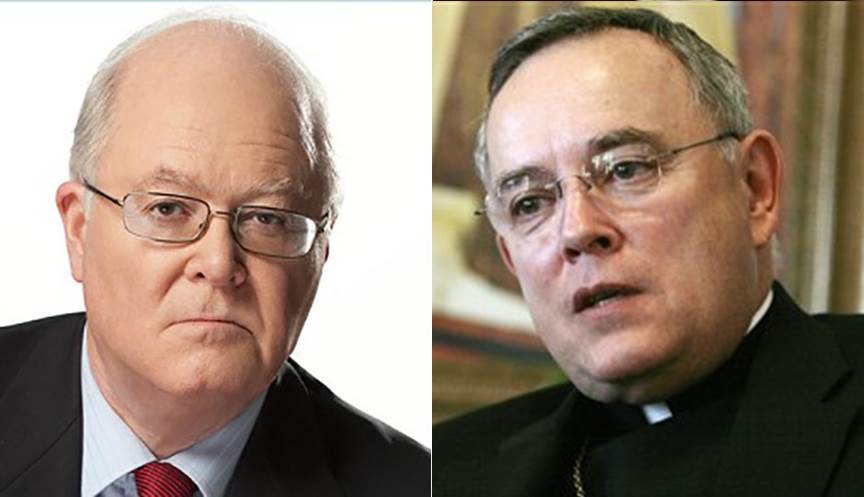 Emails recently released by Wikileaks reveal that Democrat Party leaders had a hand in creating the uber-liberal activist groups Catholics in Alliance for the Common Good (CACG) and Catholics United (CU) in order to ignite a "Catholic Spring."
The emails, allegedly written and received in 2012 by John Podesta, head of the Hillary Clinton campaign, indicate that he helped to found the above mentioned organizations in order to foment a "revolution" in the Church.
Among the progressive views for which CACG and CU are perhaps best known include those concerning such things as abortion, homosexuality, and wait for it… divorce and "remarriage."
As expected, this has effectively set much of the Catholic world ablaze.
Bill Donohue of the Catholic League, for example, insisted:
In light of the latest Wikileaks revelations, [Hillary Clinton] has no choice but to cut all ties with this [Podesta]. The man is hell bent on creating mutiny in the Catholic Church and must therefore be fired.
Donohue went on to say:
Both of these groups, Catholics in Alliance and Catholics United, were created by Podesta, and funded by Soros, for the express purpose of staging a revolt within the Catholic Church. In 2008, Archbishop Charles Chaput, then of Denver and now of Philadelphia, accused both entities of doing a "disservice" to the Catholic Church.
Archbishop Chaput, for his part, described the recently revealed emails as "contemptuously anti-Catholic" before offering the following tongue-in-cheek suggestion:
Of course it would be wonderful for the Clinton campaign to repudiate the content of these ugly WikiLeaks emails. All of us backward-thinking Catholics who actually believe what Scripture and the Church teach would be so very grateful.
Their indignation is, of course, entirely justifiable, but it must be said that it is also entirely selective.
Catholics in Alliance for the Common Good was founded in 2005 on the twisted values and nefarious intentions that are presumably well-known to all.
According to their website as initially configured and as late as mid 2016, their mission was stealthily stated as follows:
Catholics in Alliance for the Common Good promotes public policies and effective programs that enhance the inherent dignity of all, especially the poor and most vulnerable. Our work is inspired by Gospel values and the rich history of Catholic social teaching as they inform pressing moral issues of our time.  We accomplish our goals through public policy analysis and advocacy, strategic media outreach, and engaging citizens in the service of the common good.
Today, by contrast, their mission statement reads:
Catholics in Alliance for the Common Good (CACG) promotes the social justice mission of Pope Francis and the Catholic Church in American politics, media, and culture.

We do this by educating our 65,000 members on how the social mission of the Catholic Church colors contemporary political issues, by communicating Pope Francis and the Church's social justice values in national mainstream secular and religious media, and by working in alliance with other Catholic, faith, and social justice organizations in advocating for issues at the heart of Pope Francis and the Church's ministry.
So, what exactly has changed about the mission of CACG since the time of its founding?
Is it their values? No, they're still twisted.
Their intentions? Of course not; they remain as nefarious as ever.
The only thing that has changed is the degree to which CUCG is able to present itself as a papal advocate; in the present case, as a champion for the "issues at the heart of Pope Francis."
Let's be perfectly honest; the claim is entirely valid.
In fact, their current mission statement is disarmingly honest!
And yet, Catholic "leaders" like Donohue and Chaput – even in the face of the blasphemies and heresies contained in Amoris Laetitia – cannot bring themselves to express an appropriate degree of outrage over its offenses.
It can no longer simply be said that those who commit adultery are in mortal sin… God himself asks us to remain in mortal sin… Priests who expect penitents to exhibit a firm purpose of amendment are scrupulous… (cf Amoris Laetitia)

Talk about contemptuous anti-Catholicism, mutiny and revolution!
I ask you, who is more dangerous, a couple of leftwing political action groups that all but the genuinely ignorant and/or evil clearly recognize as subversives intent on undermining Catholic teaching, or the author of Amoris Laetitia who is doing so plainly?
The answer is obvious; so too is the sheer hypocrisy of so many of today's faux defenders of Catholic tradition.