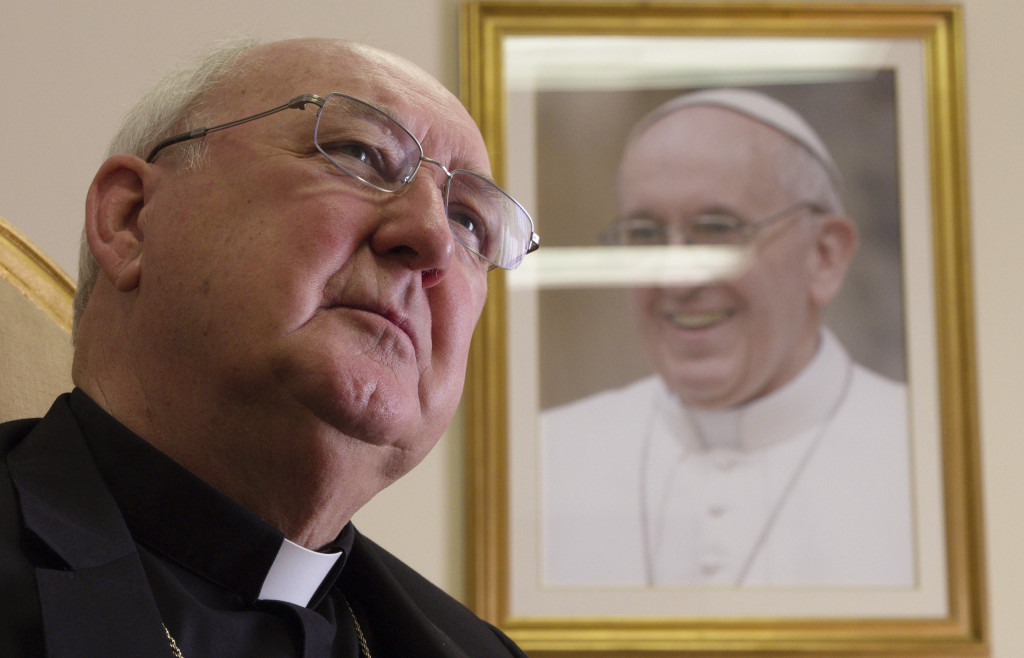 In a recent interview with the Tablet, Cardinal Kevin Farrell gloated over the fact that his boss' love letter to Satan, otherwise known as Amoris Laetitia, has been "overwhelmingly well received" throughout the Catholic world.
And why shouldn't he gloat? The Apostolic Exhortation (so-called), which is among the most blasphemous and openly heretical texts ever issued bearing a papal seal, is no longer being publicly contested. In fact, it never really was; at least not in the manner that it should have been.
It wasn't all that long ago when it was simply rumored that the punchline to the Synods on the Family of 2014 and 2015 was going to be a change in the Church's bi-millennial practice concerning the reception of Holy Communion by the so-called divorced and remarried.
I seem to recall those rumors being met with bravado by certain conservative clerics and others who suggested such things as, If Francis were to do this, it would prove that he truly is a heretic! I and other faithful laity, priests and bishops will rise up!
Where are those bold men now?
One suspects that their pre-Synodal valor was fueled by the fact that these rumors were also being met with confident claims that such a thing simply cannot happen, and by persons in authority.
For instance, L'Osservatore Romano published a lengthy article written by Cardinal Gerhard Muller, then Prefect of the Congregation for the Doctrine of the Faith, on October 22, 2013, in which he stated:
Today even firm believers are seriously wondering: can the Church not admit the divorced and remarried to the sacraments under certain conditions?  Are her hands permanently tied on this matter? Have theologians really explored all the implications and consequences?
Cardinal Muller systematically went about answering these questions in no uncertain terms by extensively citing both Scripture and Tradition. He demonstrated conclusively that the Church's hands are permanently tied on this matter because her practice is inextricably bound to immutable doctrine concerning the indissolubility of marriage.
He then went on to reaffirm the CDF's statement of 14 September 1994 saying that the Church's practice of not allowing the reception of Holy Communion by the divorced and remarried "cannot be modified because of different situations."
Among other things, Cardinal Muller also cited the following from an article written by his predecessor at the CDF, Cardinal Ratzinger, as published in L'Osservatore Romano on 7 December 2011:
If the prior marriage of two divorced and remarried members of the faithful was valid, under no circumstances can their new union be considered lawful, and therefore reception of the sacraments is intrinsically impossible. The conscience of the individual is bound to this norm without exception.
Intrinsically impossible…without exception.
In other words, Muller was stating that there is no possibility whatsoever that Francis, or any other pope, could possibly change the well-established practice under review; with the unspoken exception being, of course, unless that man were to depart from the Church.
Fast forward to today. The rumors are no longer. Francis has indeed moved to institute a change in this bimillennial practice of the Church; the same that previous popes have consistently deemed unchangeable as it is based upon revelation and the very words of Jesus Christ.
This, Francis has done by way of Amoris Laetitia, a text that makes its case by boldly accusing God of placing impossible burdens upon men, and even goes so far as to say that He wills mortal sin!
In spite of this, the Bergoglian point man for implementing this diabolical attack on Our Lord – the Prefect of the so-called Dicastery for Laity, Family and Life, Cardinal Kevin Farrell – is now claiming:
"There is nothing in 'Amoris Laetitia' that is contrary to the Gospel."
Though Farrell openly boasts that "conferences of bishops and lay groups involved in marriage and family life" are embracing Bergoglio's anti-Scriptural agenda, he admitted:
There are some elements in the United States, on the continent of Africa, and some here in Europe – but not very strong – where they have a vision of going back to a Church that I believe never existed.
In reference to those elements, Farrell couldn't help but take a shot at Cardinal Raymond Burke, saying, "There is no correction to be made."
In a sense, Farrell is right. There is no correction to be made, not because one is not needed, but because Cardinal Burke – an ecclesial celebrity who jets across the globe offering Pontifical Masses like a rock star on tour – is "not very strong" indeed.
More accurately, Raymond Burke is a fraud and a coward. So too is Gerhard Muller and every single solitary blowhard cleric who blustered with so much bravado before the rumors of a change in the Church's immutable practice became fact, and yet today are quietly going along to get along.
Likewise, those persons in Catholic media, traditional and otherwise, who don't dare risk either popularity or income by stating the obvious: Jorge Bergoglio has formally, publicly, and of his own volition departed from the Body of Christ. Period. An adolescent child can see as much.
Today, new rumors abound; this time about Bergoglio possibly permitting the so-called ordination of female deacons.
Mark my words, folks, if and when the day comes that Bergoglio moves to bring this about, the chest-pounding defenders of Holy Orders of today will quickly shrink into silence on the matter; comfort preserved, integrity be damned.