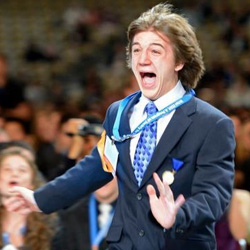 Sixteen year old high school junior, Jack Andraka, from my home state of Maryland, recently received the Vatican sponsored International Giuseppe Sciacca Award for having developed what promises to be a breakthrough, early-screening, pancreatic cancer test.
The young genius, whose incredible achievement was featured on the CBS News program 60 Minutes, received the award on Saturday, November 16th at the Pontifical Urbaniana University at Vatican City, where he received a standing ovation from those in attendance, including Honorary President of the Award, Cardinal Darío Castrillón Hoyos, and President of the Pontifical Council for Justice and Peace, Cardinal Peter K.A. Turkson.
Over the past year, the teenaged Andraka has been invited to speak at scientific conferences all over the world, has been a guest at the White House more than once, and has  received numerous other awards, but for the young cancer researcher, the Sciacca Award is especially noteworthy.
In a telephone INTERVIEW from Rome with Baltimore's WBAL Radio, Andraka conveyed the source of his excitement:
It's really amazing to be recognized by the Vatican, especially as a gay scientist. I mean this would be unheard of just a few years ago. To be part of this bridge of progress is really amazing. It just shows how much the world has grown to accept people that are gay and are LGBT. It's really amazing.
I must admit, when I first heard the young man's comments (text here), I thought the poor kid was reading way too much into the award. After all, this award is all about his contribution to medical science; it has nothing whatsoever to do with his disordered sexual desires.
I mean, that is true, right?
No, that would be way too simple.
According to the organization, whose president is Rev. Bruno Lima of the Juridical, Economic and Social International Study Institute:
Without God there cannot be any justice: each individual obtains the due consideration only if society commits to respect and put into effect the principles of natural law, as a realistic expression of the Eternal Law. On the other hand, the "Giuseppe Sciacca" Award means to be a point of reference for all those youths, from Italy or a different nation, who would make their contribution to our society and represent an example for the new generations, in accordance with their human and Christian values. What has been said aims at being the inspiring reason of the International "Giuseppe Sciacca" Award, along with the message to send through its development. The International "Giuseppe Sciacca" Award nominates in each edition an Overall Winner: a personality who represents a valid moral and doctrinal reference for the evolution of society, or a clear example of ability and efficiency in the general interest. [Emphasis added.]
So, one of two things happened here, either certain members of the Giuseppe Sciacca Awards jury knew beforehand that young Jack is an outspoken "gay" rights advocate and made a conscious decision to grant him the distinction of being honored as a "valid moral reference" by the Vatican, or the organizers had no idea and have been blindsided by the revelation like everyone else.
In either case, now that the story is being trumpeted by main stream and gay media outlets (hard to tell the difference, I know), it is necessary for the organization, not only to offer an explanation, but to rescind the award immediately.
Then again, (c'mon now, you know what's coming…) who am I to judge.