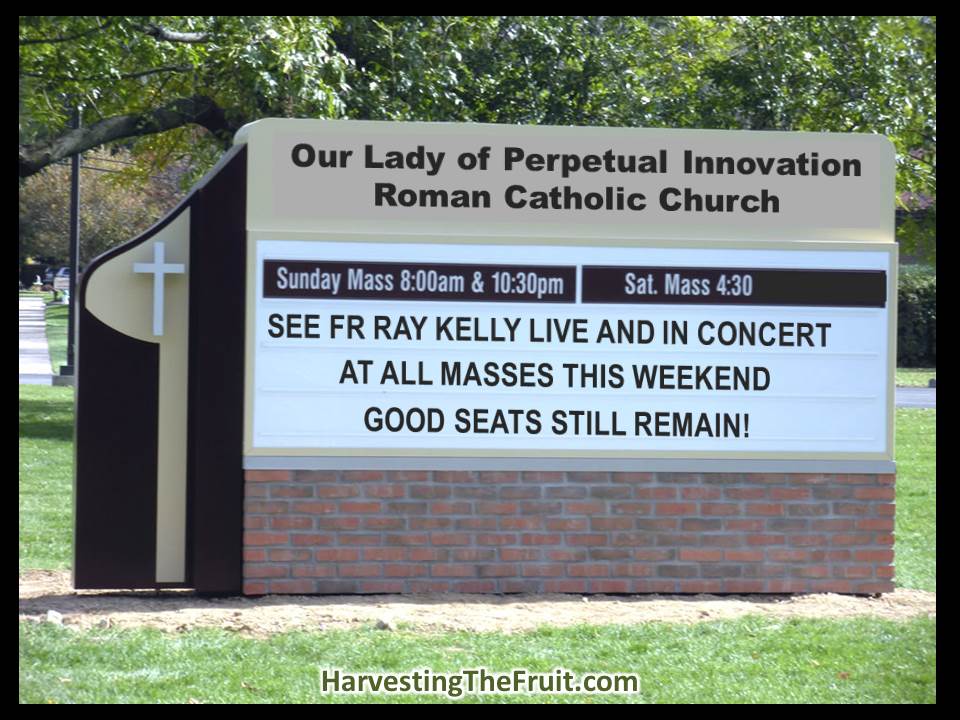 It is telling commentary on the deplorable state of the Church to witness so-called "conservative" Catholics gushing with admiration for Fr. Ray Kelly's performance. One fairly well known commentator (who in charity I won't name) even suggested that our liturgies need more of this sappy sentimentalism!
I don't think it's an overstatement to say that the vast majority of Catholic have lost almost entirely, or never really had, a sense of the sacred.
So… just in case there are any such persons reading this blog, I'll give a quick snapshot of what makes Father's "gift" to the happy couple so regrettable.
Whether or not this took place before or after the Mass had ended isn't the point; as though all bets are off unless we're technically speaking of the liturgy proper. That some even feel compelled to split those hairs is a sign of their poor condition.
The Rites of Holy Mass and Holy Matrimony are, of course, sacred, but so too is the space in which they take place; the same that we occupy before and after the actual rite. In any event, one thing should be clear to all, the sanctuary isn't Fr. Kelly's or anyone's personal stage. The altar isn't his music stand. The assembly isn't his audience.
It would be sacrilegious to have any kind of a performance in a Church before the Blessed Sacrament. Most people seem to know that even if just intuitively.
Now, even considering in charity that Fr. Kelly means well and is simply a product of a deplorable formation, consider the impact of his showmanship.
We live in an age wherein marriage is viewed as a purely human construct; a contract between two individuals who are motivated, be it by what one might reasonably call love all the way to what is more properly considered mutual lust, to validate their relationship in the eyes of others. "Marriage" as popularly conceived is all about us, in other words, so much so that the abominable concept of "gay marriage" is considered by many, including self-identified Catholics, as possible and even laudable.
Fr. Kelly's little moment in the spotlight only managed to solidify that erroneous view. He turned the sacred mystery of sacramental union among spouses in Christ in the Rite of Holy Matrimony by grace into an earthbound stage act fueled by fleeting emotions.
The people in that wretched video are victims. They don't know any better. Neither does Fr. Kelly in all likelihood. He is obviously a product of newchurch wherein practically every aspect of our faith has taken on a decidedly humanist slant at the hands of those who chose to make the comfort level of protestants a "pastoral priority."
BTW – The Fr. Ray Kelly Concert Tour has been wowing audiences for years and was made possible in a large part thanks to the virtue, heroically exercised, of His Holiness Pope Paul VI who gifted to the world the Novus Ordo Missae. Remember that as his cause takes off like a rocket (or is that a scud missal) immediately following the proposed mockery canonizations on April 27th. (May God in His mercy forbid them!)