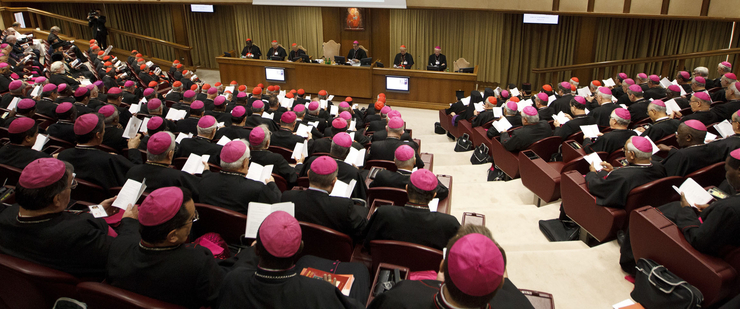 And we know that to them that love God all things work together unto good… (Romans 8:28)
One may feel compelled to ask if "all things" includes even such abominations as Amoris Laetitia.
The answer, of course, is yes, and while the way in which this terrible affront to Our Lord and His Church will ultimately be used by God unto good remains to be seen, we can leverage it as such even now.
How so?
As Divine Providence would have it, the Gospel reading for the Second Sunday after Easter in the Traditional Latin Mass included the following:
I am the good shepherd. The good shepherd giveth his life for his sheep. But the hireling and he that is not the shepherd, whose own the sheep are not, seeth the wolf coming and leaveth the sheep and flieth: and the wolf casteth and scattereth the sheep, And the hireling flieth, because he is a hireling: and he hath no care for the sheep. (John 10:11-13)
It seems to me that the publication of Amoris Laetitia represents a moment of choosing, in particular, for our clerics. In the days and weeks to come, the attentive will discover who among the sacred hierarchy are true shepherds, and who are but little more than mere hirelings.
The shepherds, men after the heart of Jesus Christ, will risk everything – including their very life – to protect the souls in their care from the clear and present dangers found in the dreadful document, Amoris Laetitia. They will sound the alarm loudly and without apology; condemning its grave errors in terms that are certain lest the sheep in their care be devoured.
The hirelings, by contrast, will remain silent in the face of the approaching wolf; at best offering hollow reassurances to their flock that Amoris Laetitia changes nothing of Catholic doctrine. They will fail to warn of its poisonous prose for fear of losing the favor of their superiors, and the position and comforts they currently enjoy.
For example, in an article written for National Catholic Register, Cardinal Raymond Leo Burke has revealed himself to be an esteemed member of the sacred hirelings. [I'll have more to say on Cardinal Burke's lack of Christian conviction and the conciliar disease that effectively stripped him of his manhood later.]
Though the hirelings may deceive themselves into believing that by failing to confess the truth before men they will therefore be allowed to do even more good moving forward, Our Lord who "came not to send peace, but the sword" warned otherwise:
But he that shall deny me before men, I will also deny him before my Father who is in heaven. (Mt 10:33)
This brings me to the light that Amoris Laetitia (and other terrible realities in the Church today) can shine on our spiritual directors and other trusted advisors.
It occurs to me that certain of the faithful (some of whom are readers of this space) are not infrequently advised by their priests to avoid the "fever swamps" of the "traditionalists" (aka Catholics) where they risk getting caught up in the "bitterness" of those who seem only to find fault with the Church in our day.
This line of direction goes something like this:
While there are problems in the Church indeed, this has ever been the case; even from the earliest times. The Church is still the Church! Christ is still made present to us therein! We know that He will reign victorious in the end! Let us put aside all negativity and focus instead on all of the avenues of grace that God provides through the Church, in spite of her difficulties, as aids unto our salvation!
First, please allow me to clear up the misconception (or perhaps, deception) that "traditionalists" (aka Catholics) only find fault.
Take a look at what happens here, for instance. Does one find on this blog a great deal of criticism of false teachings, faithless prelates, and others?
Indeed, but for every condemnation of error one also finds affirmation of truth as both are necessary.
For instance, along with treatments concerning the dangers of the Novus Ordo, one also finds affirmations of the liturgical treasures that were lost. In addition to essays confronting the erroneous post-conciliar approach to other religions, one also finds insight into the Church's evangelizing mission as perennially understood. Where the Council's regrettable treatment of religious liberty is duly critiqued, one also finds proclaimed the immutable doctrines of the Church concerning the Sovereign Rights of Christ the King.
You get the point.
That said, the reason the kind of spiritual advice outlined above resonates with so many is that it is not entirely untrue, but more importantly, it's relatively painless.
You see, while acknowledging the good and embracing the means of sanctity provided in the Church is truly necessary, it is also necessary to avoid doing so in such way as to make it all about ourselves and what we stand to gain; ignoring, as it were, the Divine Other who died for our sins and that which is due Him.
I have no doubt that all concerned, if questioned, would readily proclaim after Peter, "Lord, you know that I love you!"
And yet, if we pay but little heed to the magnificent offenses that are daily heaped upon Him, if we barely lift a finger to refute error in defense of Him and the truth that He came to proclaim, if we do not willingly suffer every blow that He is dealt at the hands of wicked churchmen and others in the depths of our very own soul, it may rightly be asked if indeed we truly love Him.
A spiritual director who shepherds in truth would never suggest that one avoid the weight of the Cross that comes from plainly facing the crisis of faith in the Church in favor of acknowledging and embracing that which is good. This is a false dichotomy, and those priests who counsel their faithful accordingly, though they may mean well, are ultimately acting as hirelings, even if only in ignorance.
Much of what has been said here thus far applies in some way to those in the apostolate of Catholic media as well.
Pay close attention indeed, my friends, and we will see very clearly in the various reactions to Amoris Laetitia who has care, not so much for the Lord who is Truth and His little ones, but primarily for himself. We will discover who is more interested in furthering his own franchise than building the Kingdom of Christ. We will see who finds it expedient to tiptoe around the truth rather than risk persecution by condemning the egregious errors put forth by Pope Francis.
Armed with this knowledge, the question then becomes what we should do about it.
As it concerns our priests and bishops, we should be willing to risk our own comfort and favor by calling them to account, respectfully but plainly.
It must also be said that we can, and we should, lend no material support to those parishes and dioceses that are pleased to allow the wolf to roam freely among the sheep.
Oh, but my parish and diocese also does a lot of good!
Don't kid yourself. Would any responsible Catholic offer financial aid or otherwise support a clinic that gives free flu shots to the poor, but also happens to perform abortions?
All in all, Amoris Laetitia is a gravely evil document that gives us a great deal to lament and to suffer.
At the same time, however, it will help us distinguish the shepherd from the hireling, the sheep from the goats, and for this we can be thankful.