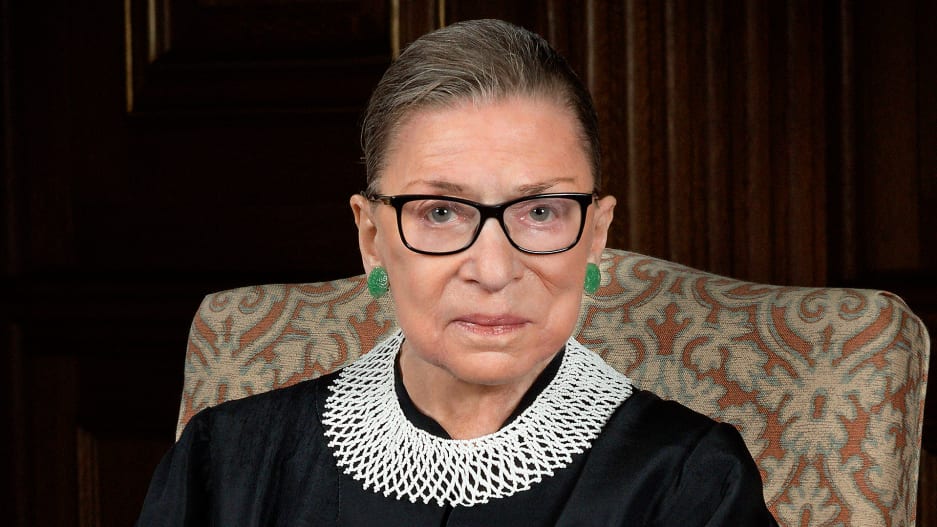 On September 18, 2020, Ruth Bader Ginsburg died.
Thus, were the doors opened wide for members of the conciliar church, both lay and clerical, to demonstrate just how deeply imbued they've become with religious syncretism and, likewise, their inability to think and feel with the Holy Catholic Church.
Bishop John Stowe of Lexington, KY, for example, took to Twitter, writing:
I join the nation in mourning the passing of Ruth Bader Ginsburg on this Rosh Hashanah. Let us carry on her passionate commitment to the words of Deuteronomy: "Justice, justice you shall pursue."
According to multiple reports, the Hebrew text of those "words of Deuteronomy" are framed and hanging on three of the four walls of her chambers. They served as an ever-present reminder to Ginsburg, as the story goes, of the guiding principles inherent to her Jewish faith.
"The demand for justice," she once explained, "runs through the entirety of Jewish history and Jewish tradition."
And yet, she is best known as a champion for homo-deviance who left millions of slaughtered human beings in her wake. In other words, her legacy is, in sum, a mockery of Almighty God and Divine Revelation.
Even so, one Fr. Patrick Behm, an associate pastor at St. John Paul II parish in Carroll, IA, also took to Twitter following reports of Ginsburg's death, saying:
Eternal rest grant unto her, oh Lord. I'll remember her and ask for the eternal repose of her soul at Mass tomorrow.
Such a public response, by a priest no less, reveals a stunning lack of Catholic sense. One need only be reminded of the remainder of the traditional prayer cited by Fr. Brehm, the text of which can be found in the traditional Latin Requiem Mass, in order to gain the perspective of Holy Mother Church in the matter:
V. Eternal rest grant unto her, O Lord
R. And let perpetual light shine upon her.
V. May she rest in peace.
R. Amen.
V. May her soul and the souls of all the faithful departed, through the mercy of God, rest in peace.
R. Amen.
Did you get that? The faithful departed… When the Church and her members offer such public prayers for the deceased, they are offered with the understanding – or at the very least, the reasonable hope – that the decedent departed this world among the faithful.
In other words, there is a presumption of righteousness. To publicly offer such prayers when this is plainly unrealistic, as in the case of Ruth Bader Ginsburg, is to invite scandal, for obvious reasons. This is why Requiem Masses are not offered for notorious, unrepentant public Catholic sinners, much less is it offered for high profile evildoers who also rejected Christ and refused to enter His Church.
Evidently, I'm not the only person disturbed by such things. Writing for the Jewish Forward, David Ian Kline reports, Jewish Twitter claps back at Christian-inflected condolences for RBG.
Kline cited numerous tweets chastising non-Jews, all with a similar message. For example:
Hi! RBG was a Jewish woman, tweeting "RIP" is actually disrespectful, as is comes from a highly Christianized view of death/afterlife. The Jewish tradition is "may her memory be a blessing", & some folks have been saying "be a revolution", which I believe she would have liked.
That brings me to the Catholic response to Ginsburg's death that is getting the most media attention; it comes from Christopher Scalia, the son of the late Antonin Scalia and brother of Fr. Paul Scalia, a priest of the Diocese of Arlington, VA.
I'm very sad to hear about the passing of my parents' good friend, and my father's wonderful colleague, Justice Ginsburg. May her memory be a blessing.   
"May her memory be a blessing" is a traditional Jewish expression, a Hebrew anagram for which is often found written after the names of their departed.
In another Jewish Forward article, writer Molly Conway explains:
When we say "may her memory be for a blessing," the blessing we speak of is not "may we remember her fondly" or "may her memory be a blessing to us." The blessing implied is this: May you be like Ruth. Jewish thought teaches us that when a person dies, it is up to those who bear her memory to keep her goodness alive.
Yes, so much goodness (like dead babies and same sex "marriages") to keep alive!
It's not surprising given the conciliar church's insatiable appetite for so-called "inter-religious dialogue," that there are well-meaning Catholic commentators, like Scalia, who believe that invoking this phrase is a harmless, culturally sensitive, way of responding.
They are dead wrong.
You see, not unlike the Catholic prayer, "Eternal rest grant unto her…" there is a presumption of righteousness implied when one exclaims, "May her memory be a blessing."
 As Molly Conway writes:
We do this [make Ginsburg's memory a blessing] by remembering her, we do this by speaking her name, we do this by carrying on her legacy. We do this by continuing to pursue justice, righteousness, sustainability.
For this reason, it is scandalous for even a Jew to say, "May the memory of Ruth Bader Ginsburg be a blessing."
To leave no room for confusion on this point, I spoke with the Founder of Jews for Morality, Rabbi Yehuda Levin, an Orthodox Jew who speaks with far more clarity and conviction about the grievous sins of abortion and homosexual deviance than every member of the United States Conference of Catholic Bishops combined.
[Note: Some readers may recognize Rabbi Levin's name given his longtime friendship with Nellie Gray and the many fiery addresses he has delivered at the March for Life over the years.]
Rabbi Levin not only confirmed how inappropriate it is to declare in this case, "May her memory be a blessing," he elaborated so as to be perfectly clear:
What kind of a blessing? There are no blessings involved here. This woman has been a catastrophe. We should breathe a sigh of relief that she's no longer contributing to the commonweal of society.
"We don't know what happens in the next world," Rabbi Levin said with his inimitable wit, but Ginsburg is "not receiving laudatory hosanas when she goes upstairs."
Not one to mince his words when it comes bedrock moral principles, he went on to say, "There was nothing righteous about Ruth Bader Ginsburg."
He added that the same must be said for every lawmaker and judge that stands against what he called "a common morality that is older than the bible itself." Specifically, he mentioned those who "believe in baby killing and same gender marriage perversion."
So, how might a Catholic respond to the death of Ruth Bader Ginsburg given that she dedicated so much of her life to promoting and vigorously defending intrinsic evils?
I suppose one could offer something to the effect:
May the merciful Lord render perfect justice unto her, and may those who mourn her passing find comfort by drawing nearer to Him.
The important thing is that our public response gives witness to the goodness of Almighty God, while avoiding any statements that might serve to downplay the decedent's well-known offenses against Him.
It would also seem appropriate to express hope, and even to pray in hope, that the decedent may have repented and turned back to God prior to death, even if in a way known only to Him.
Yes, one may ask, but isn't it too late?
The answer is no, it is not.
In his magnificent encyclical Miserentissimus Redemptor – On Reparation to the Sacred Heart – Pope Pius XI explained how the graces implored via prayerful acts of penance are applied by God in a way that is not timebound.
Specifically, the Holy Father was addressing those who may wonder how our acts of reparation can "bring solace to Our Lord now, when Christ is already reigning in the beatitude of Heaven."
The Holy Father tells us that Our Lord died even for our sins "which were as yet in the future, but were foreseen." In a similar way, he continued, "it cannot be doubted that then, too, already He derived somewhat of solace from our reparation, which was likewise foreseen."
The point is that our prayers for one another are, to God, timeless.
With all of this said, if one were absolutely determined to respond to the death of Ruth Bader Ginsburg in a way that is in keeping with Jewish tradition, there is yet another, far more fitting way, of doing so:
"May her name be blotted out."
In other words, may we not be like Ruth; may we labor to cleanse her regrettable legacy from every corner of society as we pursue authentic justice and righteousness, all for the greater glory of God, blessed be He.