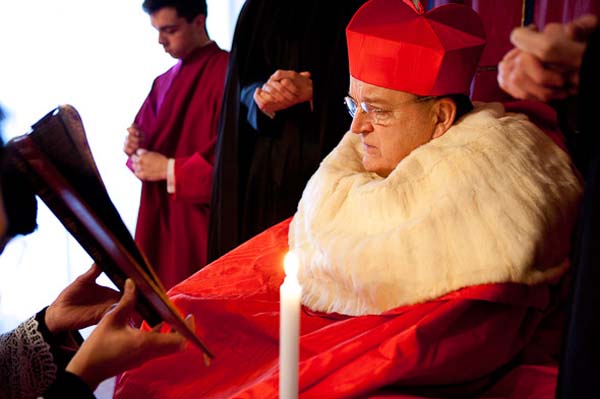 After a brief hiatus following the Extraordinary Synod debacle, the Cotton Candy Catholic Chorus has emerged from Lala Land to wax delirious over the pope's recent comments concerning the reassignment of Cardinal Burke.
"See," they say, "Pope Francis didn't retaliate against Cardinal Burke; that's just a spin job put forth by those negative traditionalists!"
I, however, take a more sober view of the Holy Father's latest interview relative to Cardinal Burke.
Before we get to that, as a courtesy to those readers who may have expected Pope Francis to plainly address the friction that clearly exists between himself and Cardinal Burke, I would suggest that your time might be better spent watching Plim Plim the South American tree-hugging clown than reading any further; i.e., this article isn't really… how do I say this… "age-appropriate" for you.
As for the adults still left in the room, most of us realize that plainspoken statements offered for public consumption as it concerns the relationship between a pope and a curial prelate isn't exactly the Roman way.
It wasn't that way when Pope Pius XII exercised the age-old option to "promoveatur ut removeatur" (that is, promote to remove) Giovanni Battista Montini, sending him packing for Milan in 1954, for example.
By contrast, our current Holy Father's decision to move the sixty-six year old Cardinal Burke from the eminently powerful position of Prefect of the Apostolic Signatura, at a time when canonical questions of great importance are being debated in the Church, to the figurehead post of Patron of the Order of Malta is refreshingly transparent by Roman standards!
As for why Cardinal Burke has been so reassigned, I'm reminded of a statement made by Pope Francis in his closing address to the Extraordinary Synod wherein he criticized those who might succumb to:
… a temptation to hostile inflexibility, that is, wanting to close oneself within the written word, (the letter) and not allowing oneself to be surprised by God, by the God of surprises, (the spirit); within the law…   
When I first read this comment, I understood that the pope was poking yet another finger in the eye of tradition loving Catholics everywhere, of course, but I also considered that his very specific reference to "the law" was aimed directly at the Curia's then chief canon lawyer, Raymond Leo Burke.
Now, let's take a closer look at the Holy Father's interview to see if he offered anything that might reasonably temper that suspicion.
Here is what Pope Francis had to say about Cardinal Burke's reassignment:
Pope Francis: One day Cardinal Burke asked me what he would be doing as he had still not been confirmed in his position, in the juridical sector, but rather had been confirmed "donec alitur provideatur" ("until otherwise provided for"). And I answered "Give me a little time because we are thinking of a juridical restructuring in the G9." I told him nothing had been done about it yet and that it was being considered.

After that the issue of the Order of Malta cropped up and we needed a smart American who would know how to get around and I thought of him for that position. I suggested this to him long before the synod. I said to him "This will take place after the synod because I want you to participate in the synod as a Dicastery Head." As the chaplain of Malta he wouldn't have been able to be present.

He thanked me in very good terms and accepted my offer, I even think he liked it. Because he is a man that gets around a lot, he does a lot of traveling and would surely be busy there. It is therefore not true that I removed him because of how he had behaved in the synod.
First, pay close attention to the first paragraph.
Notice that the starting point of the conversation is the fact that Cardinal Burke was left unconfirmed in his post for more than a year, as if we're all supposed to accept that it's simply a given that he would have to go.
Really?
Any interviewer worth a wooden nickel would have asked (just as any reasonable Catholic will certainly wonder) why the pope found it necessary to remove Cardinal Burke in the first place.
There is absolutely no indication whatsoever, from either the pope or the cardinal, that Burke himself desired a transfer; in fact, far from it.
Furthermore, just to be clear, if recent history is any indication, it's certainly not standard procedure for a new pope to replace a sitting Prefect of the Apostolic Signatura with a man more to his liking:
– Cardinal Francesco Roberti was made Prefect of the Apostolic Signatura by Pope John XXIII in November of 1959. Paul VI confirmed him in that post where he remained until his retirement some ten years later.
– Cardinal Pericle Felici was appointed Prefect of the Apostolic Signatura by Pope Paul VI in August of 1977. Following his elevation to the papacy more than a year later, Pope John Paul II confirmed him in the position; one he continued to hold until his death in 1982.
– Cardinal Burke's predecessor, Archbishop (later Cardinal) Agostino Vallini was appointed by Pope John Paul II in May of 2004, and was promptly reconfirmed in that position by Pope Benedict XVI less than month after ascending to the Chair of St. Peter in April of 2005. He remained in the post until Burke was made Prefect in 2008.
As for the comment, "we are thinking of a juridical restructuring in the G9," don't be distracted from the real question at hand; namely, why does Pope Francis find it necessary to remove Cardinal Burke from a post that he has filled faithfully and with great passion for many years, and clearly desires to maintain?
While the restructuring of the Curia may have played a hand in Burke's extended "until otherwise provided for" status, it most certainly had nothing to do with the decision to reassign him.
In other words, it's not as if the pope isn't quite sure whether or not the Tribunal will retain its independent status and thus remain in need of a Prefect of its own. This much is obvious given the fact that a new Prefect, Archbishop Dominique Mamberti, has just been appointed to replace Cardinal Burke.
To the delight of the papal excuse makers, Pope Francis went on to call Burke a "smart American," and said that he deliberately waited to send the cardinal off on his extended vacation in Ceremonyland so he could be present at the Extraordinary Synod!
According to seasoned Vaticanista Robert Moynihan of Inside the Vatican, who is either suffering a nasty sugar overdose of his own or is perhaps just playing the "three-cheers-for-Francis" game as a matter of self-preservation (not that there's all that much difference):
This is evidence that the decision to change Burke's post had nothing to do with the conflict which emerged during the Synod itself.
Can you even stand the journalistic insight!
Let me guess… Next we're going to be informed that the decision to yank Cardinal Burke from the Congregation for Bishops; replacing him with Cardinal Wuerl – a man who imagines a dichotomy between "doctrinal givens," like the gravity of adultery, and "pastoral applications," like offering Holy Communion to unrepentant adulterers – also had nothing to do with the Synod.
No fooling.
Anyone who has been paying even a modicum of attention knows very well that Cardinal Burke has been in Francis' crosshairs for quite some time. (He was, after all, left unconfirmed all these many months for a reason.)
As for making sure that Cardinal Burke was present at the Synod; big deal.
Many bishops of a similar mind were there present to witness firsthand the pope's machinations. The Holy Father clearly wasn't concerned that the presence of one "smart American" was going to derail his plans for "making a mess."
As it is, history will forever recall that Cardinal Raymond Leo Burke was there when Extraordinary Synod 2014 published its infamous interim report, the document of which Bishop Athanasius Schneider said:
This is the first time in Church history that such a heterodox text was actually published as a document of an official meeting of Catholic bishops under the guidance of a pope… It's an indication to the extent that the spirit of the anti-Christian world has already penetrated such important levels of the life of the Church.
Incidentally, this abominable text remains available in multiple languages on the website of the Holy See for all to see.
As for the revelation that Cardinal Burke actually thanked the pope, accepted his "offer" and "even seemed to like it," who would have expected anything less than a gracious response from this seasoned Curial prelate?
Moving on to the heart of the matter…
Those with eyes to see are being given a glimpse at just how crafty His Humbleness really is when he states, "He accepted my offer…"
You have to give credit where credit is due; Pope Francis is a master of subtlety!
Be not fooled, however, in no sense was Cardinal Burke's then pending reassignment an "offer."
Only the insipid (of which there are many, obviously) can imagine for even a moment that the Bishop of Rome and the lame duck Prefect were involved in some sort of consultative process concerning the latter's future. This, however, is precisely the message deliberately implied.
At this, let us return to where we began; the Roman game, a veritable fencing match wherein seemingly innocuous commentary offered for publication is readily recognized by the initiated for the verbal public undressing it is intended to be.
"A smart American who would know how to get around… he is a man that gets around a lot, he does a lot of traveling…"
Please allow me to translate the pope's words as read through the lens of Romanspeak; bearing in mind that they were not so much about Cardinal Burke as they were directed to Cardinal Burke in order to skewer him in the plain sight of his confreres; understanding that there is also a warning shot being fired therein for the benefit of every other prelate who just so happens to be cut from a similar cloth:
"So, Eminence, it would seem that you have a penchant for international travel, especially given your many journeys back to the United States where you so graciously offer the old Mass for those restorationists who, for whatever reason, are attached to that fashion… Perhaps you'd be better suited for a more ceremonial position that allows you the freedom to move about?"  
In conclusion, Pope Francis didn't downplay the tension that exists between himself and Cardinal Burke; on the contrary, he confirmed it.