I an interview with Kathryn Jean Lopez of National Review Online conducted on February 25th, George Weigel shared some thoughts about the challenges facing Pope Benedict's soon-to-be-named successor. I initially intended to comment upon the interview shortly after it was published, but taking a look at it now with the benefit of hindsight is a lot more fun.
LOPEZ: Not to be Pollyannaish, but how do Church institutions become worldly and even corrupt? Ought there to be a sanctification there? Can there be?

WEIGEL: … As for the situation right now, a distinguished Italian historian said to me, shortly after I arrived in Rome, that Italy had become a "corrupt society and culture" and that, with the deep and broad Italianization of the Roman Curia over the past half-decade, similar patterns of incompetence and malfeasance had penetrated the Leonine Wall. That strikes me as true, and it needs to be said…
Maybe it's just my Italian heritage at play here, but this is just plain idiotic. Are we to believe that somewhere in the world there exists a "society and culture" that is devoid of corruption, providing the Church with a veritable farm system from which to draft faithful prelates? Let me guess… Latin America!
LOPEZ: Why is the Vatican a state? Doesn't that bring with it all kinds of opportunities for distraction from her mission?

WEIGEL: It's long been understood that the pope, as Universal Pastor of the Church, cannot be the subject of any worldly sovereignty.

LOPEZ: What are the kinds of questions cardinals must be asking themselves and one another as they prepare for the conclave?

WEIGEL:  …Does this man have good judgment in people? That is, can he draw to himself the collaborators who will give his mission real effect? And is he willing to correct errors in judgment about people when they become clear?

LOPEZ: How can — and must — a pope convey "sacramental seriousness" at a time when holiness is being pushed to the sidelines by a secularism that all too many within the Church have bought into? Can the cardinals convey it in their choice?

WEIGEL: I think a pope does that in two ways. If he celebrates the liturgy in a dignified and reverent way, he offers the jaded world an experience of beauty which just might open up a discussion about truth and goodness.

LOPEZ: Can the Church — from the pope to her priests and all the faithful — reintroduce itself and what Christ proposes through her to a world that has seen much unseriousness and disappointment and even evil from those who call themselves Catholic?

WEIGEL: No comment from Weigel necessary.

LOPEZ: Has Pope Benedict set some markers in terms of liturgical reform the next pope can build on?

WEIGEL: As I explain in Evangelical Catholicism, he's accelerated the reform of the reform of the liturgy, and with what seem to me to be notable results. There are exceptions, of course, but the liturgical silly season is over.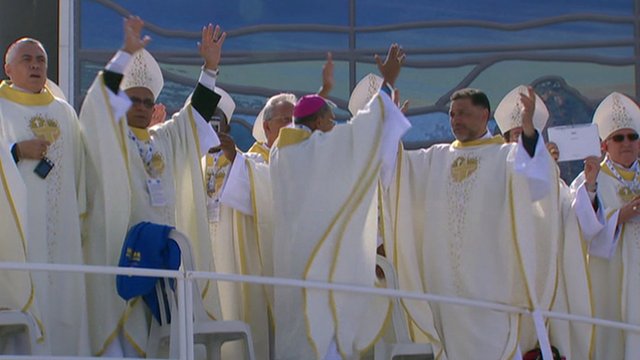 I wonder if George is having any second thoughts?