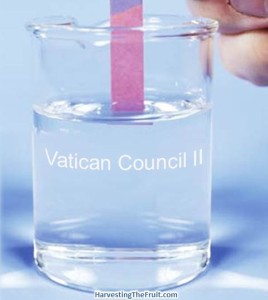 National catholic Distorter recently published a story entitled, Cardinal to religious: Those who abandon Vatican II are 'killing themselves', the title alone saying pretty much all that we need to know.
The prelate quoted in the title is Cardinal João Braz de Aviz, Prefect of the Congregation for Institutes of Consecrated Life and Societies of Apostolic Life, but also quoted in a similar vein in the story itself is Archbishop José Rodríguez Carballo, Secretary if the Congregation.
You may want to read the article at NcR for yourself as part of your Friday discipline; unless, of course, you happen to have hair shirt handy.
While you will find plenty to suffer in the article, what you won't find are any surprises.
The official position in Rome has long been that total acceptance of Vatican Council II is the new litmus test for so-called "full communion."
In fact, you might say that this policy effectively serves to replace the Oath Against Modernism that Paul VI of most bitter memory abolished.
Using statements made by the Vatican prelates quoted in the NcR article, I constructed the following Oath Pro Modernism.
In truth, it would be intellectually honest for the pope to require it of all who wish to enjoy that vaunted "full communion."
Oath Pro Modernism
I [name], firmly embrace and accept the Second Vatican Council, acknowledging with profound conviction that it is my non-negotiable point of reference.
Furthermore, with due reverence, I submit and adhere with my whole heart to a new deepening, a new pausing, and a new listening; always following the great lines of the Second Vatican Council as the departure point, opening myself to the culture of the present moment, never to be closed to new things.
I sincerely hold that God is always a new movement of light, of heat, and of demonstration; speaking in new ways to men and women with the true language of their particular time and place.
I attest and affirm that those who distance themselves from the Council as if to make another path are killing themselves; will not have sense; will be outside the Church, and sooner or later they will die.
I promise that I shall keep all these articles faithfully, entirely, and sincerely, and guard them inviolate, in no way deviating from them in teaching or in word or in writing.
Thus I promise, this I swear, so help me God.