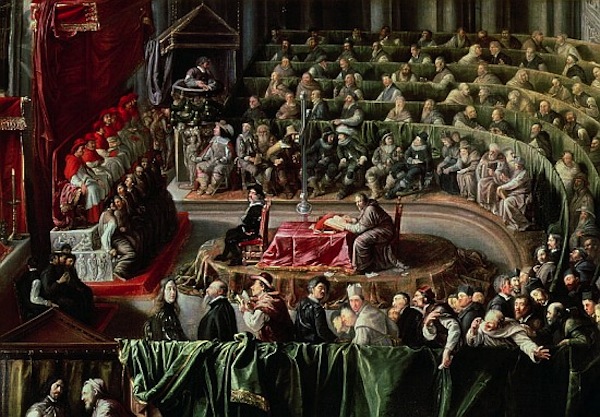 Several weeks ago, I said that Pope Francis took a major step toward formal heresy when he suggested that Christian unity exists among the schismatics and heretics, along with the children of the Church; prefacing his comments by saying, "This may sound controversial or even heretical…"
I took some heat for that statement from those who disagreed.
As I explained, it seems rather obvious that when a pope, especially one with a long track record of sowing doctrinal confusion, realizes that his comments "may sound … heretical" and yet offers them anyway, he is practically begging to be tried for formal heresy.
Well, if that constituted a "major step," I suppose we'd have to call the following a "giant leap."
At the end, we will find ourselves face to face with the infinite beauty of God (cf. 1 Cor 13:12), and be able to read with admiration and happiness the mystery of the universe, which with us will share in unending plenitude.

Even now we are journeying towards the sabbath of eternity, the new Jerusalem, towards our common home in heaven. Jesus says: "I make all things new" (Rev 21:5). Eternal life will be a shared experience of awe, in which each creature, resplendently transfigured, will take its rightful place and have something to give those poor men and women who will have been liberated once and for all.

– Pope Francis, Laudato Si – 243
Here, the pope is plainly misappropriating Sacred Scripture to suggest that all persons, without any qualification or distinction whatsoever, will enjoy eternal beatitude at the end of time.
The only way the situation could possibly be any more grave is if a demand for correction doesn't come from one or more of the Cardinals, or at the very least a highly visible bishop, and soon.
Readers might recall Cardinal Gerhard Müller's interview with La Croix back in early April wherein he said:
The arrival of a theologian like Benedict XVI in the chair of St. Peter was no doubt an exception. But John XXIII was not a professional theologian. Pope Francis is also more pastoral and our mission at the Congregation for the Doctrine of the Faith is to provide the theological structure of a pontificate.
How long will we have to wait for Cardinal Müller to provide the "theological structure" necessary to correct the gravely dangerous proposition put forth in Laudato Si – 243?
In any case, let's be very clear:
The problem isn't that Pope Francis is so thoroughly "pastoral" as to need theological assistance.
Cardinal Müller doesn't really believe that; he was simply being diplomatic. I have no doubt that he knows very well that such a dichotomy is patently ridiculous since only right doctrine and clear theological expressions have authentic pastoral value.
As for Laudato Si – 243, the real problem is that Pope Francis (not entirely unlike all of his post-conciliar predecessors, if we're honest about it) seems rather clearly to believe that all "men of good will" are saved.
As such, it only makes sense that he sees no need whatsoever of calling worldly men to conversion to Christ and His Church, as doing so would just needlessly provoke their hostilities.
With this being his conviction, all that is left to do is to invite the men of this world to exhibit good will by entering into dialogue with one another, that they may "weave bonds of belonging and togetherness" in such a way as to bring about an "experience of a communitarian salvation" (cf Laudato Si – 149); a salvation that is presumably already their own, regardless of their faith or lack thereof.
Objectively speaking, those who believe such things have lost, or have never had, the Catholic faith.
Evidence that this is the case with Pope Francis has been mounting from the earliest days of his dreadful pontificate.
Today, however, it is safe to say that we have reached a veritable breaking point.
No longer are we discussing yet another ill-advised papal interview, or a rambling Santa Marta sermon, or a sentimental video message sent to a gathering of heretics; rather, Pope Francis has chosen to enshrine in a papal encyclical his apparent belief that "we," which includes all men without distinction, "will find ourselves face to face with the infinite beauty of God" in "happiness" at the end of time.
The peoples of the entire world need to know if Jorge Bergoglio truly believes this, or if he holds the Catholic faith.
It's one or the other, folks. It cannot be both, and the time for making excuses for this pope has long since passed. The eternal state of souls is at stake.
This is a gravely serious matter; one that cuts right to the heart of who Jesus Christ truly is, and likewise the identity and the mission of His Holy Catholic Church.
The need to address this situation head-on is especially urgent given the pending Synod of Bishops, which has been charged by Pope Francis with the task of discussing possible changes to that which cannot be changed without undermining the very words of Our Lord.
On this note, Cardinal Müller even went so far as to state publicly that "each division between 'theory' and 'practice' of the faith would be a reflection of a subtle Christological heresy."
Allowing the Synod to convene before publicly challenging Pope Francis to correct such public statements as Laudato Si – 243 (among others), and to confirm either his acceptance or rejection of the Catholic faith would be a grave dereliction of duty for those men who wear red as a visible sign of their supposed willingness to defend the flock even unto martyrdom.
In truth, this should have happened long ago.
Evangelii Gaudium contains statements that are enough to prompt the College of Cardinals, or at least the few reasonably faithful members thereof, to formally challenge Pope Francis on his acceptance of the Catholic faith.
Instead, as you may recall, Cardinal Burke, who appears to be among the best of the lot, chose to take an "out" by saying:
To me, it's a distinct kind of document, and I haven't quite figured out in my mind exactly how to describe it. But I would not think that it was intended to be part of papal magisterium. At least that's my impression of it. (Interview with Raymond Arroyo)
In so doing, Cardinal Burke suggested that the text of Evangelii Gaudium itself supported just such a reading as to the pope's intent.
In the case of Laudato Si, however, neither Cardinal Burke, nor any other prelate that has an interest in defending the Faith as he should, has the luxury of just such an escape.
Pope Francis publicly declared before the release of Laudato Si:
I invite everyone to accept with open hearts this document, which places itself in the line of the Church's social doctrine.
Look, most of us realize that if the sum total of Pope Francis' public statements were compiled, without attribution, into a single written volume and submitted for evaluation by a reasonably orthodox Catholic theologian, at best he might suppose that the writer is a former-Catholic who as yet still clings to some vestiges of the one true faith that he clearly rejected. Heck, he might even suggest, and not without cause, that the writer has ceased to be "Christian" altogether.
Even the most committed papal excuse maker would have trouble denying that this has long been the case.
Now, however, with the promulgation of Laudato Si, the envelope has been pushed to the very brink, and with the upcoming Synod harkening nothing but disaster, it is entirely obvious that the good of the Church demands, and urgently so, that Pope Francis be subjected to a formal proceeding in order to determine whether or not he holds the Catholic faith.
Anything less on the part of those men who are in a position to make this happen will undoubtedly lead to the loss of countless souls for which they will one day have to answer.
Sure, let's continue to pray and to fast for the pope, but might I suggest that our efforts may be better spent praying for the College of Cardinals, that some from among their ranks may be granted the grace to perform their sacred duty to protect the flock from the dangers posed by this pontificate.