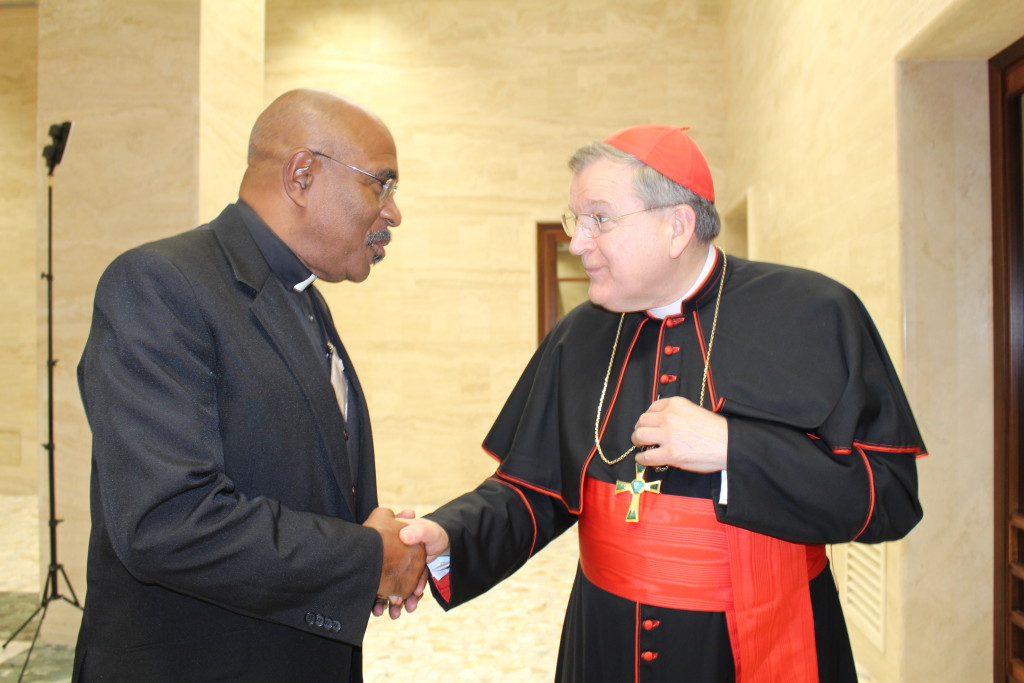 For it has been reported to me that there is quarreling among you. Each one says, "I belong to Paul," or "I belong to Apol'los," or "I belong to Cephas," or "I belong to Christ."  Is Christ divided? (cf 1 Cor. 1:12-13)
On April 20th, Fr. Linus Clovis, spiritual director and chairman of Family Life International NZ, published a brief response to Amoris Laetitia which gives one to suspect that perhaps he belongs to Raymond.
Fr. Clovis first garnered international attention back in May 2015 thanks to a presentation given in Rome wherein he spoke of the real "Francis Effect."
In what is perhaps the most memorable line from the roughly 31 minute conference, Fr. Clovis stated, "There used to be a saying, rhetorical, 'Is the pope Catholic?' That's no longer funny."
He went on to say:
I don't think that Pope Francis has done anything other than disconcert us. He has literally pulled the rug from under our feet … We are judging not his person or his office but the results of his actions. And, we're not doing this out of indignation, because what he's doing is the cause of our indignation and it is a threat to our Faith, and it's a threat to the Church, and is a danger to the salvation of souls.
As he spoke, Fr. Clovis had in mind the Synod on the Family and widespread predictions of pending doctrinal doom:
We have prominent Cardinals taking an anti-Catholic stance on moral issues, which we thought were settled. We have the Holy Father himself seeming to support them, to give his blessing to them.
Fast forward to today.
No longer can it be said that Francis only seems to support an anti-Catholic stance on moral issues, he has taken just such a stance in Amoris Laetitia.
This being the case, one may reasonably have expected Fr. Clovis to express even greater indignation now that the threat to our Faith and danger to the salvation of souls has formally arrived in the form of an exhortation addressed to the entire Church.
Instead, what we got was more Burkean pusillanimous posturing.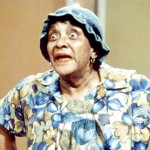 To be fair, Fr. Clovis' essay does have more teeth than the one issued by Cardinal Burke, which is kind of like saying it has a slightly sharper bite than Moms Mabley with her dentures on the nightstand, but still…
For instance, Fr. Clovis states:
AL not only glosses over of the seriousness of sins against chastity but also gives a strong emphasis to the role of the individual conscience in sexual matters without any corresponding affirmation of the duty of forming one's conscience in accordance with the Church's magisterium.

The most controversial issue, however, is the exceptions being made for some of those living in irregular sexual relationship to approach the sacraments without due amendment of life.  Here it seems that AL has departed from the Church's clear bimillennial teaching as found in Scripture and Tradition, as has been confirmed by numerous popes, including St John Paul II and as is articulated in the Catechism of the Catholic Church and the Code of Canon Law.
It seems to depart? He can't be serious. Any honest reading of the document leaves no room for confusion; Amoris Laetitia takes a sledgehammer to Catholic teaching.
And yet, Fr. Clovis says that the "nuances, implications and applications" of the document "will require time, study and prayerful reflection in order to unravel all of its implications."
This is rather like pondering the application of fire to gasoline in a hay barn; only an idiot can fail to grasp the implications.
No, I take that back. In this case, even the idiots among us know what Amoris Laetitia represents and what it will bring. (Don't believe me? Just ask the editorial team at America Magazine.)
For the most part, Fr. Clovis' take on Amoris Laetitia comes straight from the Burke School. He tells us:
In practical terms and, indeed, in line with Pope Benedict XVI's hermeneutic of continuity, this means that AL must be understood and interpreted in light of previous magisterial teachings.
This is typical of today's neo-Catholic castrati who think that "holding fast to tradition" in the face of the Bergoglian Deception means looking for guidance from the pre-Franciscan popes who dedicated their entire pontificates to spreading the Council's poison.
If only the Burkeans, Fr. Clovis included, would act on their own advice and take a good hard look at what is revealed when one shines the light of immutable Catholic doctrine on Amoris Laetitia!
If they really had the wherewithal to do so, they would have no choice but to declare that it contains heresy and blasphemy. No other "interpretation" is possible!
Fr. Clovis does manage to deliver a plea to "fight in defence of the faith handed on once and for all," but thanks to the example that he himself provided, it rings utterly anemic:
It seems to me that we ought to remain calm and take the sagacious advice of St Paul of simply following the well established Catholic rule of holding fast to what we have received and always believed.
Boy, when the shooting stars fall, they sure fall hard, don't they?
Rather than engaging the threat to our Faith that is Francis; Fr. Clovis is taking a page out of the Bergoglian Book of Quasi-Biblical Bunkum; that is, the art of offering highly selective Scripture citations and then twisting them to say whatever he wants.
Let's be clear: The aforementioned "sagacious advice" from St. Paul was truly much more than that; it was a clear-cut directive for those who wish to remain Catholic even though "the mystery of iniquity is already at work." (cf 2 Thes. 2)
Furthermore, St. Paul didn't counsel the Thessalonians to "remain calm" in the face of open attacks against immutable doctrine; rather, he cautioned them "not to be easily moved from their senses or frightened" (ibid.) to the point of actually believing the word of those who might seek to deceive them. There's a difference.
The fact of the matter is St. Paul himself never remained calm in the face of affronts to the truths of the Gospel and its application in daily life.
But when Cephas was come to Antioch, I withstood him to the face, because he was to be blamed. (Eph. 2:11)
But though we, or an angel from heaven, preach a gospel to you besides that which we have preached to you, let him be anathema. (Gal 1:8)
May Fr. Linus Clovis and others cut from Burkean cloth be granted the grace, not only to quote St. Paul accurately, but to emulate his zeal in defending the Faith.