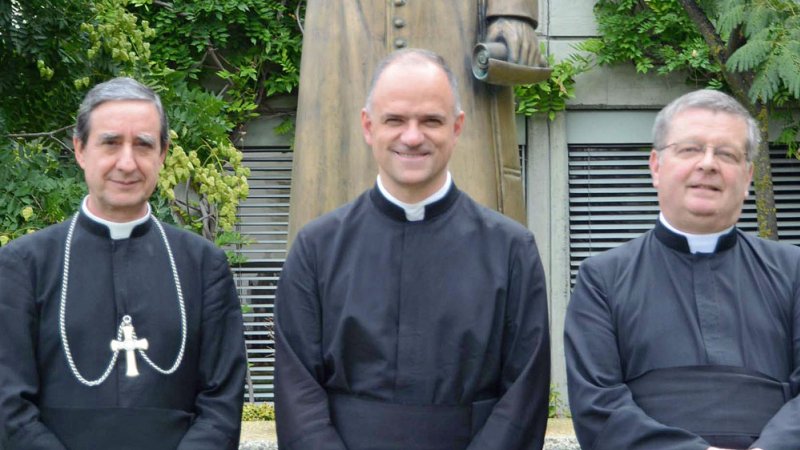 On February 25, Superior General of the Society of St. Pius X, Fr. Davide Pagliarani, responded to Bergoglio's joint declaration with Muslim Sheik Ahmad el-Tayeb wherein he declared that God wills religious pluralism.
Fr. Pagliarani writes [emphasis added]:
The Document on Human Fraternity for World Peace and Living Together signed by Pope Francis and the Grand Imam of Al-Azhar is nothing but a house built on sand. It is furthermore an impious gesture that scorns the First Commandment of God and attributes to the Divine Wisdom, incarnate in Jesus Christ who died for us on the Cross, the statement that "the pluralism and the diversity of religions" is "willed by God in His wisdom"
Such talk is opposed to the dogma that declares that the Catholic religion is the one true religion (cf.Syllabus of Errors, proposition 21). When something is a dogma, anything opposed to it is called heresy. God cannot contradict Himself. 
Following Saint Paul and our revered founder, Abp. Marcel Lefebvre, under the protection of Our Lady, Queen of Peace, we will continue to hand on the Catholic faith that we have received (cf.1 Cor 11:23), working with all our might for the salvation of souls and of nations, by preaching the true faith and the true religion.
God bless Fr. Pagliarani for using the "H" word! That said, one wonders if most of what he stated beyond that is reality, or simply a series of empty words.
You see, if he and the Society stop right there and just continue on their merry way – effectively behaving as if this and other even graver Bergoglian offenses against Christ never happened – then all claims to be "following Saint Paul" will be exposed as little more than hot air. So too will the claim of "working with all our might for the salvation of souls and of nations."
On this note, I would respectfully remind the Superior General that it was St. Paul who "withstood Peter to the face, because he was to be blamed" (cf Galatians 2:11), and furthermore, that he revealed this information only after he had already cautioned the Galatians:
But though we, or an angel from heaven, preach a gospel to you besides that which we have preached to you, let him be anathema. (Galatians 1:8)
In identifying this most recent heresy, it is clear that Fr. Pagliarani can see the falseness of Bergoglio's modernist "gospel." As such, if indeed he and the SSPX are true followers of St. Paul, we should expect that they will boldly point to Francis while repeating after the Apostle, let him be anathema!
And why would they do such a thing? Well, because that is what "working with all our might for the salvation of souls and of nations" requires – the same reason that St. Paul opposed Peter to his face and wrote as boldly as he did.
So, what does it mean for one to be "anathema"?
In the New Testament anathema no longer entails death, but the loss of goods or exclusion from the society of the faithful. St. Paul frequently uses this word in the latter sense. (1917 Catholic Encyclopedia)
If, therefore, it is reasonable (and I insist that it most certainly is) to consider Bergoglio "excluded from the society of the faithful" – for so many more reasons than just this most recent heresy, and graver ones at that – then how is it possible for any true follower of St. Paul to speak of Francis as if he is head of said society?
If St. Paul's instructions to those who wish to follow his example are not yet clear enough, consider the following:
A man that is a heretic, after the first and second admonition, avoid: Knowing that such a one is subverted and sinneth, being condemned by his own judgment. (Titus 3:10-11)
In these words, it is perfectly plain that St. Paul simply assumes that responsible churchmen (like Titus) who are "working with all their might for the salvation of souls and of nations," will not only take the initiative in issuing those admonitions, but will also warn the faithful of this act of self-condemnation.
At this point, numerous admonitions and corrections of Bergoglio have taken place, many of them issued by churchmen, and in the public arena at that!
All of this having been said, it is perfectly plain that a true follower of St. Paul cannot help but acknowledge that Jorge Bergoglio is condemned by his own judgment, anathema, and therefore is to be avoided. 
If the SSPX is unwilling to take the path laid out by St. Paul, then perhaps they will consider following the instructions given by Our Lord. Surely this is not too much to ask of anyone who proposes to stand guard over tradition:
But if thy brother shall offend against thee, go, and rebuke him between thee and him alone. If he shall hear thee, thou shalt gain thy brother. And if he will not hear thee, take with thee one or two more: that in the mouth of two or three witnesses every word may stand. And if he will not hear them: tell the church. And if he will not hear the church, let him be to thee as the heathen and publican. (Mt. 18:15-17)
Francis' heresy and blasphemy is an offense first and foremost against Christ, but also against every member of His Body. As noted, numerous "rebukes" of Francis, most notably the heresies enshrined in Amoris Laetitia, have been made.
In response to these rebukes, Francis will not hear them.
With the dubia, the Church as represented by members of the College of Cardinals has rebuked him.
In response to this rebuke, Francis will not hear the Church.
As such, according to Our Lord's own instructions, Francis must be treated as a heathen and publican; i.e., as one who is outside the Body of Christ, and as such, clearly not head of said Body. Will the SSPX do this?
In conclusion, I will end by posing a question that I never would have imagined having to ask just a half-dozen or so years ago:
Is the SSPX really intent on following Saint Paul and working with all their might for the salvation of souls and of nations as they claim, or not?