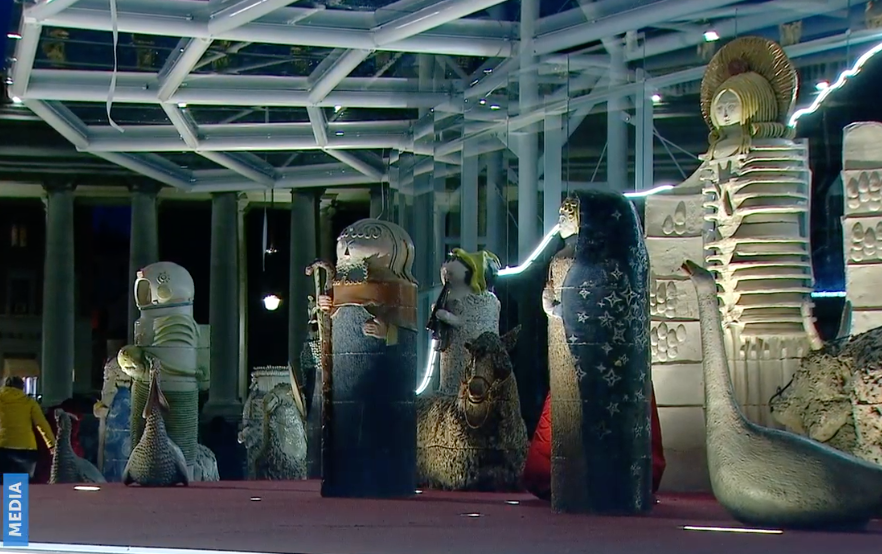 Reaction from around the world to the Vatican's 2020 Nativity Scene was swift and highly critical. Conservative Catholics largely attached to the Novus Ordo rite (when government officials magnanimously allow them to attend) were among the most vocal. So-called traditionalists, by contrast, were more inclined to find the gargantuan cylindrical figures amusing.
In response, the Vatican beefed up the display with the addition of figures that officials hope will resonate more deeply with their critics.
"Pope Francis humbly decided that the 2020 Nativity Scene should be enhanced to contain more universally recognizable symbols of joy; in particular, those held dear by non-Christians," said an anonymous member of the Dicastery for Promoting Secular Humanism.
"This, the Holy Father considered all the more urgent in light of the fact that the  Macy's Thanksgiving Day Parade had to be cancelled this year due to the COVIDS," continued the priest, his voice muffled by the damp, bacteria infested, cloth mask that was covering his face.
Below is footage of last evenings big reveal Part II. I think you will agree with me that the additional figures more accurately portray the disposition of present pontificate.