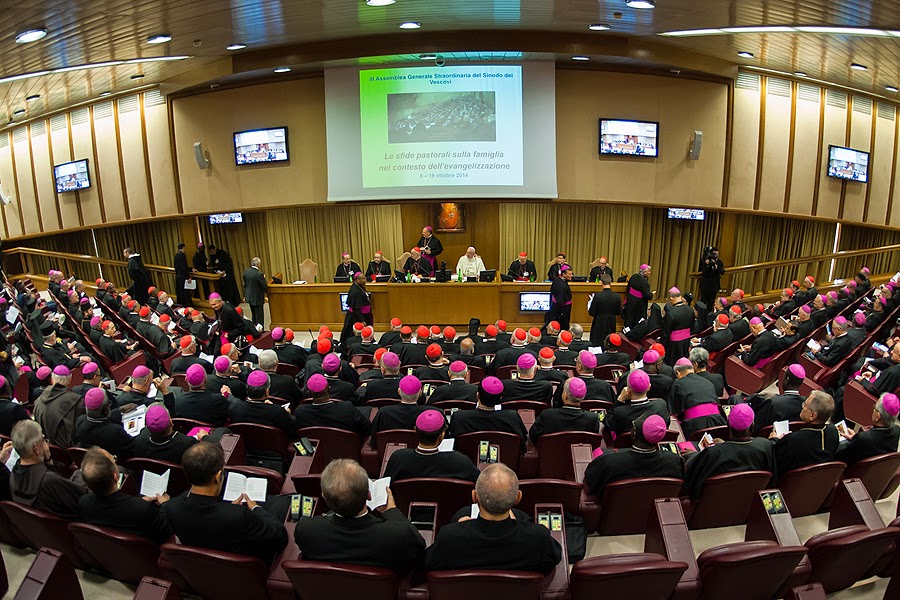 In follow-up to my post examining the Vatican's recently published Document of the Pre-Synodal Meeting with "young representatives," today we will highlight other noteworthy portions of the text.
Bear in mind as we go that the "reflections" conveyed in the Document are actually attributable to Jorge Bergoglio and his merry band of modernists; the "young" are simply being exploited as a means to a predetermined end.
About that end…
Early in the text, we find the following caveat:
It is important at the outset to clarify the parameters of this document. It is neither to compose a theological treatise, nor is it to establish new Church teaching. Rather, it is a statement reflecting the specific realities, personalities, beliefs and experiences of the young people of the world.
Further into the text, we are told:
The outcomes of these reflections should be formalized through an official Church document.
Add it all up, and what do you get?
Another Amoris Laetitia – a post-synodal "Apostolic Exhortation" (so-called) that, according to its proponents, "doesn't change any doctrines," but which undermines immutable teaching by way of outright blasphemy and heresy, and/or by setting the stage for "pastoral" programs that are utterly incompatible with it.
And why not?
Amoris Laetitia has been a boon for the Bergoglian party!
You see, they now know that the only pushback they will likely encounter from another heresy laden text are yet more benign petitions, requests for clarification, corrections, appeals, and perhaps even another dubia; none of which represents anything more than a speedbump to these guys.
The 2018 pre-synodal Document further indicates that Amoris Laetitia has become the blueprint for future attacks against the Faith as it goes on to declare:
The Church oftentimes appears as too severe and is often associated with excessive moralism … We need a Church that is welcoming and merciful, which appreciates its roots and patrimony and which loves everyone, even those who are not following the perceived standards… Erroneous ideals of model Christians feel out of reach to the average person and thus so do the rules set by the Church. Therefore, for some, Christianity is perceived as an unreachable standard.
Unreachable standards… out of reach rules… erroneous ideals…
Dismissing traditional Catholic teaching as such (in particular as it concerns morality) is precisely the formula applied by Team Bergoglio in Amoris Laetitia.

As pointed out in my previous post on this Document, it paints Church teaching on such matters as contraception, abortion, homosexuality, cohabitation, marriage and the priesthood as nothing more than "polemical issues" about which there is much disagreement.
Catholic teaching on cohabitation and marriage have already been decimated (by Synods 2015 and 2016, Amoris Laetitia, and its aftermath). We should, therefore, expect to see any one or all of the remaining teachings to be turned upside down following Synod 2018 via a similar text.
The Document goes on to say:
…Catholics whose convictions are in conflict with official teaching [such as those listed above] still desire to be part of the Church.
In other words, it's time we come to terms with just how big this tent really is (unless, of course, you are a lover of Catholic tradition.)
If only you've been baptized, believe whatever you like, do whatever suits your fancy, and rest assured – even if you obstinately and publicly reject that which must be believed with divine and Catholic faith – you're still a member of the Mystical Body of Christ in good standing!
This notion is also part and parcel of the Amoris Laetitia blueprint:
It is important that the divorced who have entered a new union should be made to feel part of the Church.  They are not excommunicated and they should not be treated as such, since they remain part of the ecclesial community. (AL 243)
Such persons need to feel not as excommunicated members of the Church, but instead as living members. (AL 299)
Not only does Jorge Bergolgio believe in permanent, irrevocable membership in the Church, so too, apparently, does every priest, bishop, cardinal and layman that continues to call him "pope" in spie of all that has transpired over the last several years.
Heck, even some longtime members of the "traditionalist" media still insist on calling him "Holy Father;" a sure sign that they have been infected, and very deeply so, with neo-conservatism.
Yes, Amoris Laetitia has thus far proven to be a winning formula for the enemies of the Church. As such, it's a safe bet that it will be applied rather liberally in the future; in particular, in the aftermath of future synods.