By: Louis J. Tofari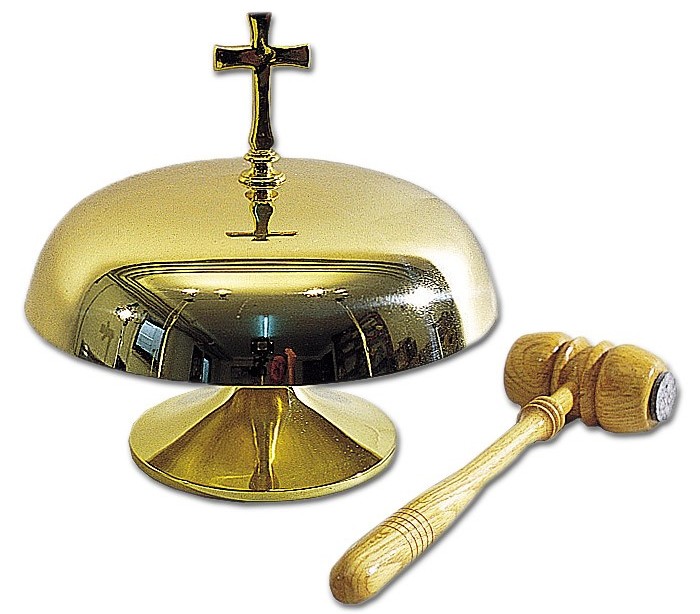 A reader writes:
In my parish they use a liturgical gong at the consecration (I don't know if that is the correct term. I've included a picture.) [See above.] I have been told this is a liturgical abuse, but can only find one reference to the use of such a gong. Someone else described them as Masonic, but I can find no reference for this either.  Could you help?
*******************************************************************
You are correct that this object is called a "gong." It is also a liturgical abuse, as it has been proscribed most definitely by both the Sacred Congregation of Rites and thereby rubricians.
That being said, it is not forbidden for being "Masonic" (which it is not, in fact, it's derived from India), but because it does not fulfill the design required of an altar bell.
Some background
You might be surprised to learn that an altar bell was not always used during Mass. Its use did not originate in the Western Church until the late 12th century when another practice was introduced: the Elevation of the newly-consecrated Sacred Host.
At first, the belfry's large bell was rung to alert those outside the church, thus allowing those within earshot to momentarily cease their activities and adore. Eventually, the belfry's bell was replaced by a small one at the altar to warn those inside the church. First practiced in northern Europe, it would take another 200 years before this custom was adopted in Rome; in fact, the bell was not even mentioned in the Missale Romanum until 1604 by Pope Clement VIII, and then only for the Sanctus and Elevations.
The correct type of bell
So what kind of bell should be used at the altar? The Roman Missal gives the answer in its Rubricae Generales section using the term, "parva campanula."
For more on this subject, please follow the link to my article on the Romanitas Press website, The Altar Bell.
[ Submit your questions via email to RomanRite@akaCatholic.com ] ______________________________________________________________________
NOTE: The response to Roman Rite Q&A has been has been incredible! I want to thank all of those readers who submitted so many excellent questions. Over time, we'll probably end up combining questions of a similar nature, but rest assured, we'll get to all of them. Please keep the questions coming!
What's more, please invite those acquaintances of yours who are not regular readers, including those with little or no experience of the Traditional Roman Rite, to join in the conversation as well. God willing, I fully expect this effort to bear much good fruit in the coming year. – Louie V.