Louie : February 1, 2019 1:31 pm :
Blog Post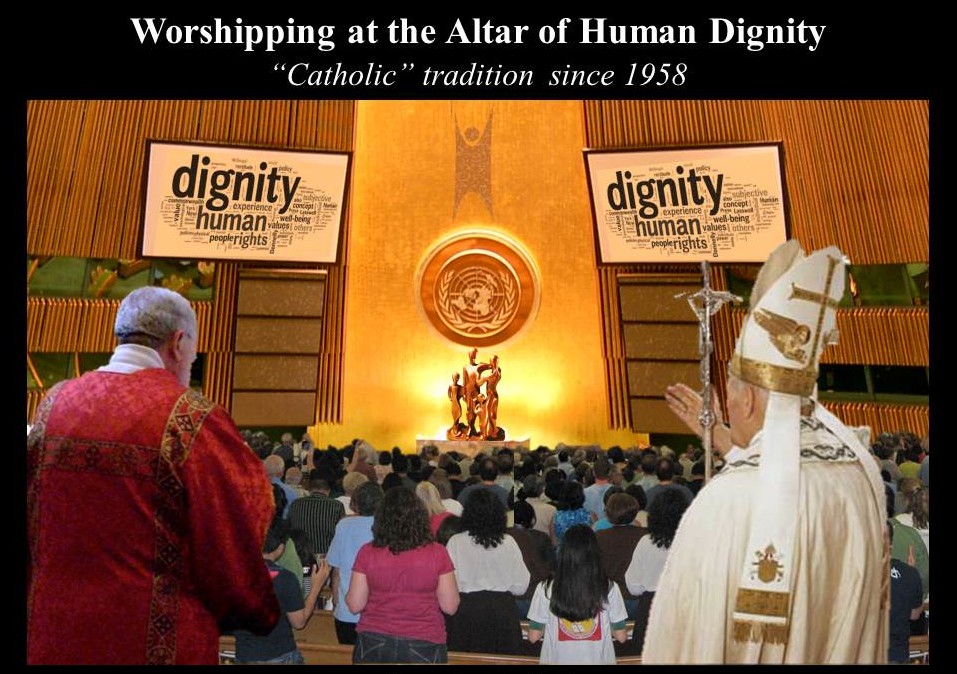 As most so-called "traditionalists" would agree, the Second Vatican Council is guilty first and foremost of unduly glorifying man; even to the point of "uncrowning" Christ the King, to borrow a phrase from the saintly Archbishop Marcel Lefebvre. (Keep this image in mind as we proceed. We will return to it at the conclusion.)
It is this hyper-focus on humanity that has unleashed such Hellish things on the Church as Kumbaya ecumenism, religious indifferentism, and the eminently Protestant Novus Ordo Missae.
The Council's anthropocentrism is perhaps best summed up in the magnificently audacious claim that "all things on earth should be related to man as their center and crown" (GS 12); in other words, it's all about us! 
For as often as tradition-minded Catholics (if you'll pardon the redundancy) rail against the Council's fixation on humankind and its allegedly soaring dignity, as a group, we are nearly as guilty as the architects of the conciliar revolution. This much has been made perfectly plain thanks to three relatively recent news stories.
– The outing of Uncle Ted McCarrick, the Pennsylvania Grandy Jury Report, the Viganò bombshell, etc.; all of which have served to bring renewed attention to the Church's homo-clerical problem.
– The Covington Catholic scandal; a Soros-funded #FakeNews operation designed to create civil unrest at the March for Life.
– The "Reproductive Health Act" (RHA) that was signed into law by New York Governor Andrew Cuomo – a self-identified Catholic who need not fear excommunication at the hands of a certain castrated cardinal.
Each one of these news items has served to light a fire under both traditional and conservative Catholics to an extent that I've never before witnessed. My social media feed is overflowing with calls for the faithful to mobilize, to protest, to withhold donations, to demand justice, etc.
And what do each one of these stories and the outrage they've sparked among Catholics have in common?
It's all about us. The homo-clerical crisis is all about the victims of sexual abuse. The Covington Catholic scandal is all about how unfairly the students have been treated. The RHA is all about genocide.
Now, don't get me wrong; there is nothing at all wrong with expressing outrage on behalf of the victims of sexual abuse, or the Covington students, or the unborn. That said, let's be very clear; these offenses are first and foremost offenses against Our Lord:
The homo-clerical crisis is primarily an assault against the one High Priest. The Covington Catholic scandal is primarily an assault against Truth incarnate. The RHA is primarily an assault against the Life.
Do these assaults against Christ also claim human victims? Indeed they do, but only secondarily inasmuch as the first demand of justice is to render unto God what He is due.
With all of this in mind, it seems rather apparent that the Council's anthropocentrism is contagious; to the point where even many sincere "traditional" Catholics have been infected. While we are ever on high alert for all manner of offenses against mankind and poised to pounce at the sight of each and every one, few among us seem to have any time for, or interest in, expressing outrage for Christ's sake over the far greater injustices that are being perpetrated against Him.
Where are the calls to mobilize and protest over the institutionalized assault on the Blessed Sacrament being perpetrated by Jorge Bergoglio via Amoris Laetitia and its official interpretation as enshrined in the AAS?
Where is the righteous indignation over his practical abrogation of mortal sin, his bold accusation that the Divine Law places an unbearable burden upon men, and his declaration that God actually wills adultery?
Where are refrains of "we're not going to take it anymore" being intoned in light of both Benedict's and Bergoglio's coordinated attack on the Office of His Vicar?
And these represent just a very limited sampling of such offenses.
In truth, the three aforementioned current-event news items, while serious injustices in their own right, pale in comparison to the heresies and blasphemies that have been flowing out of Rome like so much sewage over the past fifty-plus years; in particular, during the Bergoglian Occupation, and yet it is the former that are receiving practically all of our attention.
And why is that the case?
No, it's not because we are a "what's happening now" people, but rather because we have become a self-absorbed people; a people who, perhaps without even realizing it, have bought into the Council's lie that it's all about us.
The bottom line is simply this: While coming to the defense of our fellow men (e.g., the abused, the exploited, the unborn, etc.) is an objectively good and necessary thing, apart from Christ, these efforts will do nothing to create a just society. It simply cannot happen without Him.
"When once men recognize, both in private and in public life, that Christ is King, society will at last receive the great blessings of real liberty, well-ordered discipline, peace and harmony." (Pope Pius XI, Quas Primas – 19)
Keep this in mind when the next big story detailing the activity of Satan's minions inevitably hits the newswire and rightly invites your outrage.

Louie : January 30, 2019 1:45 pm :
Blog Post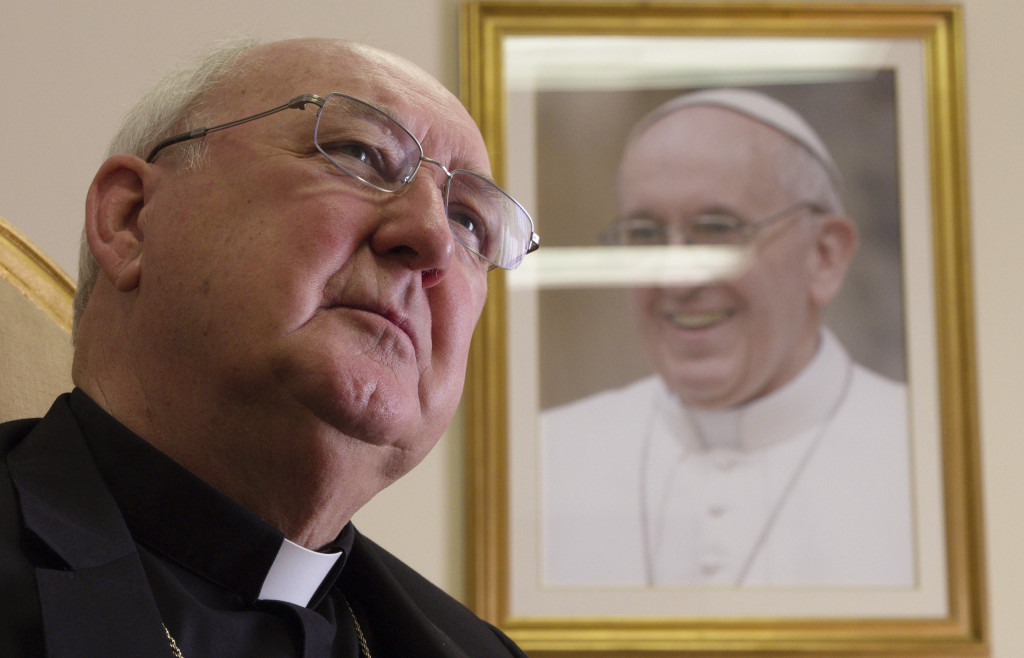 In a recent interview with the Tablet, Cardinal Kevin Farrell gloated over the fact that his boss' love letter to Satan, otherwise known as Amoris Laetitia, has been "overwhelmingly well received" throughout the Catholic world.
And why shouldn't he gloat? The Apostolic Exhortation (so-called), which is among the most blasphemous and openly heretical texts ever issued bearing a papal seal, is no longer being publicly contested. In fact, it never really was; at least not in the manner that it should have been.
It wasn't all that long ago when it was simply rumored that the punchline to the Synods on the Family of 2014 and 2015 was going to be a change in the Church's bi-millennial practice concerning the reception of Holy Communion by the so-called divorced and remarried.
I seem to recall those rumors being met with bravado by certain conservative clerics and others who suggested such things as, If Francis were to do this, it would prove that he truly is a heretic! I and other faithful laity, priests and bishops will rise up!
Where are those bold men now?
One suspects that their pre-Synodal valor was fueled by the fact that these rumors were also being met with confident claims that such a thing simply cannot happen, and by persons in authority.
For instance, L'Osservatore Romano published a lengthy article written by Cardinal Gerhard Muller, then Prefect of the Congregation for the Doctrine of the Faith, on October 22, 2013, in which he stated:
Today even firm believers are seriously wondering: can the Church not admit the divorced and remarried to the sacraments under certain conditions?  Are her hands permanently tied on this matter? Have theologians really explored all the implications and consequences?
Cardinal Muller systematically went about answering these questions in no uncertain terms by extensively citing both Scripture and Tradition. He demonstrated conclusively that the Church's hands are permanently tied on this matter because her practice is inextricably bound to immutable doctrine concerning the indissolubility of marriage.
He then went on to reaffirm the CDF's statement of 14 September 1994 saying that the Church's practice of not allowing the reception of Holy Communion by the divorced and remarried "cannot be modified because of different situations."
Among other things, Cardinal Muller also cited the following from an article written by his predecessor at the CDF, Cardinal Ratzinger, as published in L'Osservatore Romano on 7 December 2011:
If the prior marriage of two divorced and remarried members of the faithful was valid, under no circumstances can their new union be considered lawful, and therefore reception of the sacraments is intrinsically impossible. The conscience of the individual is bound to this norm without exception.
Intrinsically impossible…without exception.
In other words, Muller was stating that there is no possibility whatsoever that Francis, or any other pope, could possibly change the well-established practice under review; with the unspoken exception being, of course, unless that man were to depart from the Church.
Fast forward to today. The rumors are no longer. Francis has indeed moved to institute a change in this bimillennial practice of the Church; the same that previous popes have consistently deemed unchangeable as it is based upon revelation and the very words of Jesus Christ.
This, Francis has done by way of Amoris Laetitia, a text that makes its case by boldly accusing God of placing impossible burdens upon men, and even goes so far as to say that He wills mortal sin!
In spite of this, the Bergoglian point man for implementing this diabolical attack on Our Lord – the Prefect of the so-called Dicastery for Laity, Family and Life, Cardinal Kevin Farrell – is now claiming:
"There is nothing in 'Amoris Laetitia' that is contrary to the Gospel."
Though Farrell openly boasts that "conferences of bishops and lay groups involved in marriage and family life" are embracing Bergoglio's anti-Scriptural agenda, he admitted:
There are some elements in the United States, on the continent of Africa, and some here in Europe – but not very strong – where they have a vision of going back to a Church that I believe never existed.
In reference to those elements, Farrell couldn't help but take a shot at Cardinal Raymond Burke, saying, "There is no correction to be made."
In a sense, Farrell is right. There is no correction to be made, not because one is not needed, but because Cardinal Burke – an ecclesial celebrity who jets across the globe offering Pontifical Masses like a rock star on tour – is "not very strong" indeed.
More accurately, Raymond Burke is a fraud and a coward. So too is Gerhard Muller and every single solitary blowhard cleric who blustered with so much bravado before the rumors of a change in the Church's immutable practice became fact, and yet today are quietly going along to get along.
Likewise, those persons in Catholic media, traditional and otherwise, who don't dare risk either popularity or income by stating the obvious: Jorge Bergoglio has formally, publicly, and of his own volition departed from the Body of Christ. Period. An adolescent child can see as much.
Today, new rumors abound; this time about Bergoglio possibly permitting the so-called ordination of female deacons.
Mark my words, folks, if and when the day comes that Bergoglio moves to bring this about, the chest-pounding defenders of Holy Orders of today will quickly shrink into silence on the matter; comfort preserved, integrity be damned.

Fr. José Miguel Marqués Campo : January 27, 2019 3:55 pm :
Blog Post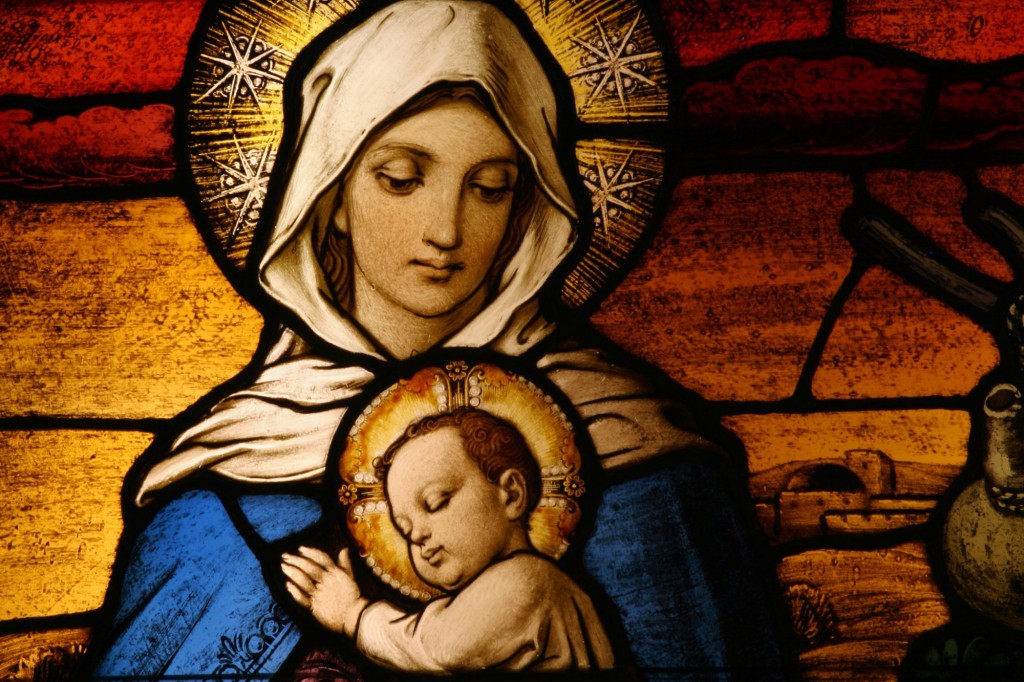 When I came across this absolutely beautiful chanting of the XI century Medieval Marian Antiphon "Inviolata es Maria", I thought to share (as I do from time to time) the genuine sounds of our Catholic faith and sacred liturgy, with the kind readers of Louie Verrecchio's akacatholic blog.
Delicately and sublimely sung by the Sisters of the Oasis Monastery of Jesus the Priest in Barcelona (Spain), accompanied by the gentle chords of the organ.
Given all the great evils of our times, this chanting of the beauty of the Most Blessed Virgin Mary is a respite, and may even provoke much needed tears… +Father José Miguel
I

NVIOLATA

, integra, et casta es Maria,
quae es effecta fulgida caeli porta.

I

NVIOLATE

, spotless and pure art thou,
O Mary Who wast made the radiant gate of Heaven.
O Mater alma Christi carissima,
suscipe pia laudum praeconia.
Holy mother of Christ most dear,
receive our devout hymn and praise.
Te nunc flagitant devota corda et ora,
nostra ut pura pectora sint et corpora.
Our hearts and tongues now ask of thee
that our souls and bodies may be pure.
Tua per precata dulcisona,
nobis concedas veniam per saecula.
By thy sweet sounding prayers
obtain for us forgiveness forever.
O benigna! O Regina! O Maria,
quae sola inviolata permansisti.
O benevolent! O Queen! O Mary,
who alone among women art inviolate.
https://youtu.be/hVceUZXuZag
Louie : January 25, 2019 1:55 pm :
Blog Post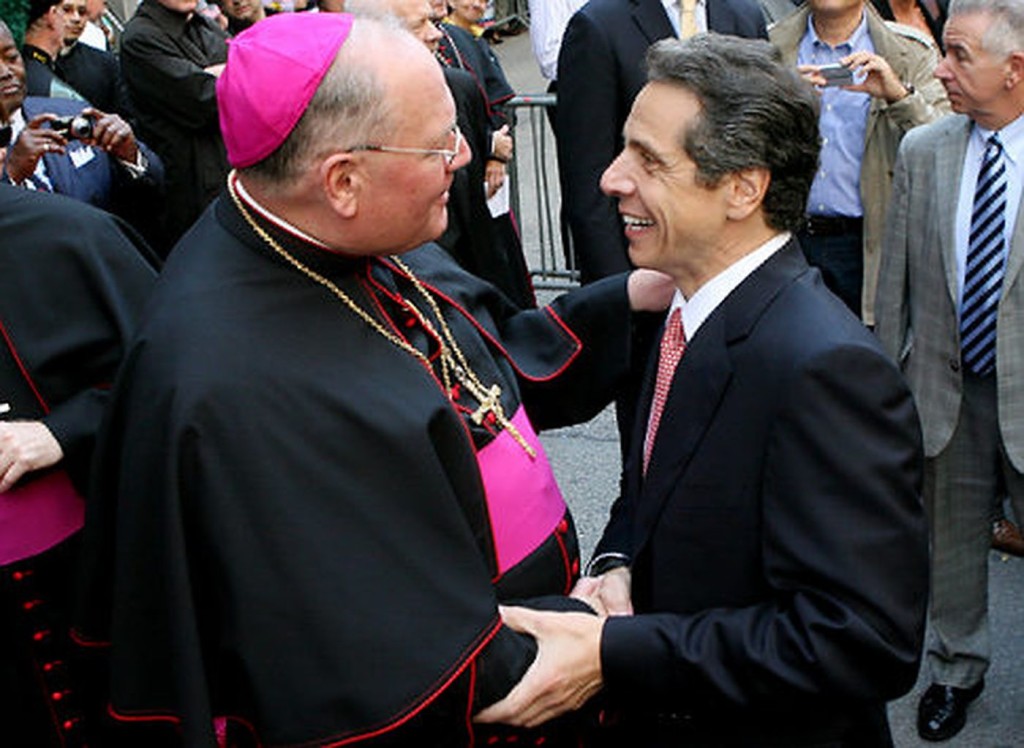 On January 22, the 46th anniversary of Roe V. Wade, the New York State legislature approved the so-called "Reproductive Health Act" (RHA), which effectively legalizes full-term abortions without restriction; up to and including mere moments before birth.
Later that day, self-identified "Catholic" Governor Andrew Cuomo, who is as much a "son of the Church" as Jorge Bergoglio, signed the bill into law to the demonic cheers of godless liberals whose appetite for sex-without-consequences and human genocide is plainly insatiable. Given that the entire "reproductive rights" movement is a diabolical enterprise, it should come as no surprise that its minions are now peddling lies about what the RHA actually allows.
For example, the eminently FAKE "fact checking" website Snopes.com is reporting:
The law does not allow for unrestricted abortion up through the normal term of pregnancy … The Reproductive Health Act changes New York's law to permit abortions after 24 weeks in case where a woman's life or health would be threatened by continuing the pregnancy.
Let's be clear: A woman's life or health would be threatened = UNRESTRICTED.
Not because I say so, but because the U.S. Supreme Court ruled as much in Doe v. Bolton, a companion case to Roe v. Wade; the ruling being issued the very same day.
In Doe v. Bolton, the Court provided that the legal definition of a threat to a woman's life or health includes "all factors — physical, emotional, psychological, familial, and the woman's age — relevant to the wellbeing of the patient."
By this legal standard – the one presently in force and fully applicable to the RHA – New York State has effectively legalized abortion-on-demand up to the very point of birth for damned near any reason; e.g., I'm emotionally overwhelmed because [fill in the blank].
The RHA and its jubilant supporters are disgusting enough, but more vomit-worthy still, in my opinion, are the responses given by the New York bishops to this abject evil.
A joint statement issued in the name of all of the bishops of New York State (including auxiliary and retired) states:
We mourn the unborn infants who will lose their lives, and the many mothers and fathers who will suffer remorse and heartbreak as a result.
The bishops then pledge to continue fighting the good fight, such as they have, saying:
We renew our pledge to offer the resources and services of our charitable agencies and health services to any woman experiencing an unplanned pregnancy, to support her in bearing her infant, raising her family or placing her child for adoption. There are life-affirming choices available, and we aim to make them more widely known and accessible.
If you're waiting for me to get to the part where these… ahem… Catholic shepherds mention evil, sin, Jesus Christ, or even "God" in some generic sense, you're going to be disappointed. The bishops' answer to this grave offense against all that is holy went no further than doubling down on their social justice political agenda, which is precisely how we got here in the first place.
Cardinal Timothy Dolan, Archbishop of New York, and Bishop Edward B. Scharfenberger, Bishop of Albany (the state capital), also issued individual statements.
Dolan, rather than uttering a peep about Andrew Cuomo's dubious claims to membership in the Mystical Body of Christ, the Holy Catholic Church, blathered on about whether or not he is truly "progressive," because, well, that's important.
His Buffoonery, who has been pleased over the years to march side-by-side with Cuomo and a bunch of homos in green in New York's St. Patrick's Day Parade, writes:
We New Yorkers pride ourselves on being "progressive" … our current governor has characterized his administration as "progressive," as was obvious in his recent inaugural address.
Eventually, Dolan gets to the dagger; the big gotcha that surely will cause Cuomo to reflect on his eternal destiny:
For a genuine progressive, all human life deserves dignity, respect, care, and protection, no matter what stage, from the womb to the tomb. No exceptions! The more vulnerable, threatened, or fragile, the more dignity, respect, care, and protection life requires.
Once again, no mention whatsoever of Our Lord or sin or evil; much less a word or two about what makes for "a genuine Catholic." Dolan did, however, find it expedient to invoke the new god of modernist Rome, the "God of Surprises" – Jorge Bergoglio.
Last week, Bishop Scharfenberger issued an open letter addressed to "Dear Governor Cuomo" in anticipation of the RHA being passed into law.
Readers may recall that Scharfenberger, the "leader" of the Diocese of Albany, made news in August by calling for "an independent commission led by well-respected, faithful lay leaders" in order to clean up the mess created homo-clerical predators and their protectors in the episcopate.
In his open letter to Cuomo, Scharfenberger – just like his brother buffoon in NYC – also mentions neither Our Lord, nor sin, nor evil. He did, however, manage to tiptoe ever so sheepishly in the general vicinity of what it means to be Catholic, writing:
This legislation threatens to rupture the communion between the Catholic faith and those who support the RHA even while professing to follow the Church, something that troubles me greatly as a pastor.
Threatens to rupture communion?  These are not the words of a pastor who is committed to teaching, sanctifying and governing in the name of Christ, but rather do they amount to the pusillanimous prose of a pansy. But it gets worse.
Scharfenberger goes on to cite, "the teaching and intuition of our common faith."
While one's first reaction may be to balk at the obvious fact that Cuomo has no legitimate claim to a Catholic faith, Scharfenberger's statement actually makes perfect sense inasmuch as he too is but a Catholic-in-name-only, albeit with a more convincing costume.
Having neither the guts nor the faith to question, much less refute, Cuomo's allegiance to Christ and his claims to a Catholic faith, Scharfenberger writes:
It is very difficult to understand how you can align yourself with Pope Francis and so vehemently advocate such profoundly destructive legislation.
So, once again, we see that it is union with Jorge the god of modernist Rome, whose concerns are firmly rooted in all things temporal, that matters most to these men.
Union with Christ? The salvation of souls? Not so much.
Beyond these examples of religious lip service, Scharfenberger ceases all pretense and assumes his truest identity; namely, that of a political hack with a pointy hat and a crozier just like Tim Dolan.
The RHA goes far beyond Roe vs. Wade… does nothing to advance the security and health of women.
I find myself wondering how it can be viewed as "progress" to have gone from a society working to make abortion "rare" to one that urges women to "shout your abortion" as some advocates of this bill boldly announce …
If abortion is deemed a fundamental right in New York State, will the State then still be able to issue licenses to pro-life nurses or physicians? Will health facilities which do not provide abortions be certified? Will the law allow that even one dollar be given to maternity services without offering women the "choice" of abortion?
Those who wish to read the entirety of Scharfenberger's letter HERE will find that 90% of it is pure politics; i.e., it could have easily been read aloud on the floor of the New York Senate by an atheist legislator intent on pandering to his conservative constituency.
Eventually reaching its crescendo, Scharfenberger's open letter to Cuomo concludes:
Let's not bequeath to our children a culture of death, but together build a more humane society for the lives of all of our fellow citizens.
Mr. Cuomo, do not build this Death Star.
How clever! Don't you just love it when a spineless man-of-the-world posing as a Successor to the Apostles reveals himself as a fraud by citing Star Wars instead of Sacred Scripture, and this in the face of pure evil?
Speaking of such things, the conclusion to Dolan's statement is even more revealing, if you can believe it.
As I've written in the past a number of times, for many in the "pro-life" movement, Catholics included, the human embryo has supplanted Christ; becoming the "pearl of great price" for which they are pleased to sell everything.
With this in mind, get a load of the climax to Dolan's statement on New York's new abortion-on-demand law and tell me I'm wrong:
For a genuine progressive, all human life deserves dignity, respect, care, and protection, no matter what stage, from the womb to the tomb. No exceptions! The more vulnerable, threatened, or fragile, the more dignity, respect, care, and protection life requires.
Behold the baby in the womb!
A biblical play on words! How very cheeky!
May it please God to give us true shepherds – holy men who are not afraid to stand up to those Hell bent on doing Satan's bidding; preaching not the gospel of man but rather that of Our Lord Jesus Christ:
Behold the Lamb of God, behold him who taketh away the sin of the world.

Louie : January 23, 2019 9:22 am :
Blog Post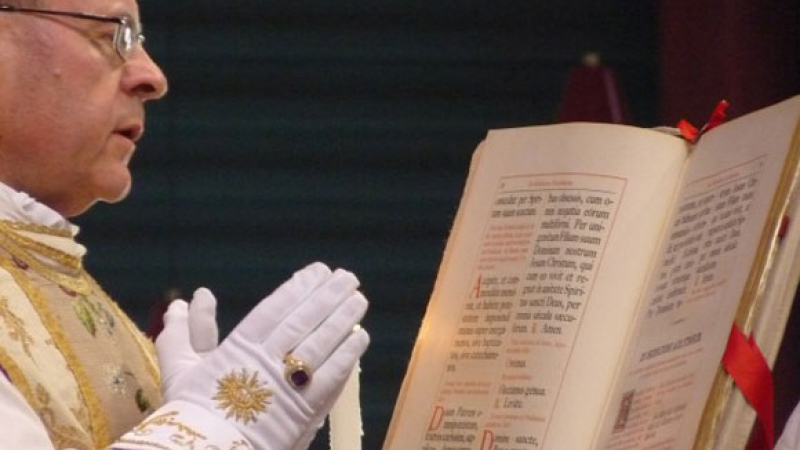 "Traditionalist" social media is all abuzz with word that Jorge the Benevolent has given "papal approval" to "a new bishop for the Society of St. Pius X."
That bishop is one Vitus Huonder, Bishop Emeritus of the Diocese of Chur, Switzerland, who in retirement will take up residence at the Institut Sancta Maria, a SSPX school in Vilters-Wangs; just a ten minute drive away in the neighboring Diocese of St. Gallen.
Please believe me when I say that I take no pleasure in being the one to inform readers that it's time to cancel plans for the Thank You Francis Parade, but the way this story is being reported is irresponsible at best.
The principal sources for this big non-news item – at least the ones most of my social media contacts are citing – is the French magazine Monde & Vie, whose report has been passed along in English on the Rorate Caeli blog along with their own commentary.
Before we get to those reports, let's consider some useful information taken from the Code of Canon Law regarding the resignation of a bishop:
Can. 402 §1. A bishop whose resignation from office has been accepted retains the title of emeritus of his diocese and can retain a place of residence in that diocese if he so desires, unless in certain cases the Apostolic See provides otherwise because of special circumstances.
Notice that there is no requirement in place whereby a "bishop emeritus" needs papal approval, or any other kind of approval for that matter, concerning his choice of residence. The Law simply states that he "can retain a place of residence in that [his former] diocese if he so desires." In other words, the retired bishop is entitled to a place of residence in the diocese.
And what if the bishop emeritus wishes to live elsewhere? No requirements are placed upon him whatsoever. Period. End of story.
To be very clear, the present situation is not a "certain case" whereby the Apostolic See is providing otherwise (cf Can. 402 §1). It is simply the case that Bishop Huonder, now retired, wishes to take up residence at the SSPX school. That's it. He just as easily could have chosen the Holiday Inn. It is entirely up to him (and in this case, his hosts) where he will live.
Yes, the fact that a "full communion" bishop evidently wishes to reside with the SSPX upon retirement is certainly worth noting, but be not confused; this isn't a story about Francis.
In other words, while Bishop Huonder's choice of residence says something about his affinity for tradition, it says exactly nothing about Jorge; much less does it suggest that Bergoglio is extending an olive branch to the SSPX by providing them with a new bishop.
Now, on to the reports that have incited so much misguided excitement.
According to Monde & Vie as reported by Rorate:
A New Bishop for the SSPX
It has been several months that Bp. [Vitus] Huonder, bishop of Chur (Switzerland), indicated his will to live out his retirement with the Society of Saint Pius X. This time, it's official. Bp. Huonder, considered a conservative, is not only a friend of the SSPX, but close to Pope Francis, who had refused his resignation in 2017. In other words, one can live out one's retirement with the SSPX as with any other religious congregation! According to our information, Bp. Huonder would live in retirement in a school kept by the Society in Switzerland. In short, an example of this "statute by installments" enjoyed by the Society. With the agreement of the Pope of the peripheries. There it is, an additional evidence of the regularization of the SSPX. [Monde & Vie, January 17, 2019, n. 965, p. 19]
It's official!
"Official" in this case is a very poor choice of words, inadvertent or otherwise. More accurately, it seems that Bishop Huonder's place of retirement "has been confirmed." Again, there is no such thing as an "official" stamp of approval on such things.
With the agreement of the Pope of the peripheries.
While this may give one the mistaken impression that Jorge "signed off" on the arrangement, the only thing it can possibly mean is that Francis is personally OK with the idea and has not personally requested of Bishop Huonder that he live elsewhere. If he had made such a request, Bishop Huonder would have been perfectly free to ignore it.
As for Rorate's own commentary, they are reporting:
Le Salon Beige [a French blog] confirms that, of course, the pope is well informed of Bishop Huonder's choice, and tacitly approves of it.
Get that?
Francis "tacitly approves." Now, this is plausible enough, I suppose, but let's not overstate what it actually means:
Francis has apparently not thrown one of his hissy fits over news that Bishop Huonder is freely exercising his right to decide where he lives out his retirement. That's it, folks.
And this is what constitutes a new bishop for the SSPX with papal approval?
Now about that parade…