Louie : August 20, 2019 12:36 pm :
Blog Post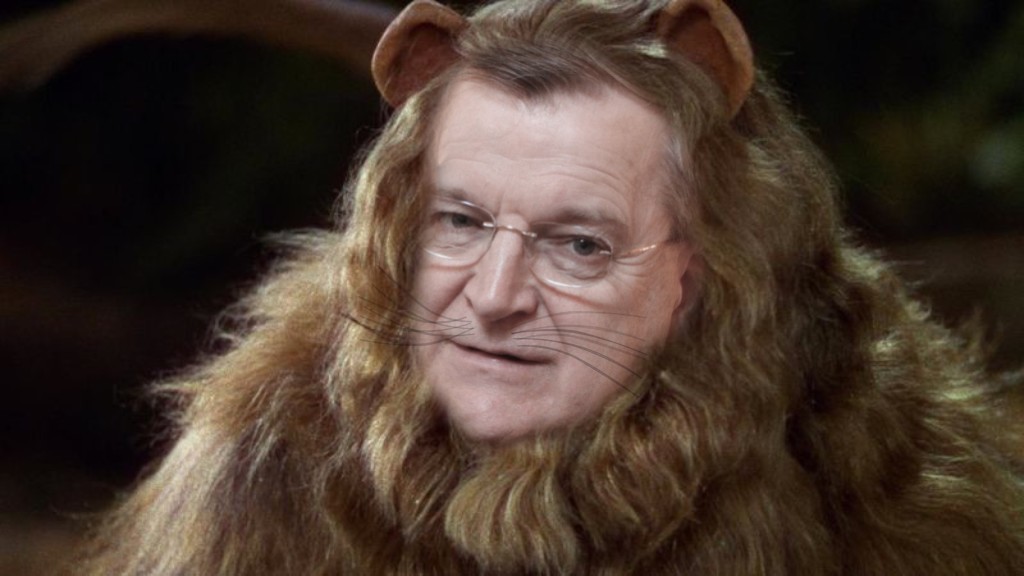 The Instrumentum Laboris for the upcoming Synod on the Amazon has clerics from the "conservative" wing of the counterfeit church whipped up into a frenzy, with all of the heavy hitters issuing warnings and condemnations.
Here, we will highlight the big three.
Bishop Athanasius Schneider warned of the Bergoglian effort to anoint the paganism and naturalism of the Amazon with "Catholic" (that is, counterfeit catholic) chrism:
By abusing the name of Jesus and the holy episcopal and priestly office, missionaries and even bishops have preached in the Amazon mostly a gospel of earthly life, a gospel of the stomach, as it were, and not a Gospel of the Cross; a gospel of the adoration of nature, of the forest, of the water, of the sun, a gospel of the adoration of this so brief earthly material life.
Cardinal Gerhard Muller weighed in as well by suggesting that once the Synod gets underway, its nefarious designs will be difficult to contain:
The synodal process in the realm of the German Bishops' Conference is now being linked with the Synod for the Amazon, and this is done for ecclesial-political reasons and as a leverage for the restructuring of the Universal Church. Additionally, at both events the protagonists are nearly identical, and they are even financially and organizationally connected by way of the relief agencies of the German Bishops' Conference. It will not be easy to control this wrecking ball.
Last but not least is the leader of the Banquet Bishops, Cardinal Raymond Burke, who boldly asserted of the Instrumentum Laboris:
The document is an apostasy … This can't become official teaching of the Church. God willing, the whole business will be stopped. 
Might I remind readers that this is coming from the same Raymond Leo-the-Cowardly-Lion Burke who boldly roared over the course of many months that he was going to issue a "formal act of correction" of Amoris Laetitia – the "whole business" of which has already become the "official teaching" of the institution for which he speaks and claims to be determined to defend.
Ultimately, however, Burke proved himself to be but a whimpering little kitten, who, when push came to shove, ran scared from the Big Bad Bergoglian wolf, never to touch the subject again.
All three of these men (if you'll allow) – Schneider, Muller and Burke – are little more than paper tigers who are content to make headlines by feasting on the low-hanging fruit du jour; namely, conservative fears over a Synod that has yet to take place, whilst doing nothing whatsoever meaningful to protect the innocent from the heretically cancerous Amoris Laetitia.
They are, in short, as phony as the counterfeit church they happen to serve.

Louie : August 19, 2019 1:20 pm :
Blog Post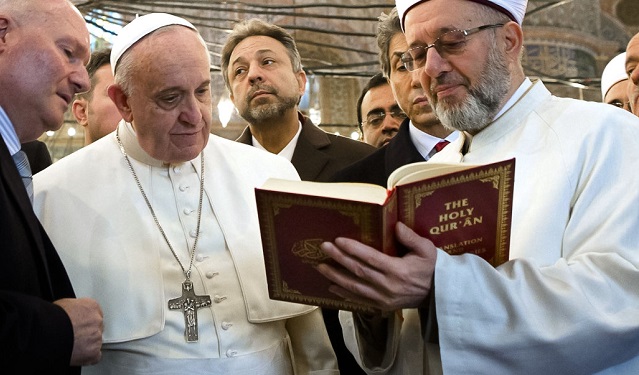 Readers will recall the February 2019 Joint Declaration that Jorge Bergoglio co-signed with the Muslim Sheik Ahmad el-Tayeb that reads in part:
Freedom is a right of every person: each individual enjoys the freedom of belief, thought, expression and action. The pluralism and the diversity of religions, colour, sex, race and language are willed by God in His wisdom, through which He created human beings.
The error was immediately obvious to even moderately well-formed Catholics: God most certainly does not will the diversity of religions; rather, He permits it. As for His will according to that which He ordains to be – that is, His will expressed via precept, operation, and counsel – this is clearly expressed with regard to religion in the First Commandment, to which we will return momentarily.
Readers may also recall the breathless headline that ran at LifeSite News in March:
EXCLUSIVE: Bishop Schneider wins clarification on "diversity of religions" from Pope Francis
As those who took the click bait quickly came to the realize, however, Bergoglio simply told Bishop Schneider and the other bishops present, "You can say that the phrase in question on the diversity of religions means the 'permissive will' of God."
On April 3, though I am just now getting around to posting about it, "Francis" as he is known and adored by enemies of the Catholic Church worldwide, offered the following so-called catechesis:
Why are there so many religions, how come there are so many religions? With Muslims, we are descendants of the same Father, Abraham: why does God permit there to be so many religions? God wanted to permit this: the theologians of the Scholastica made reference to the volutas permissive [sic] of God. He wanted to allow this situation: there are many religions; some are born of culture, but they always look to heaven, they look to God.
This, my friends, is all the clarification anyone needs, and it contains more than one error. First and most obvious is the claim that all religions look to God. Clearly, they do not.
Less noticeable, perhaps, but even graver still was his spin on the voluntas permissiva of God, the meaning of which he perverted in order to accommodate his own heretical designs: "He wanted to allow this situation."
There is none so linguistically deceptive as a modernist!
For the record, the original Italian text reads, Egli ha voluto permettere questa realità, which is accurately translated above. Had His Hereticalness wished to teach the truth, his catechesis could have consisted of the far simpler statement alone: Egli permette questa realità; that is, "He allows, or permits, this reality."
The difference is as profound as it is subtle.
With regard to the voluntas permissiva of God, we must affirm that He wills to allow. This is eminently obvious inasmuch as God cannot at once not will to allow and yet allow. When He allows, therefore, He wills to do so. St. Thomas Aquinas explains God's will further:
Or it may be said that permission and operation refer to present time, permission being with respect to evil, operation with regard to good. Whilst as to future time, prohibition is in respect to evil, precept to good… (STI, Prima Pars, Q.19, A.12)
With regard to religion, the Catechism of the Council of Trent (aka the Roman Catechism) teaches:
When it is said: Thou shalt not have strange gods before me, it is equivalent to saying: Thou shalt worship me the true God; thou shalt not worship strange gods.
In giving the First Commandment, God was very clear – He has given mankind the precept to worship Him alone, while prohibiting the worship of strange gods; that is, the practice of false religion.
With all of this in mind, it is clear that the Bergoglian treatment breaks down on the two fronts mentioned. First, he declares that the many false religions of the world, Islam included, do not worship strange gods, saying of them, "They always look to heaven, they look to God."
Secondly, in saying "He wanted to allow" these false religions, he speaks of God's permissive will in the past tense – something that Aquinas, notably, does not do; he speaks only of present time and future time with respect to God's will (as in the citation above).
Bergoglio's linguistic maneuver is a diabolically shrewd way of subtly suggesting that the permissive will of God vis-à-vis the "diversity of religions" is tantamount to a precept for future time, an expression of what "God wants" to be. In truth with regard to the "diversity of religions," however, it is simply the case that God presently permits that which He prohibits for all time.
The first error – that all religions look to God – is how Bergoglio justifies the second error; namely, that God wants this.
Now you know why Bergoglio did not hesitate to tell Bishop Schneider, "You can say this means the 'permissive will' of God." He was comfortable doing so because his twisted definition of the voluntas permissiva of God effectively keeps the heresy alive!
All of that aside, let us not forget that, according to Bergoglio, God wills false religions in the same way that He wills "color, sex, and race." This is heresy, plain and simple, and the captains of the conciliar church-of-man are utterly ill equipped to confront it.  
Now, for the really bad news: Jorge isn't breaking new ground here; he is simply taking the church-of-man further along the course that was set by his predecessors, one that was mapped out for all of them by the Almighty Council.
It is for this reason that the call to enter the Church ceased in the 1960s, the same reason why John Paul the Great Ecumenist had no problem communing with heathens, and why Benedict XVI denounced proselytism well before Francis ever hit the scene.
Each one of them held firm in the belief that all religions look to God; it's just that Jorge Bergoglio is willing to proclaim as much far more plainly.
Bottom line: The institution that is pleased to present itself to the world as the Catholic Church in our day, going all the way back to the time of the Council, is just what Archbishop Lefebvre said it is, little more than a counterfeit church.

Guest Contributor : August 16, 2019 8:34 am :
Blog Post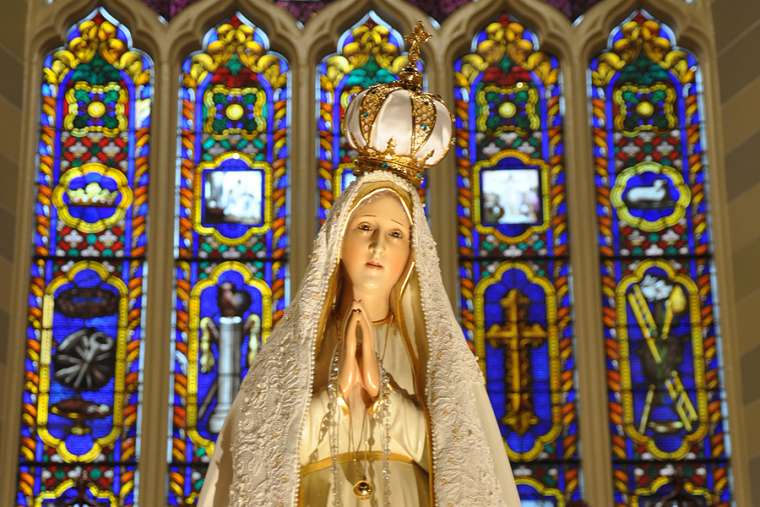 By: Cornelia Ferreira
The children are kidnapped and jailed.
Our Lady appears later, sadly, and tells them (and us) to pray and make sacrifices for sinners; many souls go to hell because there is no one to pray and make sacrifices for them.
She requests the construction of a chapel and promises to work a miracle at Her last appearance so that people will believe the Fatima message.
For more, as recorded in the diary of Sr. Lucia, see the Fatima Newsletter Issue No. 8, which is now available by clicking HERE or on the image to the right.
Please share Our Lady's message far and wide, making reparations for the many offenses heaped daily upon the Sacred Heart of Jesus and the Immaculate Heart of the Blessed Virgin Mary.

Fr. José Miguel Marqués Campo : August 14, 2019 8:34 am :
Blog Post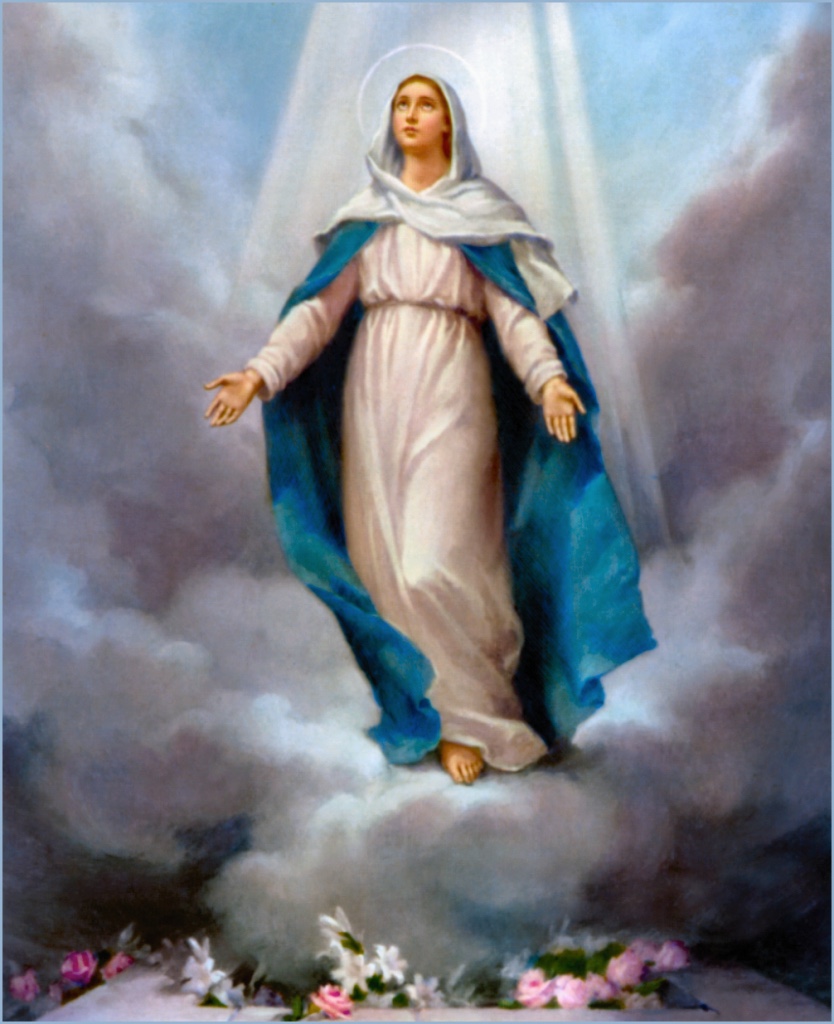 By: Fr. José Miguel Marqués Campo
For the great Feast of the Assumption of the Most Blessed Virgin Mary, I'd very much like to share with the readers of akaCatholic—as I do from time to time—some remarkably beautiful music that is proper to the Catholic Faith:
https://youtu.be/8cXA-iMVp_E
This time, the sublime polyphonic Ave María composed by Tomás Luis de Victoria—Spain (Ávila 1548—Madrid 1611).
Beautifully sung in Latin (of course) by the London Oratory Schola Cantorum Boys Choir.
The absolutely heavenly polyphonic double "Sancta María, Mater Dei", is very intensely spiritual, and quite moving.
Tomás Luis de Victoria was not only a magnificent Rennaissance composer, he was also a very pious priest who knew St. Teresa of Ávila, and whom His Catholic Majesty, Felipe II (+1598) maintained at Court.
Heavenly music from "God's Composer" to console us here, in this vale of tears.
Genuine Catholic liturgical music, alas, from a different age… and yet our very own.
A pastoral exhortation, if I may… As you listen to Victoria's sublime composition, please pray the Ave María for Holy Mother Church, and for everyone you love, living or deceased.
As always, with my blessings from Spain: +Father José Miguel
Ave María, grátia plena, Dóminus tecum. Benedícta tu in muliéribus, et benedíctus fructus ventris tui, Jesus. Sancta María, Mater Dei, ora pro nobis, peccatóribus, nunc et in hora mortis nostræ. Amen.
Hail, Mary, full of grace, the Lord is with Thee. Blessed art Thou among women, and blessed is the fruit of Thy womb, Jesus. Holy Mary, Mother of God, pray for us, sinners, now and at the hour of our death. Amen.
Dios te salve, María, llena eres de gracia, el Señor es contigo. Bendita tú eres entre todas las mujeres, y bendito es el fruto de tu vientre, Jesús. Santa María, Madre de Dios, ruega por nosotros, pecadores, ahora y en la hora de nuestra muerte. Amén.
Guest Contributor : August 12, 2019 11:06 am :
Blog Post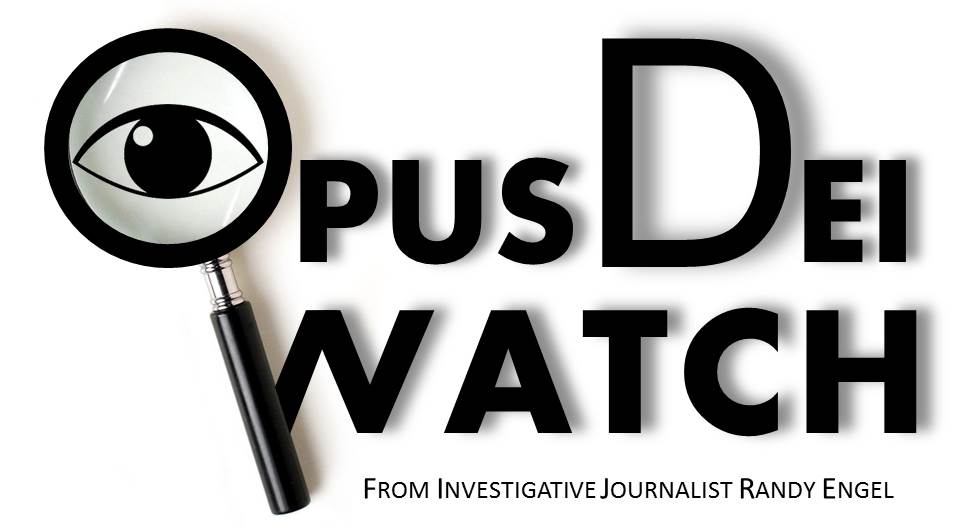 By: Randy Engel
"The things of Opus Dei – Where is the power of Opus today,
how does it exercise it, who is channeling it, in what media does
it influence or where does its pressure flow, how does it regulate
the credits and to whom does it grant, if it does or can it do so?"
Quote from Jordi Garcia
            OpusLibros 
"Shut Up, Pray, and Don't Worry" – Opus Dei's Solution to Clerical Sex Abuse
Introduction
While Catholics in Spain await the verdict of its Supreme Court in the case of José María Martínez Sanz, an Opus Dei numerary who has been sentence by the Provincial Court of Bizkaia to 11 years in prison for the sexual assault of a young boy at the Gaztelueta boys school operated by "the Work" in Basque country, another Opus Dei sex abuse case has been making Spanish headlines.(1) The new case, one of many that are about to explode on the Opus Dei international stage, concerns the alleged sexual assault of an 18-year-old Opus Dei member by a prominent Opus Dei Spanish numerary priest, Father Manuel Cociñay Abella. (2)
Cociña – An Associate of Josemaría Escrivá
It seems that Father Manuel Cociña, who had lived with Josemaria Escrivá, the  founder of Opus Dei in Spain, was on the eccesiastical fast track at the Prelature. He was Rector of the Pontifical Basilica of St. Michael in Madrid that is administered by Opus Dei priests. He served as a member of the Academy of Ecclesiastical History, is a Knight of the Order of the Holy Sepulcher of Jerusalem in Granada, and a member of the Nobility of the Old Kingdom of Galicia. Not too many years ago, Cociña was rumored to become the first numerary-prelate of the Prelature following the death of Bishop Javier Echevarria Rodriguez on December 12, 2016. But all his ambitions came to a grinding halt when Cociña's unnatural passions and predatory penchant for young men became public knowledge in April 2019.
Charges Against Cociña  
The alleged victim known only by the initials MGF [also FGM] resided at the Colegio Mayor Almonte in Seville, Spain, a  residence center for young men, that is attached to the University of Seville. It is a corporate work of Opus Dei (since 1967) and is operated and controlled by an Opus Dei Board including an Opus Dei Director and Chaplain. These university-based centers are a major recruiting ground for the Prelature.
Born in 1984, MGF was recruited by Opus Dei in 1999 at the age of 15 or 16. At age 18, when the abuse began, he was a celibate numerary of the Prelature, and therefore, was required always to make his regular confession to an Opus Dei priest, in this case Father Cociña.
According to Cociña'accuser, the sexual abuse took place after confession between November 2002 to July 2003, at which time the alleged victim left the Opus Dei residence hall, but not the Prelature. As a numerary he was assigned to an Opus Dei house in Madrid.
In 2007, Cociña became Rector of the Basilica of St. Michael in downtown Madrid.
The specific charges leveled by MGF against Cociñais that the priest "massaged" the young man's genitals at least seven different times after the young man's confession to him.  MGF stated that at least four other young men had reported similar episodes of abuse at the hands of the same Opus Dei priest.
According to MGF, Cociña maintained contact with him by electronic means until 2010 when the Opus Dei numerary decided to exit the Work completely.
It took MGF three months to receive his dispensation from the Prelature.
During this time, MGF obtained a meeting with the Opus Dei Regional Director in Madrid who listened to his accusations against Cociña. The Director told MGF that he himself was reluctant to relay the charge to his superiors because he was unsure if the act(s) of massaging the victim's genitals had a sexual connotation. The Director told MGF that the revelations would hurt and that the young man should shut up, pray for the priest, and not worry.
MGF, who moved to Chile 2013, followed the Director's advice and remained silent until 2018.
Under the Opus Dei regime of Directors filing regular reports on numeraries in the Prelature, there is no question in this reporter's mind that the Director immediately informed Opus Dei officials in Rome of MGF's accusations, but the matter was kept under wraps until 2019.
MGF Breaks His Long Silence
Prophetically, it was the Karadima sex abuse scandal in Chile that convinced the young man, now married with a wife and two children to break his years of silence.
The reader may recall that in  2015, the sex abuse case of Chilean serial pederast Father Fernando Karadima, a spiritual leader among Santiago's most prominent families, and the subsequent cover-up by members of the Chilean hierarchy, made world headlines. Karadima has since been defrocked by the Holy See.
MGF, who was still suffering from guilt and shame associated with his sexual abuse by Cociña, recalls thinking, "Manuel Cociña is the Karadima of Opus Dei."
In 2017, Cociña contacted MGF as a "friend" contact on LinkedIn. It was then that MGF learned  Cociña was still a priest in good standing in Opus Dei, and that he had resumed a more active role in Opus Dei and the Spanish Church.
After Pope Francis' three-day visit to Chile in January 2018 in which the pontiff asked for forgiveness for the sex abuse scandal in the Church, MGF made the decisión to go public with his accusations against Cociña.
Opus Dei Receives Formal Complaint
In August 2018, officials of the Prelature received notice of MGF's formal complaint against Father Manuel Cociña.
On September 14, 2018, the Regional Vicar of the Prelature in Spain, at the request of its prelate, Monsignor Fernando Ocariz, ordered a preliminary investigation of the charges against Cociña, in accordance with Canon 1717 of the Code of Canon Law. ( 3)
On October 1, 2018, Msgr. Ocariz ordered that precautionary measures be taken against Cociña, and the priest was restricted to an Opus Dei center in Granada and forbade from having any contact with any young person under the age of 30. Opus Dei Canon lawyer, Father Rafael Rodriguez Ocana, was charged with the investigation.
On October 11, 2018, Opus Dei sent its investigators to Chile to interview MGF at the Opus Dei headquarters in Santiago before a lawyer and a notary.
In November 2018, Cociña was also interrogated  at his Opus Dei residence in Granada.
In December 2018, following Opus Dei's investigation of Cociña, the Prelature forwarded  its report on Cociña to the Congregation for the Doctrine of the Faith. It will be up to the Congregation to determine Cociña's guilt or innocence and determine a penalty, including the possibility of laicization.
Spanish Media Exposes Scandal
It should be pointed out that until mid-April 2019, Opus Dei had been successful in keeping  the Cociña scandal out of the public eye.
Digital Religion, one of the world's leading portals on religious information in Spanish was the first to break the story on April 10, 2019.
Subsequently, Opus Dei confirmed that sex abuse charges had been made against Cociña with Agencia EFE, S.A., the world's 4th largest wire service, and INFO VATICANA.
This reporter can find no link that indicates any U.S. Catholic media source carried the story. My initial source was a brief report that appeared on the Opus Libros website that monitors the activities of Opus Dei in Spain.
Opus Dei responded with a formal press statement indicating that the matter was now in the hands of the Congregation for the Doctrine of the Faith where it is being studied.
The statement stressed that there were no minors involved in the accusations against Cociña since the numerary was 18, and therefore, of legal age, when the abuse occured, and therefore, it was up to the young man to report the incident to the proper authorities.
The Prelature stated, "We want to express our closeness and support to the complainant, as well as the most complete rejection of any abuse and total collaboration to help heal the wounds."
Opus Dei Reveals New Set of Protocols
At this time, the Opus Dei Information Office also revealed that in December 20, 2013, it formulated and approved of a set of  sex abuse protocols for cases involving minors which includes  the creation of a new Opus Dei position of Child Protection Coordinator for Spain.
Opus Dei also told the press that it had a sex abuse hot line in place at   proteccionmenores.es@opusdei.org to receive complaints involving Opus Dei priests, numeraries, supernumeraries, cooperators and other personnel connected to the Prelature.
However, it is more likely that sex abuse victims of Opus Dei personnel will take their complaints directly to police authorities or to the independent new sex abuse victim hotline at abusosopusdei@gmail.com  which has already received 20 cases of alleged abuse involving the Prelature.
The End
Randy Engel contact information: rvte61@comcast.net
References
(1)       Background on the Gaztelueta Case is available at https://akacatholic.com/opus-dei-watch-march-part-1/, https://akacatholic.com/opus-dei-watch-march-part-2/ . See also    https://akacatholic.com/opus-dei-sex-abuse-case-an-exclusive-interview/  , https://akacatholic.com/opus-dei-trial-ends-with-a-guilty-verdict/
(2)       This article was based, in part, on the reporting of Julio Nunez and the following Spanish media articles:
https://translate.google.com/translate?sl=es&tl=en&u=https%3A%2F%2Fwww.elconfidencial.com%2Fespana%2Fandalucia%2F2019-04-11%2Fvaticano-opus-dei-abusos-sexuales_1936490%2F
https://www.religiondigital.org/espana/Manuel-Cocina-Karadima-Opus-Dei-religion-abusos-sevilla-granada_0_2111188883.html
https://www.religiondigital.org/espana/Opus-Dei-escondio-protocolo-actuacion-religion-manuel-cocina-abusos_0_2112088775.html
https://www.religiondigital.org/espana/Opus-Dei-escondio-protocolo-actuacion-religion-manuel-cocina-abusos_0_2112088775.html
(3) CHAPTER I : THE PRELIMINARY INVESTIGATION
Can. 1717 §1 Whenever the Ordinary receives information, which has at least the semblance of truth, about an offence, he is to enquire carefully, either personally or through some suitable person, about the facts and circumstances, and about the imputability of the offence, unless this enquiry would appear to be entirely superfluous.
2 Care is to be taken that this investigation does not call into question anyone's good name.
3 The one who performs this investigation has the same powers and obligations as an auditor in a process. If, later, a judicial process is initiated, this person may not take part in it as a judge.