Guest Contributor : November 19, 2018 2:21 pm :
Blog Post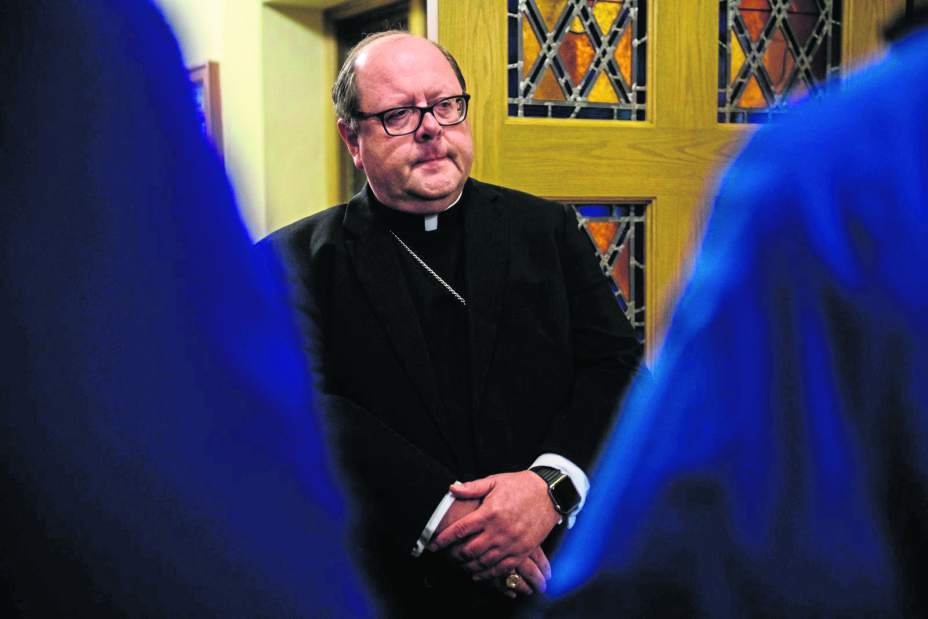 By Randy Engel
Introduction
On the evening of November 8, 2018, I attended a "Listening Session" at a local Catholic parish in the four-county Diocese of Greensburg, Pennsylvania, headed by Bishop Edward C. Malesic. The listening session, one of seven hosted by Bishop Malesic, was held in response to the Pennsylvania Attorney General's Grand Jury report of August 14, 2018, on clerical sexual abuse in seven Catholic dioceses in western Pennsylvania.
An estimated 150 to 200 parishioners and guests from nearby Catholic churches, which included this writer, were in attendance for the scheduled two and a half-hour meeting held in the church. Since the parish has a K-8 grade school, I was not surprised to see many parents in the audience as well as a large contingent of elderly Catholics, probably grandparents and great grandparents. Bishop Malesic was attended by a handful of Chancery staff, and members of his newly established Safe Environment Advisory Council.
The first half hour was taken up with a recitation of a "Litany of Healing and Renewal" designed to "heal the wounds of the Church," and welcome a "new era of safety and trust" in the Church. A "Have mercy on us, Lord" was repeated fifteen times after every short prayer led by a moderator in typical "Nervous Ordo" fashion. The audience prayed for the abused and the perpetrators of abuse along with other groupings including priests, bishops, law enforcement officials, news media and communication professionals and all children and parents, etc., etc.
I would have preferred a short sincere simple apology from a tearful bishop dressed in sackcloth and ashes, but then, "Who am I to judge?"
When the rote prayers concluded, Bishop Malesic, who radiates a meek and mild persona,  introduced the members of his diocesan entourage and made some preliminary remarks on the sex abuse situation in the Greensburg Diocese. Then the moderator, an affable young lady, explained that in order to accommodate the large numbers of persons wanting to speak, a limit of two minutes of microphone time would be enforced, and the floor was opened for comments and questions from the audience addressed to the bishop.
Financial Considerations Dominate the Session
Not unexpectedly, the first question posed to the bishop involved financial legal settlements to victims – "Where would the diocese get the funds to pay off present and future law suits? What portion of the diocesan financial reparations would fall to the parishes?" These and other financial questions continued to dominate the questions from the pews for more than an hour.
According to Bishop Malesic, the Greensburg Diocese had already paid out a million bucks in sex abuse settlements (peanuts when compared to the $210 million settlement agreement of the Archdioceses of Saint Paul and Minneapolis), but the future for the diocese looks brighter, he said. The bishop announced that the diocese was in the process of establishing a Victims Compensation Fund to be administered by the office of attorney Kenneth Feinberg, but the amount of the  funding has not as yet been finalized.
When questioned about the continuing diocesan opposition (with the backing of the Pennsylvania Catholic Conference and U.S. Conference of Catholic Bishops ) to the opening up of a "window-of-opportunity" to the current restrictive statute of limitation laws, the bishop said that he wants to help victims of sex abuse, but not at the expense of bankrupting the Diocese of Greensburg.
Left unsaid at the listening session was any admission that the victims' fund was intended to offset any demands for the expansion of Pennsylvania's statute of limitation laws, and that the victim would likely be required to sign an agreement not to initiate any further compensation demands. According to the Pennsylvania Catholic Conference, there will be an opportunity for sexual abuse survivors whose cases are time-barred from pursuing civil claims to report their abuse to the arbitrators of the diocesan Victims Compensation Fund  and received compensation for their healing and recovery. The problem with this solution, however, in the words of Attorney General Josh Shapiro, is that the Church should not be placed in the role of being "the arbiter of its own punishment." On the other hand, the plan would serve the interests of victims who wish to settle quickly and avoid the personal agony of a trial.
Two Heart Wrenching Scenes
About half-way through the listening session, the discussion changed to the plight of clerical sex abuse victims and their parents. The mother stood up first. Then her husband. Due to the poor acoustic quality of the handheld portable microphone and the obvious emotional trauma of the parents who were addressing the bishop, it was impossible to hear what transpired between the two. At one point I heard the father mention the word "homosexual," but it was impossible to determine in what context it was used.
Visually, however, one could not avoid the realization that for parents, no less than victims, the catastrophic implications of having one's son or daughter sexually assaulted by a priest claiming to be an alter Christusis beyond imaging. Bishop Malesic was visibly shaken as were all those gathered in the church. The scene was heartbreaking.
Some good soul called for a moment of silent prayer and the session went on.
The next question came from a young mother who explained that recently her little daughter came home from school and asked her, "Mommy, what do priests do to altar boys?" There was stunned silence in the church. You could have heard a pin drop. I don't recall there being any significant reply by the bishop.
At some point a school official explained the Safe Environment procedures in effect at diocesan schools which includes the security vetting of everyone from school administrators and teachers to cafeteria workers and janitors.
Another participant in the listening session asked the bishop if the sexual abuse problem was as rampant in religious orders as in the diocesan priesthood. The reply from either the bishop or one of his aides was that there was no data available on the subject.
Actually there is a great deal of historical data that supports the thesis that the organized infiltration and colonization of homosexuals into clerical ranks began with religious orders and not the diocesan priesthood, but there was no opportunity for this writer to comment on the question without sacrificing my two-minute comment time, so I let it pass.
Homosexuality vs Pedophilia
About two hours into the listening session, the diocesan moderator came down the church aisle and handed me the microphone.
I had spent the previous day preparing my comments and questions for Bishop Malesic, on the naïve assumption that the bishop and his staff would devote more time to listening than speaking in which case participants would have had more time to state their case or/and their questions.
But since I was under the two-minute gun, I simply had to ask my questions outright.
My first question centered on why the bishops (including Bishop Malesic) choose to use the word "pedophilia" rather than "pederasty" in defining the nature of the clerical sex abuse crisis facing the Church. I noted that the Catholic Church from the earliest centuries until recent times had always referred to the grave sin and crime of the sexual abuse of adolescent boys by priests and religious as pederasty. Further, I explained that the Holy See had always connected pederasty to the grave vice of homosexuality, but neither Pope Francis nor the American bishops have done so. I asked the bishop, "Why not?"
My second question, which was more of  a comment, alluded to the fact that the crime of pederasty was not a new phenomenon in the Catholic Church. I cited St. Peter Damian's lengthy treatise, the Book of Gomorrah, written in 1059 A.D. which condemned outright the grave sin of pederasty as well as homosexuality. I was going to recommend that Bishop Malesic provide copies of an English translation of St. Damian's compelling writings to all his priests, seminarians and religious in the Greensburg diocese, but when I looked up at the bishop's face it appeared that he didn't even know who St. Peter Damian was, much less what the Saint Damian, a Doctor of the Church, wrote on sexual perversions.
I attempted to press ahead to question three which dealt with the important issues of the proper vetting of diocesan seminarians including the removal from any consideration of priestly ordination any candidate who was found to engage in pederasty, homosexuality, or who were habituated self-abusers, and question four in which I asked if he, Bishop Malesic, (and the American bishops) were prepared to lead the battle against organized perversion exemplified by the Homosexual Collective.
But alas, my time was up, and the moderator took the microphone and looked to the bishop to address at least my first two concerns.
The bishop's reply was almost incoherent. He started to explain that the issue was chastity (or the lack thereof) and it didn't matter whether the seminarian or priest was heterosexual or homosexual, it was all the same … kind of. At which point, I interrupted the bishop to remind him that sodomy was not just any old sin, but one of the four sins that cry out to God for vengeance. At that point, my "dialogue" with Bishop Malesic ended.
I knew it was getting pretty close to closing time and there were a few others who had not yet have their say, so I waited until the listening session was over to say goodbye to Bishop Malesic and to hand him my five-volume set of The Rite of Sodomy. He was surprised at the gift and somewhat overwhelmed. Seeing that he was unlikely to read all five volumes, I suggested he start with Volume II which deals specifically with the crime of pederasty. I wished him well, left the church, and drove home pondering the evening's events and their meaning.
The Superficiality of It All
The overwhelming impression I received of the evening's events was one of absolute superficiality regarding Bishop Malesic's responses, or more to the point, his lack of truly informed responses to the questions I has asked him.
Why? I asked myself.
Clerical sexual abuse in AmChurch has been going on for decades. By this time, every American bishop should be a walking encyclopedia on the subject.
After all, the hierarch's bureaucracy, the United States Catholic Conference (USCCB), has spent hundreds of thousands of hard-earned laity dollars on two massive John Jay College Reports on clerical abuse of minors and vulnerable adults. One wonders how many bishops have actually read those reports and examined the charts which show that more than 80% of clerical sexual abuse victims are adolescent BOYS!
If Bishop Malesic's performance was any measurement of what Catholic bishops actually know and understand about the nature and extent of the crime of pederasty, Catholic laymen had better look elsewhere for help.
One also has to wonder out loud, if these USCCB-inspired dog-and-pony shows on sexual abuse are simply designed to help defuse the diocesan timebomb of clerical sexual abuse of minors and vulnerable adults including seminarians and young priests who have become the prey of their own bishops.
Catholic Parents are on their Own
As a general rule, with a few minor exceptions, Catholics who are looking to Rome or to AmChurch to reform themselves and clean out their Augean stables where the moral and doctrinal filth has been gathering for decades, are barking up the wrong tree.
Catholics, in general, and Catholic parents in particular, need to focus their attention elsewhere, most especially on God, Our Lady, the angels and all the saints in heaven, and on living the Catholic faith, day in and day out, in season and out.
As most AKA Catholic readers aware, this writer is in the process of organizing a movement against FOP – the Forces of Organized Perversion. God willing, we should be on the move against FOP at the start of the New Year (See HERE). E-mail me at rvte61@comcast.netif you're interested in this lay/parish priest project.
In the meantime, I'm going to ask the reader to meditate on the new commentary on the Third Glorious Mystery – The Descent of the Holy Ghost, found at the "Rosary to the Interior: For the Purification of the Church" which includes this moving and profound reminder for us all:
Pope St. Gregory the Great is reputed to have said, "Divine Justice provides shepherds according to the just desserts of the faithful." Although we would almost certainly be amiss in making of this a perfect one-to-one correlation, or of alleging that every Pope is chosen directly by God, we certainly would do well in considering that, in accord with the words of both Daniel and Pope Gregory, the chastisement that is upon us is the fruit of our own infidelities.
The End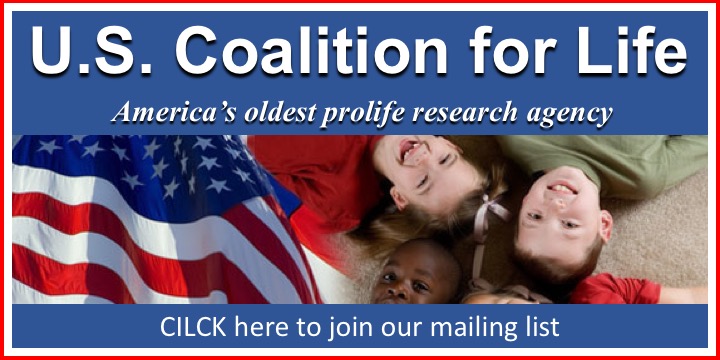 Louie : November 13, 2018 1:34 pm :
Blog Post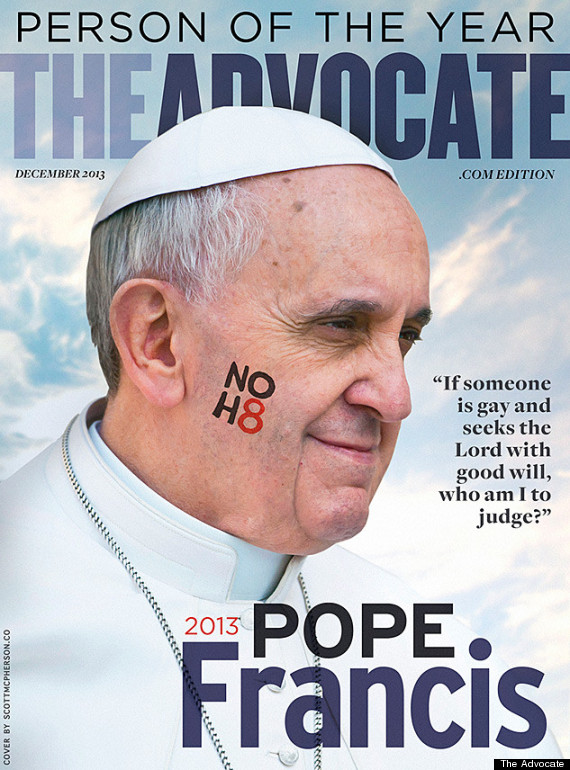 The big news out of the USCCB General Assembly yesterday was that the bishops will not be voting on "Standards of Episcopal Conduct" with respect to the homo-clerical crisis as had originally been planned.
As widely reported by numerous Catholic and secular media outlets, theVatican or the Holy See intervened at the eleventh hour to preempt the vote until sometime after February when the presidents of the world's episcopal conferences are set to meet with Bergoglio in Rome.
As reported by National Catholic Register, at a press conference yesterday, Cardinal Daniel DiNardo, President of the USCCB, "indicated that the directive came not from Pope Francis, but directly from the Congregation for Bishops."
This is total and complete hogwash.
According to its official profile, the Congregation for Bishops has no such power over the proceedings of a national episcopal conference; rather, it is charged with "receiving the deeds and decrees [approved by a given episcopal conference] and, having consulted the Dicasteries concerned, give the decrees the necessary recognition."
That's the extent of the Congregation for Bishops' power in this case; either to grant, or not to grant, a recognitio for any text that may have been voted upon and approved by the USCCB. Only the pope (or the guy wearing the costume at any rate) has the power to issue the directive that DiNardo announced yesterday.
The bottom line is that Bergoglio himself threw a monkey wrench into the USCCB's plans. Why he did so is a matter of speculation, but one has good reason to suspect that he wants to be certain that the real underlying problem at hand, at least as he sees it, is adequately addressed; namely, clericalism.
From the earliest days of his "so-called pontificate" (to quote Fr. Nicholas Gruner yet again) Bergoglio has been making it crystal clear that he does not intend to pose a threat of any kind to clerical homo-deviants. In fact, he has gone out of his way to elevate them to positions of power and prestige. (Archbishop Viganò's testimony concerning Bergoglio's treatment of Uncle Ted is but one example.)  
As such, it comes as no surprise that he has taken steps to reign in the USCCB prior to voting on this matter as a means of providing cover for the clerical homo-faction; just to make sure that it is in no way threatened or blamed.
Those of us who are all too familiar with the USCCB know that Bergoglio had absolutely nothing to worry about in the first place. In truth, the big vote on "Standards of Episcopal Conduct" was never going to result in anything more than a PR maneuver anyway.
As reported by Catholic News Agency:
Of principal concern to many bishops is that they take action in order to convey to Catholics that they find sexual abuse and coercion intolerable, and that they will not abide the presence of wolves in their midst.
Yes, that sounds about right; the bishops' principal concern has long been all about keeping up appearances. If this were not the case, we wouldn't be having this conversation today.
In any event, it would seem that the U.S. bishops have a genuine dilemma on their hands. According to CNA:
To convince American Catholics that the Church is serious about addressing the abuse crisis, they seem to have no choice but to continue to express serious dissatisfaction with Rome's directive, even while expressing their obligation to obey it.
A couple of things stand out here.
First, one notes that Catholic News Agency is ever so careful to speak of "Rome's directive," even though everyone with a pulse knows that it came directly from the Heretic-in-Chief.
Secondly, as previously discussed, the USCCB is under no "obligation" to obey a letter from the Congregation for Bishops; none whatsoever.
Lastly, and most importantly, rather than laboring to convince American Catholics that they are serious about addressing the abuse crisis, the mitred hirelings of the USCCB should be way more concerned, individually, with how they're going to convince Our Lord that they're serious about being Catholic shepherds. To do this, it is going to be absolutely necessary for them to confront the ravenous wolf and heretic Bergoglio head-on.
UPDATE: As I was about to publish this post, it came to my attention that Archbishop Viganò just issued a similar message:
Dear Brother Bishops in the US,
I am writing to remind you of the sacred mandate you were given on the day of your episcopal ordination: to lead the flock to Christ. Meditate on Proverbs 9:10: The fear of the Lord is the beginning of wisdom!Do not behave like frightened sheep, but as courageous shepherds. Do not be afraid of standing up and doing the right thing for the victims, for the faithful and for your own salvation. The Lord will render to every one of us according to our actions and omissions.
I am fasting and praying for you.
Fasting and praying. Sounds like a good idea to me.

Guest Contributor : November 13, 2018 8:51 am :
Blog Post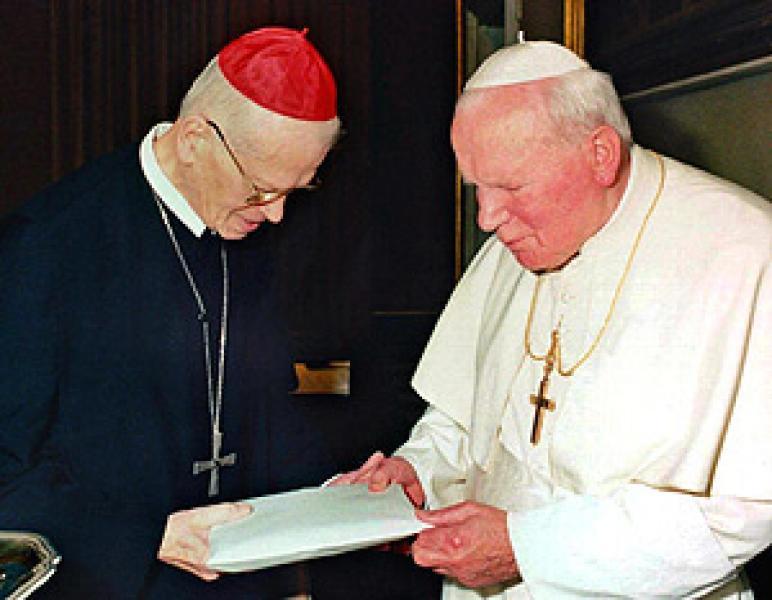 By: Randy Engel
[The following article was originally published in the September issue of The Catholic Inquisitor. With the USCCB meeting presently taking place in Baltimore, along with news that Rome has acted to prevent the bishops' vote on the proposed Standards of Episcopal Conduct – and this even as the clerical homo-predator scandal dominates Catholic and secular news – it is well worth either reading for the first time or revisiting. – ED.]
Introduction
It's been more than 23 years since the Cardinal Hans Groër, O.S.Bsex abuse scandal erupted in Vienna, Austria.
Recently, while researching the Cardinal McCarrick case, I had occasion to go back over my notes on this high-level Church scandal that took place in Austria, and it struck me how little accurate information and follow-up details on clerical abuse issued by Catholic media sources actually reaches Catholics in the pews.
It appears that official Catholic news sources including Vatican Information Service, and Catholic News Services, an organ of the U.S. Conference of Catholic Bishops, do everything possible to obfuscate and minimize the real nature and consequences of these sexually-related scandals in the Church today – or perhaps, better stated, in the Counterfeit Church that passes for the true Roman Catholic Church today.
So, I decided to do a follow-up article to see what, if anything, the reader remembers about the accusations against Cardinal Groër, and how those memories measure up to the unreported facts which eventually came to light many months or years later.
After you read this scenario regarding Cardinal Groër, please ask yourself, "Did the Catholic media, at the time, provide me with sufficient information that would permit me, as a faithful Catholic, to make a conscious and accurate evaluation and understanding of this unforgettable scandal?" If the answer is "no," then the next question is "why not?"
Also, ask yourself if the Vatican's dealings with the case of Archbishop Theodore McCarrick and his minions will be any better.
Early Revelations About the Groër Case
The first time that most American Catholics heard about Cardinal Hans Groër, Archbishop of Vienna, was on September 14, 1995, when he resigned his post following allegations of pederasty (the sexual molestation of adolescent boys), brought by one of Groër'sformer student. Afterwards,John Paul II arranged for Groër to be sent to his old Benedictine monastery in Maria Roggendorf where the cardinal was made prior, until new accusations of past criminal deeds reached the pope's ears.
The second time that Groër made American headlines was on April 14, 1998, when Pope John Paul II finally forced Groërto relinquish all ecclesiastical duties and privileges as an archbishop and cardinal-priest, although he kept his title as Archbishop Emeritus of Vienna.
Background on Cardinal Groër
Included in the Vatican announcements of Groër's dramatic fall from grace were some generic biographical notes on the cardinal.
Groër was born on October 13, 1919 in Vienna to SudetenGerman parents. The family later moved to Czechoslovakia where they set up residence for a decade and then returned to their homeland. Groërreceived his seminary training in Hollabrunn and Vienna and was ordained for the diocesan priesthood on April 12, 1942. He then served as a military chaplain in Petronell and Bad Vöslau until 1946 when he became Prefect of Studies at the Minor Seminary of Hollabrunn in Lower Austria. He obtained a doctorate in theology in 1949. Later he became a Professor of Religion at the Hollabrunn Seminary.
According to Groër, it was in the early 1950s that hedeveloped a special interest in Marian devotions and devoted himself to the restoration of the pilgrimages to the shrine of Our Lady of Roggendorf. In 1980, That same years he was named Spiritual Director of the Legion of Mary (Legio Mariens) in Austria.
Subsequent testimony from Groër's early victims support the charge that during this same time period that he reported receiving a message from Our Lady and was conducting pilgrimages to the popular shrine, the priest was routinely molesting young members of the Legio.
In 1974, Groër made a significant career change from diocesan priest to monk. In retrospect, the change may not have been entirely voluntary.
That year, he joined the Benedictine monastic community of St. Joseph's Priory located in the historic pilgrimage center of Maria Roggendorf in Hollabrunn. He entered the novitiate at Göttweig monastery in 1976and took his solemn vows as a Benedictine monk on September 8, 1980.
To the surprise of many, the obscure monk was appointed the 15thArchbishop of Vienna by Pope John Paul II on July 15, 1986 and made Cardinal-Priestof Santi Gioacchino ed Anna al Tuscolano two years later at the consistory of June 28, 1988.
A Note on the Austrian Hierarchy
Although demographically small with a total population of about eight million, Austria has always played a significant role in the history of Europe and the Roman Catholic Church. Its hierarchy is composed of two archbishops, one for the Archdiocese of Vienna, and the other for the Archdiocese of Salzburg, although, for all practical purposes, the Archbishop of Vienna is the ruling prelate; seven bishops for the Dioceses of Eisenstadt, Linz, Sankt Polten, Graz-Sckau, Gurk, Feldkirch and Innsbruck; the Abbot of the Cistercian Territorial Abbey of Wettingen-Mehrerau and the Bishop of the Military Ordinariate of Austria.
In recent years, the Catholic population of Austria has been hemorrhaging from 89% in 1961 to 58% in 2017 due, in part, to migration and the increased secularization of Austrian society, and more recently, to the large numbers of clerical sexual abuse cases –837 in 2010 alone –about 75% of which involved male homosexual clerics and at least two high-ranking prelates including Hans Groërand Archabbot George Becker, OSB, of St. Peter's Archabbey in Salzburg, the oldest monastery in the German-speaking world.
However, what makes the story of Cardinal Groër so unique in Church annals  is not only the four decades-long duration of his predatory crimes, and the incredible number of young boys he sexually molested, but also the role played by Pope John Paul II, and Cardinal Josef Ratzinger as Prefect of the Congregation for the Doctrine of the Faith and later as Pope Benedict XVI, in the continuing rise of Groër up the Vatican's hierarchal ladder to the office of Cardinal, despite Groër's early predator track record.
Let's begin with a look at that record.
Groër Case Breaks in 1995 in Profil
On March 27, 1995, the weekly Austrian magazine, Profil, published an interview with Josef Hartmann, 37, who alleged that when he was a student at Hollabrunn junior seminary, Father Groër, one of his seminary teachers,had sex with him repeatedly for four years, from 1972 to 1976.
Hartmann's statement was backed up by the testimony of Rev. Udo Fischer, who had attended the same boys' school in the 1960s and early 1970s. Fischer stated that he had been molested by Cardinal Groër when they worked together on a youth movement devoted to the Virgin Mary in the early 1970s, and that he had observed him acting inappropriately with others who were not willing to come forward. Fischer noted that referred to the young boys he surrounded himself with as "little angels."
To his credit, in 1985, Fischer reported Groër's criminal activities to his abbot, Fr. Clemens Lashofer, OSB, at Göttweig Abbey. Three years earlier, Lashofer had become the Abbot President of the Australian Congregation of Benedictines, so he was in a position of considerable power and influence. But Fischer's accusations including his personal testimony that he himself was sexually abused by Groër apparently fell upon deaf ears. Lashofer remained silent.
It was not until one year later, when the Vatican announced Groër's appointment as archbishop of Vienna that the angry Fischer re-contacted with Abbot Lashofer and asked him why he had not denounced Groër to the proper ecclesiastical authorities when he learned that Groër's name was being put forth as a candidate for the office of archbishop. The abbot, who died in 2009, responded that the papal nuncio had never questioned him regarding Groër's suitability as archbishop before his selection. To which Udo made the profound observation that, "If they really did not ask him, they did not want to know." Who the "they" were will be discussed later in this article.
The Vienna branch of the Legion of Mary (Legio Mariens) was formed on February 21, 1949. A former member of the Legio for ten years, recalls that he witnessed Groër, grabbing hold of boys' genitals, but he did not interpret the action as sexual abuse at the time. After all, Groër had enjoyed a visitation by Our Lady and had a reputation for "sanctity!"
Similar recollections were made by many of Groër other victims who recounted how the priest/monk would ask them to come to his room for confession, demand they take off their clothes and then abuse them. Others reported the priest/monk would fondle their genitals in the shower under the guise of conducting a medical exam.
At the time that these revelations were being made public, I believe it would be fair to state that few Austrian Catholics believed that Groër really committed these crimes against seminarians and monks and other young boys and young men with whom he came in contact. The scales did not begin to fall from their collective eyes until 1998 with the publication of  Hubertus Czernin's exposé on the Groër scandal.
Das Buch Groer: Eine Kirchenchronik Lights the Fire
On January 1, 1998, Das Buch Groër: Eine Kirchenchronik (The Book Groer: A Church Chronicle) by Hubertus Czernin hit the streets of Vienna. It forever put to rest any argument that Groër was innocent of the charges of sexual abuse made again him.
Born on January 17, 1956, into an aristocratic family in Vienna, Czernin studied art history at the University, but later decided to become a journalist and investigative reporter. Czernin started at the bottom of the ladder at Profil, and eventually worked his way up to editor.
The startling conclusion of Czernin's investigation was that Groër had sex with over 2,000 young men, mostly seminarians and monks, starting in the 1950s and ending in the 1990s. That's no misprint. The figure put forth by Czernin was over 2,000, although the actual figures remain unknown. Czernindied on June 10, 2006 at age of 50, three years after the 83-year-old Groër went to meet his Maker. Although Czernin had the satisfaction of living long enough to see Groër removed from office, the Viennese prelate never faced an ecclesiastical court, much less a criminal trial in a secular court.
Pope John Paul II Acting Poorly
Following the initial Profil pederasty exposéon Groër in late March 1995 by journalist and Hollabrunn alumnus, Josef Votzi, and the cardinal's subsequent resignation as Archbishop of Vienna in September 1995 and his installment as Prior at the Benedictine monastery in Maria Roggendorf, what went largely unreported was a lengthy letter sent by Pope John Paul II to all the Austrian bishops in which he defended Groër against the "unjust accusations" and attacks against his "honorableness." That the pope would write such a communication without even having ordered a thorough investigation of the charges and at a time when Groër's penchant for young monks and seminarians was an "open secret" in the Vienna Archdiocese, appears to this writer to be beyond the pale.
There were Austrian clerics including the new President of the Austrian Catholic Conference, and as well as victim survivors, who called for such a Vatican investigation, but John Paul II wasn't listening. Groër was removed from his post and sent out of sight to the Benedictine monastery of Maria Roggendorf until the heat was off. He was given the office of Prior. In 1996, the cardinal was temporarily moved to another Benedictine monastery in Germany, but at some point, he quietly returned to Roggendorf. Life was still pretty good.
Pope John Paul II appointed Hans Groër Archbishop of Vienna in 1986, and made him a Cardinal on June 28, 1988
Pope Institutes a Formal Investigation
Unfortunately for Groër, the accusations against him kept rolling in, forcing the pope's hand on the matter. Three years later, John Paul II's was forced to institute an official investigation into the scandal.
On February 12, 1998, the Vatican announced the appointment of the American Benedictine Abbot Primate, Marcel Rooney, OSB, of Madison Wisconsin to head the investigation. The six-day visitation to the Roggendorf monastery where Groër was now living was completed on March 6, 1998. To his credit, Rooney spoke in private with anyone who had something to contribute to the investigation including priests, monks, novices and seminarians.
Among the Benedictine clergy of Göttweig Abbey who Rooney interviewed was Prior Gottfried Schatz, an early whistle blower againstGroër. Schatz left the monastery the same year as the Rooney Visitation and was laicized one year later.
On April 17, 1998, three days after Groërgave up his office and all its duties, Cardinal Christoph Schönborn, Groër's successor to the Archdiocese of Vienna, begged John Paul II to put an end to the Austrian bishops' misery over the Groër scandal.  Schönborn issued a public apology to all those "wronged" by Groër, although neither the Vatican nor the cardinal himself ever admitted his guilt flat out.
Groër Exiled to East Germany  
As is par for the course, the Rooney report to Pope John Paul II and all the Austrian bishops was never made public.
However, you can be sure that when the last dot was placed on the last sentence of the Rooney investigative report on Groër's crimes, the results could be summarized quite succinctly –  Groër  had made homosexual advances to almost every young seminarian and monk he had come in contact with over his long clerical career.
Thus, in the spring of 1998, the "gravely ill" Groër was conveniently shipped out of the country for six months to a convent in Goppeln, East Germany, despite the fact, that some of Groër's very early victims were young girls.
Although the Vatican had instructed Groër to keep a low profile, he continued to entertain a number of high-level churchmen.
Among Groër's many guests at Goppeln, was Cardinal Joachim Meisner, Archbishop of Cologne, Germany. During Meisner's visit of September 8, 1998, Groër gave Meisner the episcopal ring of Saint Francis de Sales, a gift which Groër had received from the Salesian nuns (Order of the Visitation of Holy Mary) of Rennweg in Vienna as a token of their "unbroken confidence" in him. According to Meisner, these were dark days for the "exiled" cardinal who "sank into loneliness and contempt."
Later in the fall of 1998, Groër returned to Austria and quietly resettled in his old Benedictine monastic community at St. Joseph's Abbey in Sankt Polten, his "grave illness" having been cured merely by a short lapse of time.  Here he lived out the last years of his life.
Death Becomes the Archbishop
Early in the morning of March 24, 2003, Cardinal Groër died of pneumonia at St. Poelten Hospital near Vienna where he was being treated for cancer. He was 83 years old.
In a telegram of condolence to the Archdiocese of Vienna, John Paul II, also aged 83, and in the last stages of Parkinson's disease, is reported to have stated that Groër had served "with great love for Christ and his Church" and that he prayed that the cardinal would be "granted the eternal reward that the Lord himself promised to his faithful servants."
Cardinal Schönborn, who presided over the Requiem Mass at St. Stephen's Cathedral for Cardinal Groër on April 4, 2003, was a tad more sedate in his comments. "In view of death, the painful questions of the past may be put in God's hands. That applies to Cardinal Groër as well as to any other Christian," he said. Schönborn was one of many high-ranking Austrian prelates who had visited the cardinal before his death.
Cardinal Hans Hermann Groër was buried in the cemetery of Mariendfeld Abbey, a Cistercian women's monastery taken over by the Benedictines in 2004.
Cardinal Meisner Beatifies Cardinal Groër
On April 5, 2003, Groër's close friend Cardinal Joachim Meisner gave the sermon at another Requiem Mass held in Maria Roggendorf. Luckily, the text of Meisner's eulogy has been preserved online as its contents would not likely be otherwise believed.
Originally, I was going to quote only sections of Meisner's sermon, but on second thought I believe it will make a deeper impression on the reader if the eulogy is presented in its entirety.
Dear Brethren and Sisters,
Hans Hermann Cardinal Groër's walk along the roads of this world was completed when he passed away to God, our Father. Like a tired pilgrim Cardinal Groër was allowed to return to God the Father's house after a pilgrimage of almost 84 years. When a child is born he cries a lot, but his fellowmen, his parents and relatives are happy about the birth of a new human being. At the end of one's life, when the human being dies, it should be the other way around.
For he who leaves to meet his Father should rejoice. His fellow human beings, however, should be sad and shed tears, because a faithful man has left them. This happened to Mary. If you how ever stood in front of the wonderful altar of the Holy Virgin by Veit Stoss in the Church of Our Lady in Cracow, you will not be able to forget the Easter smile on Mary's face, as she falls dying into the arms of the weeping Apostles. 
Many of us feel like this when we think of our late fellow priest and Cardinal, Hans Hermann Groër. His last decade of life was over-shadowed by the dark cloud, under which many suffered with him. Cardinal Groër was destined to follow our Lord along His Stations of the Cross, as Simon of Cyrene had done. He was steeped in the Lord's bitter Passion, which, however, protected him from bitterness. Along those Stations of the Cross he knew himself completely bound with Mary, the Lord's Mother, who had also been pierced by the sword of pain. Because of this he became a qualified companion in suffering for many people under the Cross.
So many people from far and near came to him to ask for guidance for their lives. Especially the hard pressed and the burdened, the despised and the crucified found in him a Christian and a brother who was at their side and showed them their way to the future by virtue of his spiritual authority. Maybe this was the reason why Cardinal Groër became one of Austria's much sought after confessors, even until shortly before his death. Was this not the true believers' testimony, with their Feet and hearts, for the priest and bishop Hans Hermann Groër? The Bible tells us, Blessed are the dead, who die in the Lord …; for their Works follow them.(Apoc. 14:13)
We need not say many words at Cardinal Groër's casket in Maria Roggendorf. The facts speak for themselves: The pilgrimage basilica in its beauty, the Benedictine priory at the same place, the Cistercian nuns' abbey, Marienfeld, in the neighborhood: They would not exist without Cardinal Hans Hermann Groër. They have become places that help people to experience a bit of heaven on earth and earth to be a bit more inhabitable. From Maria Roggendorf a monthly pilgrimage movement spread all over Europe and beyond, so that believers gather at 600 places month after month to be led to Christ by Mary according to her piece of advice, Whatever he shall say to you, do ye. (Jn 2:5)
At his casket we have indeed more reason to give thanks than to lament. Cardinal Groër was not a man with a strong constitution or thick skin; rather he was easily wounded and overly sensitive. Therefore, he was deeply wounded, even stigmatized by the incidents during his last years as Archbishop of Vienna. Since that time, he was as though branded, wounded and even stigmatized. And when Peter writes in his first letter, … by whose stripes you were healed (1 Peter 2:24), this may be the reason that Cardinal Groër was sought again and again as a pastor, confessor and spiritual director. A man who had recovered the sense of his life after meeting Cardinal Groër told me that he had always left him as a better man than he had been before.
In the days when the dark cloud gathered over his life and he sank into loneliness and contempt, the Salesian nuns of Rennweg in Vienna came to him and brought him St. Francis de Sales' episcopal ring as a sign of their unbroken confidence in him. I know how much he was strengthened, consoled and moved by this sign of sympathy, compassion and sharing of his sufferings. Months later he gave me St. Francis de Sales' ring. He wanted to thank me for accompanying him along his path under the dark cloud. I was deeply embarrassed and affected by that, because I did not have the feeling of having accompanied him intensely enough.
Today I am taking back the late Cardinal's ring as a sign of gratitude for his faithfulness under the Cross of the Lord. From now on this ring shall belong to Our Lady of Roggendorf. It is the ring of St. Francis de Sales and of the late Cardinal Hans Hermann Groër. Like Mary, his heart was pierced by the sword of sorrow. As Mary did, so do we hope and request for him the joy of final communion with Christ who died and rose again from the dead. Not the crown, but the ring of faithfulness shall serve as a sign of this. Amen. [April 5, 2003]
 What can one possibly say?
The End
References:
Dennis Coday, "A cardinal is accused: the Groer case," National Catholic Reporter," April 4, 2014, at  https://www.ncronline.org/blogs/ncr-today/cardinal-accused-groer-case.
"Hubertus Czernin -Austrian Journalist Had Role in Return of Art Seized by Nazis," Elisabeth Penz and Jon Thurber,  Los Angeles Times, June 15, 2006| at http://articles.latimes.com/2006/jun/15/local/me-czernin15.
"'Exile' for disgraced Austrian cardinal," BBC News, April 14, 1998 at http://news.bbc.co.uk/2/hi/78503.stm.
"Over 800 complaints to Austrian Catholic Church sexual abuse commission," Sylvia Westall, Reuters, April 13,2011 at http://blogs.reuters.com/faithworld/2011/04/13/over-800-complaints-to-austrian-catholic-church-sexual-abuse-commission/
Cardinal Joachim Meisner, "Consecrated to God,"'at   http://www.gottgeweiht.at/gg402predigtkardinalmeisnerengl.htm.

Louie : November 11, 2018 10:54 am :
Blog Post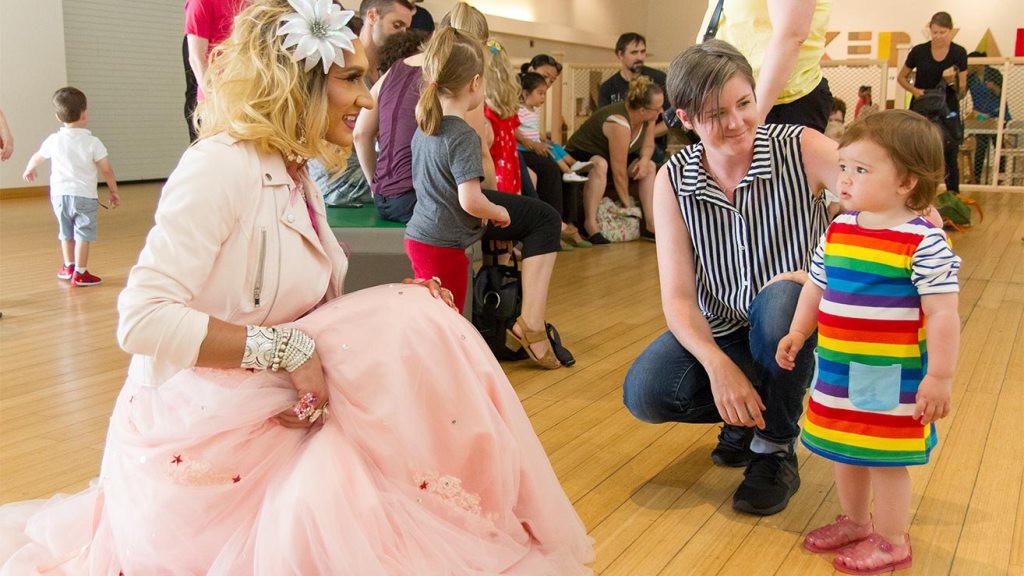 Never heard of Drag Queen Story Hour? Get with the program! According to organizers:
Drag Queen Story Hour (DQSH) is just what it sounds like—drag queens reading stories to children in libraries, schools, and bookstores. DQSH captures the imagination and play of the gender fluidity of childhood and gives kids glamorous, positive, and unabashedly queer role models. In spaces like this, kids are able to see people who defy rigid gender restrictions and imagine a world where people can present as they wish, where dress up is real.
DQSH…One may wonder why homo-deviant groups are so enamored with acronyms, but the reason is plain enough. It's a deliberate attempt to mask their diabolical agenda behind a misnomer designed to make the effort appear as wholesome as alphabet soup on a cold winter's day.
My favorite is GLAAD; an LGBT activist group that was established in 1985, the acronym of which stands for "Gay & Lesbian Alliance Against Defamation." Funny thing is, however; a current search of their official website reveals exactly ZERO references to the organization's full name. This, of course, is a matter of strategic marketing.
In 2013, the organization announced that it "has formally dropped the words 'Gay & Lesbian Alliance Against Defamation' from its name and will be known going forward as simply GLAAD."
"It is a natural progression that reflects the work GLAAD's staff is already leading," said the group's spokesperson Wilson Cruz. "We respect and honor the full name that the organization was founded with, but GLAAD's work has expanded beyond fighting defamation to changing the culture."
In speech, GLAAD is commonly referred to as "glad" (a close cousin to "gay"); when in reality the movement they represent is about as far from either one as you'll ever find. According to a Centers for Disease Control report, incidence of "rape, physical violence, and/or stalking by an intimate partner" is highest among – get this – lesbians!
I digress…
Back to DQSH: The photo at the top of this post is prominently featured on the homepage of their official website. Presumably, this is what they consider to be an especially accurate representation of their brand.  I would have to agree. Just look at the expression on that innocent child's face! Clearly, the poor little girl is horrified. (Then again, that could be a male victim of "gender fluid" child abuse.)
Speaking of branding, is it just coincidence that the "Drag Queen Story Hour" logo bears such a striking resemblance to the "Disney Princess" logo?

DQSH is a pet project of the American Library Association (ALA), the website of which states:
Founded on October 6, 1876 during the Centennial Exposition in Philadelphia, the mission of ALA is "to provide leadership for the development, promotion and improvement of library and information services and the profession of librarianship in order to enhance learning and ensure access to information for all."
Sounds harmless enough, but that was then. Today, the ALA is no more about advocating for literacy and learning than GLAAD exists to make people happy.
In its own words, "ALA's Core values, key action areas and strategic directions" include "Equity, Diversity, and Inclusion," and "ALA will apply a social justice framework to the ALA strategic directions." This includes an effort to secure "library services" for every sort of "sexual orientation, gender identity, and gender expression."
In the world of homo-activism, ALA is no Johnny-come-lately. According to its website:
The Gay, Lesbian, Bisexual, and Transgender Round Table (GLBTRT) of the American Library Association (ALA) was founded in 1970 as ALA's Task Force on Gay Liberation. It is the nation's first gay, lesbian, bisexual and transgender professional organization.
In other words, this group has been at the cutting edge of homo-activism for decades. Drag Queen Story Hour is just one of its latest initiatives.
In the May 2018 ALA Newsletter, Jamie Campbell Naidoo, President of the Association for Library Service to Children (ALSC), which is a division of ALA, wrote about:
… librarians who are creating inclusive programs that celebrate creativity and diversity through Drag Queen Storytimes … Another program celebrating global diversity is the United States Board on Books for Young People (USBBY) co-sponsored program hosted by ALSC … The program, "The Four D's of Translation in Children's Publishing: Diversity, Drag, Disguise and Delectation," explores what it takes to create a good translated book for children.
Diversity, Drag, Disguise and Delectation…  This is what the ALA considers "Library Service to Children," and they are determined to provide it by hook or by crook.
Writing in the June 2017 ALA Newsletter, Tess Goldwasser – an ALA committee member and "children's librarian" at the St. Mary's County Library (Maryland) didn't even attempt to hide the organization's nefarious strategy for stealthily indoctrinating children with their twisted homo-ideology. She writes to fellow librarians:
Do you wish you could do more to make your library more inclusive to the LGBTQIA+ community, but meet with resistance?
The question is rhetorical; if you're a dues-paying, newsletter-reading, member of ALA, then of course you're down with the cause. Goldwasser goes on to offer "Tips and tricks to being a secret librarian advocate operative." Her advice begins:
Sure, you want to eventually get to Drag Queen Storytime, but you should start with something simple!
She encourages her fellow secret homo-activist librarian operatives to press management to allow for a "GLBT Book Month display in June." And if the answer is no?
Don't stop asking. Ask next year, and the year after that, and the year after that. One year they might say yes. And the year after that they might say "Sure you can do that again." And it might become a tradition, and every year you can put up more rainbow flags than the year before.
Goldwasser has some special instructions for those librarians whose "library isn't ready for Drag Queen Storytime" or "any kind of LGBT programming." [Programming… a good choice of words.] She writes:
That doesn't mean those programs can't still be held in your library. If your library has meeting space, reach out to groups like your local PFLAG chapter, or local schools' LGBT student groups, and let them know that they can hold meetings and host programs at your library.
She encourages librarian-operatives to "Sneakily fit stuff into current programs," like "Regular Old Storytime."
Try to "sneak" inclusive messages into your current programs. For instance, if you're reading a book about a Mama bear and a Papa bear, maybe when you read it you just change it to be about 2 Papa bears! Or if you're reading a book about a rabbit who likes to get dirty and play sports, maybe when you read it you pointedly say it's a girl rabbit. If there are characters in a book where the gender is unidentified or irrelevant, feel free to play and change it up! Chances are kids and families won't even notice, but for that same-sex family or gender-nonconforming child who does, it will really mean a lot to them to know their librarian has their back.
Yes, I am certain that the homo-activists at the American Library Association would like nothing better than to have our children's backs, and then some. How do they intend to get them? In part, by partnering with other seemingly harmless organizations. According to its website:
In support of its mission, the American Library Association maintains collaborative relationships with a variety of outside organizations.
Among those groups are "Affiliate Organizations" that are described by ALA as follows:
Independent groups having purpose or interests similar to those of the Association. Pursuant to Article X, Section 1, of the ALA Constitution and upon application formally made by the proper officers, the ALA Council has voted to affiliate with a number of societies.
In other words, a given "society" doesn't just decide to become an "ALA Affiliate;" rather, there is an application process by which the group's purpose and interests are scrutinized to see how well they mesh with those of the Association, at which point, the ALA Council may or may not vote to accept it as an "affiliate."
While no data is available online indicating what percentage of applications are denied, ALA, in its press releases, refers to a group's approval as "an achievement." Apparently, it's quite an honor! Once accepted as an ALA Affiliate, the group is even given its own webpage on the ALA website.
Among those organizations so honored is Catholic Library Association.
Yes, you read that correctly. In this day and age when the bishops of the Unites States are feverishly trying to convince the faithful, States Attorneys General, the world at large and perhaps themselves that they are serious about "protecting youth" from homo-predators, the Catholic Library Association is openly affiliated with a diabolical enterprise that plainly exists for the purpose of indoctrinating innocent children with the tenets of militant homo-activism.
The American bishops have a well-earned credibility problem when it comes to this issue. Demanding of the Catholic Library Association that it either withdraw from its affiliation with ALA or cease using the "Catholic" name would be one small step toward fixing it.
You can reach the Jonah Dycus, Communications Director for Cardinal Daniel DiNardo, President of the USCCB, at jdycus@archgh.org.
Please help us to continue the research necessary to create more articles of this nature!

Louie : November 8, 2018 10:20 am :
Blog Post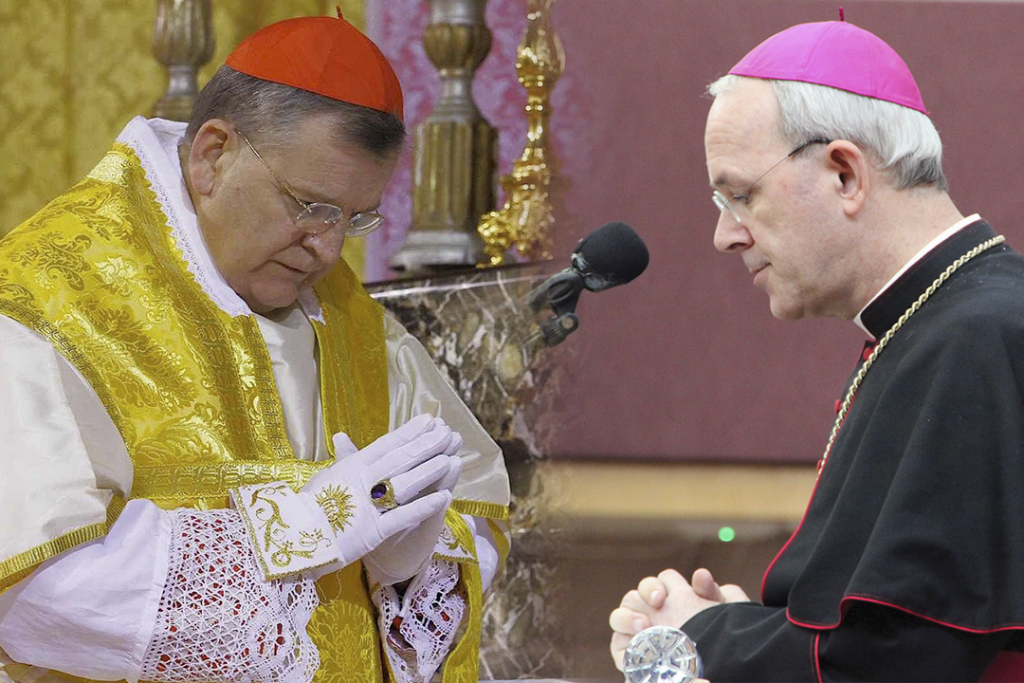 Reports are circulating that Bergoglian Rome has taken steps to limit the degree to which Bishop Athanasius Schneider and Cardinal Raymond Burke are able to travel and interact with the faithful at live events.
As reported by Gloria TV:
The Vatican has asked Auxiliary Bishop Athanasius Schneider not to leave Astana archdiocese for more than 30 days a year, Schneider told katholisch.de.
The nuncio in Washington D.C. told the American bishops not to invite people like Cardinal Raymond Burke for talks, and when Burke's presence cannot be avoided, they should not take part in such events, Marco Tossati reported on November 6.
Naturally, these transparent attempts on the part of Bergoglio & Co. to silence two of their highest-profile clerical critics have provoked no small amount of shock and outrage on the part of many Catholics.
I'm not one of them.
Shock? Please, these restrictions, which are tantamount to a gag order, are coming directly from the same guy whose response to Archbishop Viganò's scathing testimony was "I will not say a single word." This is how Bergoglio rolls, folks.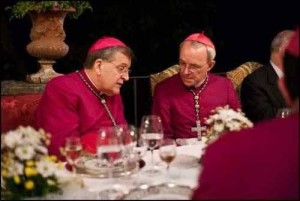 As for outrage, I'm not exactly livid over the idea that the Banquet Bishops will presumably headline a handful fewer conferences and be wined and dined just little less in the coming year.
Exactly what good has their globetrotting actually done anyway?
Amoris Laetitia and its assorted blasphemies and heresies have quietly become yesterday's news – that is, all but fully embraced as the "new normal" – and Bergoglio is still maneuvering and conniving in furtherance of his assault on the Faith virtually unopposed; e.g., the recently concluded Synod-slash-dance-party.
Maybe a little less time composing presentations, packing suitcases and shuffling through airport security will afford Burke an opportunity to deliver on that long ago promised "formal act of correction."
Needless to say, I jest, as no such correction is forthcoming. This being so, one cannot help but wonder exactly how the Bergoglians managed to convince Burke (blackmail may be more accurate) to retreat on this point. Clearly something happened, and it certainly wasn't a move toward orthodoxy on the part of the Argentinian.
With this in mind, the effort to clip Burke's wings and take a bite out of his public event schedule goes to show just how vindictive and petty the Bergoglians truly are.
Readers may recall what Francis said of Burke following his 2014 dismissal as Prefect of the Apostolic Signature and his subsequent appointment as Patron of the Order of Malta:
He [Burke] thanked me in very good terms and accepted my offer, I even think he liked it. Because he is a man that gets around a lot, he does a lot of traveling and would surely be busy there.
As his about face on the formal act of correction amply demonstrates, Burke has already been duly castrated, publicly humiliated and effectively rendered harmless to the Bergoglian cause. This means that the move to keep him from "getting around" so much is more personal than anything.
Bishop Schneider, for his part, is downplaying the situation, telling LifeSite News:
I am sad that such news is spreading. I was asked on behalf of the Holy See to reduce the frequency of my travels outside my diocese, so that their duration will not exceed the limits indicated by Canon Law (i.e. 30 days). Therefore there is no travel ban.
While some may feel compelled to consider this evidence of Schneider's docility; it's cowardice, plain and simple, and this humble son-of-the-Church shtick is getting old. Bishop Schneider can play the nothing to see here card all he wants, but it's entirely obvious that he's being singled out for his defense of the Faith, such as it is, in the face of the Bergoglian menace.
Furthermore, as Gloria TV pointed out, Bishop Schneider's interpretation of Canon Law is questionable at best:
Allegedly, Schneider was asked to follow Canon 410, one of the many elastic clauses in Canon Law, which obliges an auxiliary bishop to reside in the diocese except if he is fulfilling "some duty outside the diocese" or for his one month vacation.

Since Schneider is not travelling for vacation but for religious duties like Mass celebration, confirmations, and preaching, the one month limit contradicts Canon Law. Further, there is no information that Canon 410 has been enforced except for Schneider although there are multiple leftwing airport bishops.
Bottom line: Jorge Bergoglio is a ravenous wolf in papal clothing and everyone with even a shred of sensus Catholicus knows it. It's time for shepherds to shepherd for the benefit of the innocent. At this point, Burke and Schneider aren't so much victims of an injustice as they are accessories to Bergoglio's crimes.
Let's pray that both of these men will make good use of their newfound free-time to reflect on their failure to adequately protect the flock, seeking the grace necessary to do what desperately needs to be done; namely:
To publicly proclaim Jorge Mario Bergoglio's heresy and contumacy; making known to all the Church the sentence which he has pronounced against himself; making clear that by his own will he has turned away and separated himself from the Body of the Church, and that in a certain way he has abdicated the Pontificate… (see Fr. Pietro Ballerini)