Louie : March 22, 2018 11:55 am :
Blog Post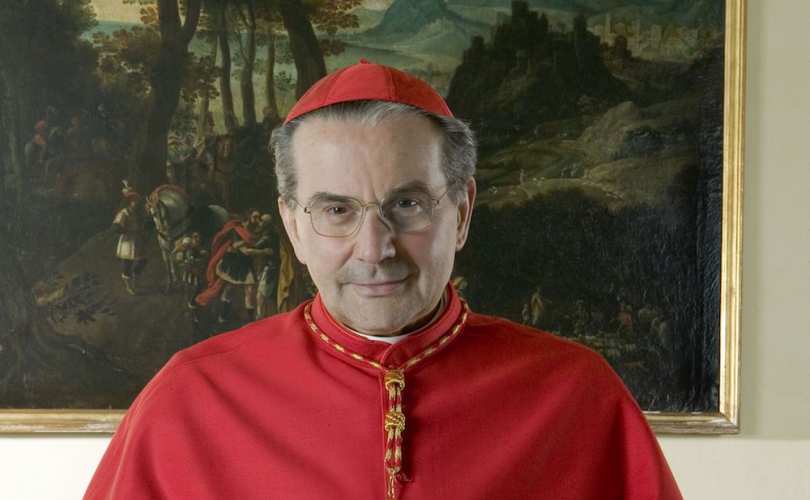 In January, Edward Pentin of National Catholic Register reported that plans were underway for a "major international conference to examine ways to resolve the current crisis of division in the Church," with additional focus on "papal infallibility."
Ever since, it seems, hope and expectations have been running high about the mysterious event, and in some surprising quarters.
Pentin recently provided some additional details, writing:
The April 7 meeting will be on the theme: "Catholic Church: Where Are You Heading?" Its subtitle, "Only a blind man can deny that there is great confusion in the Church," is taken from comments Cardinal Caffarra made in an interview with the Italian newspaper Il Foglio in January 2017.
Yes, and only a neo-conservative fool expects this conference to be anything other than an ineffectual dog-n-pony show; yet one more gathering of handwringing clerical eunuchs who haven't the guts to actually defend their flock from the Bergoglian wolf; much less identify the blasphemous heretic by name.
In fact, a better subtitle would be: Hell in a handbasket
And this in spite of having its very own Patron Saint, whom Michael Matt at the Remnant identified as "a powerful heavenly ally in Cardinal Caffarra."
Don't laugh. I think he's serious.
Mr. Matt went on to say:
Perhaps His Eminence—one of the original "dubia cardinals"—is still working in Rome even now, trying to save the Church from the Modernists who have her by the throat. Let us pray that whatever it is, this conference will be imbued with the spirit of Carlo Cardinal Caffarra.
And here you thought the conciliarists in the church-of-man were the only ones engaging in fake canonizations!
On a more serious note – pray for Cardinal Caffarra, a neo-conservative at heart who, in spite of showing signs of genuine holiness, was a man-of-the-council who did precious little to actually oppose the modernists when he was alive.  
In any case, when the conference was first announced back in January, our take was a little different than that of America's oldest traditional Catholic newspaper.  (Perhaps it is time for some new blood. More on that soon, I promise. Stay tuned.)
When the big conference was first announced, it seemed clear enough to me even then that the organizers of the event, in spite of any good intentions, are among the most gravely disoriented of all.
If there was ever even a shred of doubt on this point, Pentin's latest report removes it.
The organizers say the afternoon conference will explore the limits of papal authority as well as seek ways to overcome the division in the Church, exacerbated by what many see as pastoral and doctrinal confusion on key moral issues largely emanating from differing interpretations of Chapter VIII of Pope Francis' apostolic exhortation, Amoris Laetitia.
Ah, yes… it's all about those rascally differing interpretations; i.e., we must come to agreement on what it really  means to say that God asks us to persist in mortal sin, that Christian marriage is just an ideal, and that the Divine Law is much too difficult for some of us to keep amid the concrete circumstances of our daily lives.
And how might that agreement be achieved?
Pentin further reported:
Also discussed will be the leadership roles of the "People of God," and how the faithful should be consulted on matters of doctrine.
We'll take a straw poll!
Petnin closed his report with the following hopeful news:
The conference will end with a declaration —a profession of faith on points of doctrine and morality that are most controversial today. It will be proposed for the whole Church and be issued as coming from the voice of "baptized and confirmed members of the People of God."
So there you have it, folks:
The Catholic Church is daily being led further and further away from Christ by a raging heretic posing as the Roman Pontiff, and rather than simply relying upon such things as the infallible decrees of the Council of Trent that plainly anathematize the man, a bunch of conservatives, imbued with the spirit of Cardinal Caffarra, are going to "propose to the whole Church" a declaration in the name of the peanut gallery.
Saint Carlo of Bologna, pray for us!

Louie : March 21, 2018 11:07 am :
Blog Post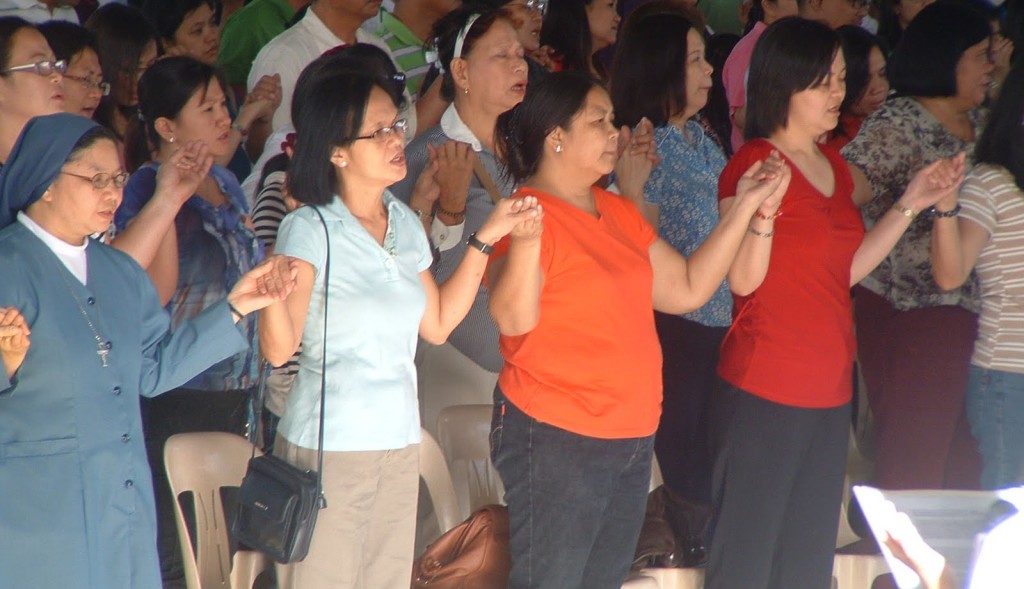 Last week, the on-going Bergoglian "catechesis" on the Novus Ordo was largely unremarkable; so much so that I saved commentary on it until today.
The most noteworthy portion of that lesson in modernism concerned Francis' comments on the Our Father wherein he repeatedly hailed its ability to stir up pious sentiments within the assembly:
This is not one of many Christian prayers, but it is the prayer of the children of God: it is the great prayer that Jesus taught us. In fact, delivered to us on the day of our Baptism, the "Our Father" makes those same feelings resonate in us. They were in Christ Jesus.
Yes, that's it! You see, Jesus had sentimental feelings as befitting a child of God, and by golly, we should too!
The fundamental error here is obvious: Baptism does not engender "feelings" of Divine sonship; in addition to making that sonship real, it imparts the theological virtues of faith, hope and charity.
Francis went on to demonstrate how little stock he puts in the first of these virtues.
How many times there are people who say "Our Father", but do not know what they say. Because yes, it is the Father, but do you feel that when you say "Father"?
Forget believing that we are children of God, we must "feel" it.
Francis went on:
When we pray the "Our Father", we connect with the Father who loves us, but it is the Spirit who gives us this connection, this feeling of being children of God.

Get that? The Holy Ghost leads us not into all truth, but into all emotion.
Pope St. Pius X identified this nonsense as part and parcel of "Modernism and All the Heresies," and he condemned it in no uncertain terms as the enemy of truth and even of reason itself, stating:
For all these fantasias on the religious sentiment will never be able to destroy common sense, and common sense tells us that emotion and everything that leads the heart captive proves a hindrance instead of a help to the discovery of truth. (Pascendi Domini Gregis – 39)
So much for last week's Bergoglian assault on the Catholic faith.
At the General Audience earlier today, the offensive continued as Francis declared:
The celebration of the Mass, of which we are going through the various moments, is ordered toward communion, that is, to unite with Jesus. The sacramental communion: not spiritual communion, which you can do at your house saying: "Jesus, I would like to receive you spiritually." No, sacramental communion, with the Body and Blood of Christ.
If nothing else, he is consistent.
Readers may recall the observation that we made concerning the first of these wretched General Audiences focusing on the Mass:
Pay close attention to what Francis has done: He has constructed a foundation for the catechesis to follow upon the false idea that to assist at Sunday Mass necessarily entails receiving Holy Communion – with the implication being, every Sunday.
Sure enough, today he returned to this false notion with even greater emphasis; suggesting that assistance at Holy Mass apart from receiving Holy Communion is no better than simply staying home.
This mindset forms an integral part of Amoris Laetitia and the Bergoglian attack against the Church's bi-millennial practice concerning those in invalid civil marriages.
It also directly contradicts the directive given to pastors in Familiaris Consortio:
They [the "divorced and remarried"] should be encouraged to listen to the word of God, to attend the Sacrifice of the Mass… (FC 84)
By contrast, Francis is encouraging those who are not properly disposed to receive Holy Communion to just sleep in. This, I suppose, is what passes for "accompaniment" in the brave new world of newchurch.
As in previous weeks, Francis made it a point to confirm the Protestants in their errors; for one, by suggesting that Holy Mass is a recreation of the Last Supper:
In fact, the gesture of Jesus who gave his disciples his Body and Blood in the Last Supper, continues today through the ministry of the priest and deacon, ordinary ministers of distribution to the brothers of the Bread of life and the Cup of salvation.
For good measure, he also tossed in a few more Mass as "meal" references:
In the Mass, after having broken the consecrated Bread, that is the body of Jesus, the priest shows it to the faithful, inviting them to participate in the Eucharistic banquet. We know the words that resonate from the holy altar: "Blessed are the guests at the Lord's Supper…"
In it [the prayer after Communion], on behalf of everyone, the priest turns to God to thank him for making us his guests…
The Church strongly desires that the faithful also receive the Body of the Lord with hosts consecrated in the same Mass; and the sign of the Eucharistic banquet…
With regard to the latter, it must be said that it is not  "the Church" that desires as much, but rather was it the desire of the architects of the protestantized Novus Ordo rite.
On this point, the Ottaviani Intervention states:
In the insistent recommendation to distribute in Communion the Species consecrated during the same Mass, indeed to consecrate a loaf for the priest to distribute to at least some of the faithful, we find reasserted a disparaging attitude toward the tabernacle, as toward every form of Eucharistic piety outside of the Mass. This constitutes yet another violent blow to faith in the Real Presence as long as the consecrated Species remain.
With staggering numbers of self-identified, Mass-going, Catholics expressing doubt as to the Real Presence, no well-informed person of good will can deny that Cardinal Ottaviani et al. were entirely correct.
Indeed, this is the solitary benefit of these General Audiences; namely, to demonstrate beyond any doubt whatsoever that participation in the Novus Ordo Missae poses a grave danger to one's faith; with Jorge Bergoglio, he who refuses to bend his knee before Christ in the Most Holy Eucharist, being a prime example.
If you find these weekly examinations of the Novus Ordo  helpful,
please consider supporting our efforts.

Louie : March 19, 2018 1:57 pm :
Blog Post

At Holy Mass yesterday, the sermon delivered by Fr. Joel Kiefer, FSSP (a gifted preacher) was focused on the evil of lying as discussed in the Roman Catechism's treatment of the Eighth Commandment, "Thou shalt not bear false witness against thy neighbor."
The Roman Catechism, quoting the words of Solomon, reminds us that the Lord "hateth" six things, but there is a seventh that He "despiseth" (i.e., that which He finds especially repugnant), and that is "a deceitful witness that uttereth lies."
Considering recent news out of Rome, the timing of yesterday's sermon was remarkable if not providential.
It has come to light (see Edward Pentin's report) that the now infamous letter of Benedict the Abdicator commenting on the series of books, Theology of Pope Francis, includes the following paragraph that the Vatican deliberately attempted to hide from public view:
Only as an aside, I would like to note my surprise at the fact that among the authors is also Professor Hünermann, who during my pontificate had distinguished himself by leading anti-papal initiatives. He played a major part in the release of the "Kölner Erklärung", which, in relation to the encyclical "Veritatis splendour", virulently attacked the magisterial authority of the Pope, especially on questions of moral theology. Also the "Europaische Theologengesellschaft", which he founded, was initially conceived by him as an organization in opposition to the papal magisterium. Later, the ecclesial sentiment of many theologians prevented this orientation, allowing that organization to become a normal instrument of encounter among theologians."
So, let's engage in a little deductive reasoning, shall we:
God despiseth a deceitful witness that uttereth lies. By hiding the aforementioned portion of Benedict's letter in order to make it appear as an endorsement for the books they hope to sell, the Vatican's PR team is clearly guilty of propagating a deceitful witness that uttereth lies. Therefore, God despiseth the behavior of the Vatican's PR team.
The Roman Catechism is a wonderful resource, but let's be honest:
By the light of the natural law alone even a heathen can discern that the Creator despises such wickedness as that which has been perpetrated by the Vatican.
In a futile attempt to explain away its deceitfulness, the Vatican issued a statement that served only to deepen the hole by divulging that Benedict's letter "was confidential."
Yes, you read that correctly:
No portion of Benedict's letter, which was addressed directly to Msgr. Dario Viganò, Prefect of the Secretariat for Communications, was ever supposed to be made public.
In spite of having violated Benedict's confidence, given that this was done in order to burnish the image of the Heretic-in-Chief, one assumes that Viganò's position is still safe; unless, of course, he is made a bishop and given a promotion.
In any case, what may not be so evident is the wickedness of the man that most people seem to consider the victim.
As made evident in his confidential letter, Benedict is deeply dismayed that the likes of Professor Peter Hünermann are included among the authors of Theology of Pope Francis.
Note well the reason:
He played a major part in virulently attacking the magisterial authority of the Pope, especially on questions of moral theology in relation to the encyclical Veritatis Splendor.   
Readers may recall that the Dubia cites Veritatis Splendor in no less than three of its five yes/no questions, and it does so in such a way as to attest to the heretical nature of the so-called "theology of Francis" as made plain in Amoris Laetitia.
And now we find Benedict rightly pointing out, not only the scandal of giving Peter Hünermann a quasi-official platform from which to broadcast his anti-magisterial views, but even more importantly, the danger of attacking the immutable "moral truths" reiterated in Veritatis Splendor!
This is the same letter in which Benedict hails the "profound philosophical and theological formation" of Francis – the author of Amoris Laetitia – while declaring the "interior continuity" that exists between their two pontificates.
At this, let us consider yet again the Roman Catechism, which tells us that the Eighth Commandment "forbids hypocrisy" and "prohibits dissimulation;" the latter referring to "actions, as well as words," that serve to conceal "what is in our mind."
With this in our mind, it is clear that the most important revelation to emerge from the Vatican letter fiasco isn't so much that Benedict was victimized by duplicitous men who betrayed his confidence, but rather that Benedict is actively victimizing the entire Church by virtue of his own hypocrisy and dissimulation.
No real shocker here, I suppose. After all, this is the same Josef Ratzinger who has long played a major role in the Vatican's deception surrounding the Third Secret of Fatima, and, according to the Roman Catechism, lying "is an almost incurable disease."
The Roman Catechism goes on to denounce as violations of the Eighth Commandment "flattery and insincere praise;" ultimately stating that the "most impious lies of all" are those "uttered against or regarding religion."
In the end, we – that is, people the world over – are the victims of the Vatican's latest act of fakery; though it must be said that Jesus Christ alone is worthy of much better.
As for Ratzinger, Viganò, and Bergoglio; they deserve one another as each one, in their own way, is a liar of the most detestable kind.

Guest Contributor : March 18, 2018 3:51 pm :
Blog Post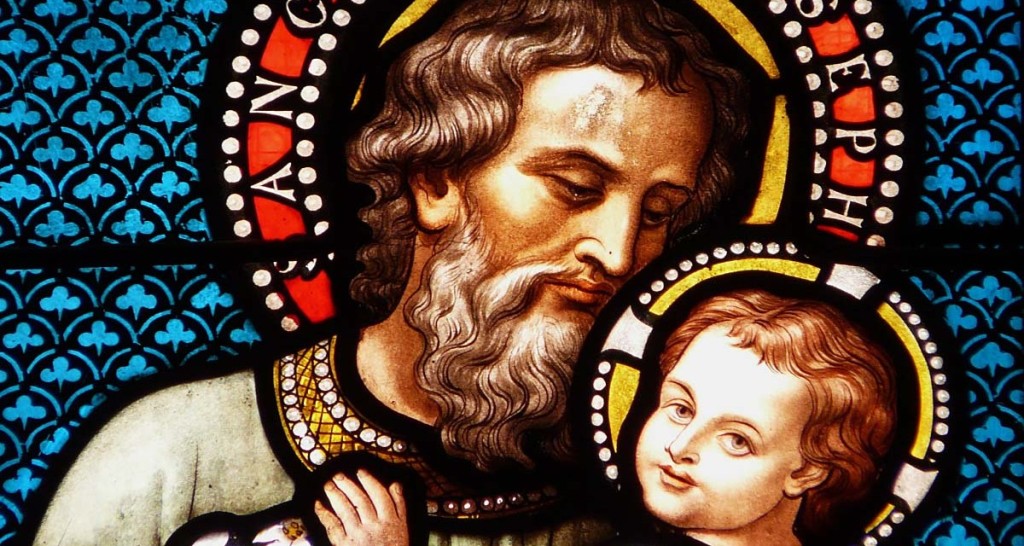 By: Andrea Chamberlain
After the death of Pope Gregory XI in 1378, the Church was thrust into a period of intense turmoil known as the Western Schism which saw three rival political factions each vigorously claim their own successor to the chair of St. Peter.  The schism finally ended in 1414 during the Council of Constance which had been called to try to bring an end to the chaos.
One of the strongest forces present at the Council working towards the reunification of the Church was Jean Gerson, the chancellor of the Cathedral of Notre Dame in Paris. He preached numerous sermons at the Council invoking the assistance of St. Joseph to guide the council to resolve the conflict, ultimately helping pave the way for the declaration of St. Joseph as Patron of the Universal Church in 1870 by Pope Pius IX.
Similarly, innumerable saints throughout the centuries, including many Doctors of the Church such as St. Teresa of Avila, St. Francis de Sales and St. Therese of Liseaux have turned with perfect confidence to St. Joseph to help them in personal trials and enthusiastically recommended others to seek his intercession. The Church herself refers to the particular veneration given to St. Joseph, "protodulia", as second only to that of Our Lady (called hyperdulia), higher than any other creature either human or angelic.
St. Joseph was seen alongside his spouse in the apparition at Knock, Ireland in 1879, and on the day of the great Miracle of the Sun at Fatima, Portugal, October 13, 1917, St. Joseph was seen in the Heavens along with the two other members of the Holy Family, blessing the whole world.
Additionally many people believe that St. Joseph assisted a community of nuns in New Mexico in 1877 who needed a staircase built to allow them to access their chapel's choir loft after the death of their architect. On the ninth day of their novena to St. Joseph for this intention a man came to the convent looking for work and started building the staircase – only to disappear immediately after it was completed several months later without ever being paid.
Even the tradition of how St. Joseph was chosen as Our Lady's spouse was miraculous. The holy prophet Simeon is said to have gathered several upright men together in the temple giving each one a dry stick. He prayed, asking the Holy Spirit to make His will known as to who her spouse should be, and the stick held by St. Joseph sprouted beautiful white lilies.
So why in this current age of unprecedented turmoil in the Universal Church do we seem to hear so little about her Patron?
There are many practical and simple changes we can make in our daily lives to increase our devotion to and honor of this most highly extolled Saint in this time when his intercession is so urgently needed. One of the easiest is wearing the cord of St. Joseph.
In 1637 an Augustinian sister in Antwerp, Belgium was miraculously cured of a serious illness while wearing a cord in honor of St. Joseph. Thereafter there was an increased demand for such cords worn around the waist which are said to assist the wearer in obtaining the gift of perfect chastity.
The white cord has seven knots in remembrance of the seven joys and sorrows of St. Joseph and wearers are asked to recite seven Glorias daily in honor of St. Joseph. Today the Archconfraternity of the Cord of St. Joseph is based out of the Church of St. Roch in Rome and cords should be blessed with the formula promulgated by Pope Pius IX in 1859 which conferred additional indulgences on those who faithfully wear this cord. Cords are available for purchase from several online vendors.
Another way to express devotion to St. Joseph is by using the oil of St. Joseph which is kept burning before his statue at the grand Oratory of St. Joseph in Montreal, Quebec.
This oil can be ordered directly from the Oratory gift shop and shipped internationally. The tradition of using this oil began when St. Brother Andre Bessette, who called himself the "dog" of St. Joseph, recommended its use to those who came to him seeking special favors. Many miraculous cures were granted to those who prayerfully used this oil with confidence.
The first Wednesday devotion in honor of St. Joseph is an additional way to express our devotion to and seek the powerful intercession of this great saint. Wednesday has traditionally been a day dedicated to St. Joseph and the first Wednesday of the month devotion was modeled after the first Friday and first Saturday devotions.
Attend Mass and receive Holy Communion in a state of grace in honor of St. Joseph for nine consecutive first Wednesdays and petition for him to grant you the graces of final perseverance and a happy death.
If you know people struggling with sins against chastity or any mortal sin, make the nine first Wednesdays in petition for conversion for them and faithfully wait for St. Joseph to accomplish Our Lord's designs in their lives. You could even spiritually adopt a member of the clergy and make the nine first Wednesdays as an offering for them.
Reciting the Litany of St. Joseph, which was approved by Pope St. Pius X in 1909, is another way to express our devotion to St. Joseph. The litany addresses him as the "terror of demons", which is exactly what Holy Mother Church will hopefully become once again under his patronage and through a revival in devotion to him.
To a large extent, St. Joseph is a man shrouded in mystery.
The series "The Mystical City of God" by (incorrupt) Venerable Mary of Agreda may give us some detail about his hidden life, but we have little to rely on from Sacred Scripture. It is obvious, though, that this man was favored by God the Father, God the Son and God the Holy Ghost in a way unlike anyone else in all of human history and that his knowledge that his death would occur before he saw the fulfillment of Christ's earthly mission brought him a great deal of suffering.
Perhaps it is because of this tremendous reservoir of agony offered up during his life that his intercessory prayers on our behalf are so powerful. Like the Joseph of the Old Testament provided for the people in times of profound strife, St. Joseph can and will sustain us if we ask him.
Now, more than ever, the Church needs this source of strength and renewal tapped by her faithful children who have been commissioned to live during this age of chaos. Let us not allow this great Saint's intercession to remain muted. St. Joseph, Protector of Holy Mother Church, pray for us!
Dr. Andrea Chamberlain is a physician in St. Petersburg, FL, whose writing has been published by various Catholic outlets. She and her husband have a special devotion to St. Joseph, and a daughter named after Our Lady who was born on the Feast of St. Joseph.

Louie : March 16, 2018 1:30 pm :
Blog Post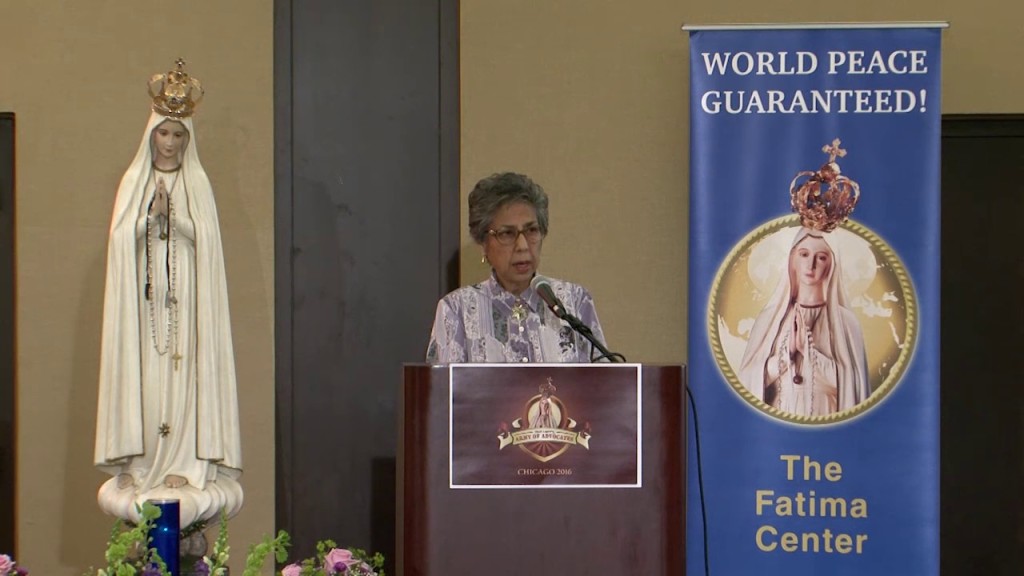 My post dated March 14 on Bishop Williamson's comments concerning Russia's alleged "return to God" sparked precisely the reaction I had expected from certain quarters (not just here, but via social media and private correspondence).
No need to recap those reactions here; suffice it to say that some folks find it very difficult to even consider that someone they admire may have something wrong; even, it seems, if that means putting more stock in the words of men than in the warnings issued by Our Lady.
In the present case, we have a choice to make and it's a simple one:
We can choose to believe what Our Lady said about Russia, or we can choose to believe that this nation is somehow returning to God in spite of the popes' failure to do as she asked. It's one or the other, folks; it's not both.
Nothing Our Lady said even remotely suggests that unconverted  Russia will draw ever nearer to God on its own, with only the aid of schismatic Orthodox leaders, even as it inches closer and closer to facilitating the "annihilation of nations" of which she warned.
In any case, I was alerted to Bishop Williamson's unfortunate comment by my friend and akaCatholic contributor Cornelia Ferreira, who after reading yesterday's post suggested that it may be useful to recall readers' attention to her article of October 2017.
Here are some noteworthy excerpts:
Almost from the start, Christianity in Russia was of the schismatic variety, and the country has persecuted Catholicism all through the centuries, right down to this day…
Both President Putin and his right-hand man Patriarch Kirill (a billionaire oligarch), are KGB men. And Putin, who is busy resurrecting the KGB and its secret police under new names, himself has stated,  "There is no such thing as a former KGB man." …
On his return from Russia, the Cardinal [Parolin] reported that the "main point" he had made in his talk with Putin was "the desire to transmit the important role Russia has to play in promoting peace."
He told the Vatican media, "Russia … has an important role to play … in the world. Therefore, it has a particular responsibility regarding peace: both the country and its leaders have a great responsibility to build peace…."
This is completely upside-down! Our Lady put the responsibility for world peace in the hands of the Pope and Catholic bishops – but the Vatican, instead, tells Russia that Russia is responsible for peace. Talk of passing the buck…
Please do take Mrs. Ferreira up on her suggestion by reading (or rereading as the case may be) her excellent article in full.
The bottom line here isn't complicated: God will indeed bring "Holy Russia" back to Himself, but there is only one way that is going to happen, and that is in response to the consecration of that nation to the Immaculate Heart of Mary.
NB: The Evil One is more than clever enough to commingle good with evil; in fact, that is his modus operandi.
As such, don't be fooled by whatever good we may see coming out of Russia as this in no way suggests that a return to God is underway, much less does it alter the course of events spelled out by Our Lady as told by Sr. Lucia to Fr. Fuentes:
"She said that Russia will be the instrument of chastisement chosen by Heaven to punish the whole world if we do not beforehand obtain the conversion of that poor nation."