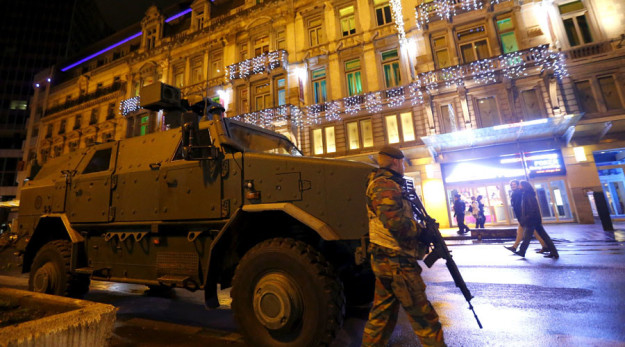 The city of Brussels was just hit with a terrorist attack.
Pray for those who died and their loved ones.
In the coming days we'll be told by the pro-Western, pro-Multicultural media that this murderous act is in no way a reflection of the religion of Islam. Our strength comes from our diversity. We must remain welcoming and tolerant of those who differ from us. And on and on and on…
Meanwhile, back on the planet earth, Viktor Orban, Hungary's Prime Minister, has delivered a powerful speech. Watch it (or read it) in its entirety. This man speaks the truth about the crisis going on in Europe.
One wishes the princes of the Catholic Church had as much courage as Mr. Orban.
Instead, the Pope spent Palm Sunday admonishing the faithful for being "indifferent" towards these "refugees."
How naive those words now appear.
The situation unfolding across the Atlantic requires some deep reflection, as it isn't as simplistic as Francis suggests.
Europe decided long ago to cut itself loose from its Christian roots. Secularism and liberalism thoroughly permeate the hearts and minds of most of her people. As an example of just how bad it is over there, take the recent actions of François Hollande of France. Recently, he decided to rename France's Ministry for the Family "the Ministry for Families" because he thinks "it would be reactionary to believe that there is only one model of the family."
How long can such things go on? We know that God will not be mocked. Perhaps in His infinite wisdom He is using these events as punishment for transgressing His laws. Perhaps this is God's way of telling his children that they, like the prodigal son, must fall on their knees, return to the truth and beg for forgiveness if they want to be saved from the scourge of Islamic terrorism.
Of course, that won't happen unless the Catholic Church takes the lead. As Christ said, "you can do nothing without me." Yet it appears that the Church doesn't want to take the lead. While men like Orban and others are resisting globalist plots to make Europe a more "open society," the Vatican has been more than content to draw down its sword and focus on feeding the poor and observing pagan holidays like Earth Hour, which it celebrated this past Saturday on the Feast of St. Joseph.
Angela Merkel of Germany – who is about as far from Orban's views as one can get – has been a major player in turning Europe into a road apple ripe for the taking by these twentysomething Middle Easterners. And take they have.
During New Year's celebrations in Cologne thousands of "refugees" sexually assaulted young German women. Similar attacks took place in Sweden. Both were covered up by the media. In Amsterdam a severed head was recently found lying in the street. Earlier this month the film crew for 60 Minutes Australia was attacked in Stockholm. And in November of 2015 130 people were killed in Paris.
Such is life in post-Christian Europe. As Abp. Marcel Lefebvre often said, "Where Christ does not reign, the devil will." Truer words have never been spoken.
Several months ago I ran across the following quote on Facebook. I forget exactly where I saw it but it was attributed to Fr. Mauro Tranquillo, an Italian priest of the SSPX. I do not know for certain if he said these remarks or if the translation from Italian to English is entirely accurate. Either way, they aptly summarize the situation at hand.
Invoking the Gospel to support indiscriminate hospitality is a fallacious sophism for several reasons. First, it is true that there is an order in charity: to help someone by damaging someone else is complete nonsense. Those who rule a society cannot ignore the common good. It is therefore not necessary to welcome masses of people into a society already in crisis. Also, true charity cannot lose sight of the eternal salvation of souls, which you can get only through the Roman Church. The entry of people of other faiths in large numbers does not facilitate their conversion but feeds into an indifference, even if they do not take control of the society and do not impress it with their faith. There is a clear plan behind the entry of Muslims in Europe, which is to give the final blow to what little remains of Christian identity. I do not think that those who govern the Church can ignore a matter so obvious. I can only conclude that they are accomplices.
Stephen Kokx is the host of "Church & State with Stephen Kokx" on Magnificat Media.com, which airs Fridays at 11am, 2pm, 6pm and 9pm and Saturdays at 10am EST. Follow him on twitter @StephenKokx and like him on Facebook
Share this post on:



Follow us on: